The Houston Astros MLB Season 2022
Recapping the 2022 Houston Astros season on their quest for a World Series Championship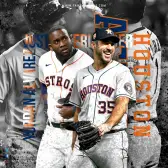 Houston Astros
The Houston Astros started off in our Fan Rankings baseball regular season unranked in April. Since then the Astros have been ranked in the Top 10 Best MLB Rankings and now are in the 2022 World Series game competing for a championship.
May
MLB Team Rankings: 6
Despite losing Carlos Correa this past off-season and George Springer the previous season, the Houston Astros were still alive in the AL West trailing only the Los Angeles Angels to start the season. 
The Astros success came from their pitching which ranked third in all of baseball with a 2.95 team earned run average through their first 29 games while also ranking second with a 2.31 bullpen earned run average. 
Leading that charge is the return of Justin Verlander who had pitched to a 3-1 record in five starts this season to go along with a 1.93 earned run average. Meanwhile, Cristian Javier has composed a 2-0 record over six games with a .83 earned run average in 21.2 innings of work.
June
MLB Team Rankings: 5
Over the past few seasons, the Houston Astros have been one of the best teams in all of baseball with or without stealing signs. This is still the case as the Astros have surged to the top of the AL West division winning 38 of their first 62 games to start the 2022 MLB schedule. 
The Astros strong success had come from their pitching staff where they rank third in all of baseball with a 3.06 earned run average led by Justin Verlander. Verlander currently sits first in all of baseball with eight wins to go along with a 1.94 earned run average at the time.
Meanwhile Yordan Alvarez led the offense while leading the team in nearly every offensive category including batting average (.313), home runs (17), runs batted in (43) and on base percentage (.409) at the time.
July
MLB Team Rankings: 3
Many wondered how the Houston Astros would produce this year after the past few off-seasons watching top stars George Springer and Carlos Correa move on.
Despite the loss of a few top tier stars, the Astros have been one of the best teams in baseball in 2022. Some of that success has to do with the return of former AL MVP and two-time CY Young award winner Justin Verlander.
Verlander at the time tied for 1st in wins with 11 wins to start the season while also ranking in the top five in Earned Run Average.
Meanwhile the entire Astros pitching staff ranked 2nd in all of baseball with a team Earned Run Average of 2.97 in 85 games.
August
MLB Team Rankings: 3
As you look at these top three teams around Major League Baseball (Los Angeles Dodgers, New York Mets) each has been as good as their records have indicated this season and each could have a spot at the top of the list.
The Astros have dominated on the mound this season while ranking second in all of baseball with a 3.08 earned run average.
Much of that success had come from the team's proven ace Justin Verlander who has returned to their rotation pitching as good as he has across his MLB career.
Verlander had pitched to a 15-3 record this season with a 1.95 earned run average while three other Astros pitchers have recorded at least 10 wins.
September
MLB Team Rankings: 2
The Houston Astros were the second team in Major League Baseball to reach the 90-win mark and the only other team to have a double-digit lead over the second-place team within their division. 
Over their past 10 games, the Astros have won seven of their 10 to stay atop the AL West while the Mariners continue to make a push within the division.
With the strong success on the mound including from Justin Verlander, the Astros ranked 2nd in baseball with a 2.97 earned run average while holding opponent hitters to just a .213 overall batting average.
October
MLB Team Rankings: 2
MLB Playoff Standings: AL West Champions
MLB Record: 106-56
When it came to the top two teams on the Top 10 MLB Teams 2022 MLB Season end of season rankings it is a difficult debate as to which team should have been on top.
Nonetheless after winning an AL high 106 games, the Houston Astros land at number two. As some questioned how the team would respond after losing star shortstop Carlos Correa to free agency, the Astros showcased their depth as they dominated the American League for most of the season.
One key return to their success was ace Justin Verlander who put together a Cy Young caliber season while anchoring the rotation.
The Astros pitching staff ranked 4th in strikeouts (1,524), 2nd in team earned run average (2.90), and 2nd in WHIP (1.09). At the plate the Astros ranked 4th in home runs (214), 8th in runs scored (737), and 7th in On Base Percentage (.319). Now this team is in the World Series.
Standout Houston Astros Players
Justin Verlander
Houston Astros Stats: 18-4 W-L, 1.75 ERA, 185 K, .83 WHIP
It is hard not to put the Houston Astros ace Justin Verlander among the top players in Major League Baseball over the course of the 2022 MLB schedule.
Verlander, who missed all of last season, turned in another Cy Young caliber performance in 2022.
The Astros starter finished 2nd in all of baseball with 18 wins while leading the AL, led all starters with a 1.75 earned run average, and posted 185 strikeouts.
Kyle Tucker
Houston Astros Stats: .257 AVG, 30 HR, 107 RBI, .808 OPS
Arriving at number three on the Top 10 Right Fielders 2022 rankings is the right fielder of the Houston Astros Kyle Tucker.
The 25-year-old right fielder has emerged as one of the games top young stars while slotting in as one of the leaders of the first place Astros lineup. Tucker is currently batting .262 on the year with 16 home runs and 58 runs batted in while composing an .836 OPS mark.
Among all right fielders, Tucker ranks 6th in total hits, tied for 3rd in home runs, and 2nd in runs batted in. Tucker, who just turned 25 at the beginning of 2022, is poised to be a generational talent for years to come.
Yordan Alvarez
Houston Astros Stats: .306 AVG, 37 HR, 97 RBI, 1.019 OPS
If you are wondering who the best left fielder in baseball is, you don't have to look no farther as Yordan Alvarez has produced enough to take over that spot.
While Alvarez has spread around the field in 2022, the Houston Astros slugger has spent majority of his time in left field while ranking as one of the best among the position.
Overall, Alvarez is ranked 3rd in all of baseball with 26 home runs, 17th in batting average with a .306 mark, tied for 7th with 60 runs batted in and leads all players with a 1.058 OPS.
Michael Brantley
Houston Astros Stats: .288 AVG, 5 HR, 26 RBI, .785 OPS
After a strong season at the plate during the 2021 MLB schedule, the Houston Astros Michael Brantley has continued that success through the first half of the 2022 MLB season.
Brantley is currently batting .288 through his first 243 at bats in 2022 while also posting a .370 On Base Percentage.
Overall, the Astros outfielder has picked up 70 hits including 14 doubles, one triple, five home runs while driving in 26 runs. In addition, Brantley has posted a .785 OPS to go along with 31 walks.
Jeremy Pena
Houston Astros Stats: .253 AVG, 22 HR, 63 RBI, .715 OPS
A fresh face among the top shortstops is the Houston Astros rookie Jeremy Pena who is making a run as a rookie of the year candidate in 2022.
Pena, who is just 24 years of age, is putting together a brilliant first season in the Majors. Through 64 games in 2022, Pena is batting .266 for the Astros with nine doubles, one triple, and 12 home runs.
In addition, the Astros shortstop has driven in 32 runs, walked 13 times, picked up 63 hits and has a .314 On Base Percentage.
Jose Altuve
Houston Astros Stats: .300 AVG, 28 HR, 57 RBI, .921 OPS
Landing at the top spot among the best second baseman in MLB 2022, is the Houston Astros All-Star Jose Altuve.
Altuve, who has been one of the best second baseman each year, has continued that success this season for the first place Astros.
Currently Altuve leads all second baseman in home runs with 17 despite appearing in just 69 total games to start the 2022 MLB season.
In addition to the home runs, Altuve has scored 45 runs on the year while reaching base on 74 hits including 17 doubles. The Astros second baseman has also reached base 33 times on walks and stolen six bases on the year.
Alex Bregman
Houston Astros Stats: .259 AVG, 23 HR, 93 RBI, .820 OPS
As some would consider Alex Bregman the best third baseman in baseball, he has yet to return to the form he produced before the COVID-19 shortened season in 2020.
That said, the Houston Astros third baseman has put together a solid start to the 2022 MLB season as he has picked up 19 doubles, 11 home runs and 50 walks across his first 288 at bats this season.
His production at the plate has helped him drive in 45 runs to go along with a .240 batting average and a solid .359 On Base Percentage.
Related Links:
POPULAR POSTS
Thank you
Your email has been successfully subscribed.
Sorry, there are no polls available at the moment.