Philadelphia Phillies 2022 Season
Recapping the 2022 Philadelphia Phillies season on their quest for a World Series Championship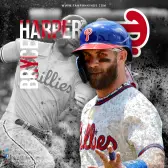 Philadelphia Phillies
The Philadelphia Phillies started off in our Fan Rankings baseball season unranked in the first three months of the season. From there the ball started to roll in July with all its ups and downs to now the 2022 World Series. We'll follow their progress starting with their first ranking in July.
July
Rankings Position: 10
In July of the Top 10 MLB Teams Rankings list the Philadelphia Phillies came in at #10 on our list.
The Phillies were rounding into an all-around solid team that does it on both sides including at the plate as well as on the mound.
As a team the Phillies ranked 12th in batting average (.247), 6th in runs batted in (410), 5th in home runs (113), 10th in Earned Run Average (3.75), and 8th in WHIP (1.22).
The success at the plate and on the mound had the Phillies in third place in the National League East division with a 46-41 overall record. 
August
Rankings Position: 8
Despite missing NL MVP Bryce Harper since June 25th, 2022, the Philadelphia Phillies remained in the hunt in the National League while holding one of the three NL Wild Card spots coming in at #8 in the Top 10 MLB Teams Rankings list of August.
Off-season moves to bring in both Kyle Schwarber and Nick Castellanos have paid off in the lineup providing the team with a combined 46 home runs to go along with 129 runs batted in. 
Overall, the Phillies ranked 8th in runs batted in with 541, 6th in home runs with 158 and 9th in overall team batting average with a .252 mark during that time. Their success at the plate had them fighting for a spot in the NL postseason at that time.
September
Rankings Position: 9
The playoff race was heating up in the NL East as the New York Mets and Atlanta Braves continued to battle for the top overall spot.
However, another team was sitting just behind them in the standings while looking to make a run for one of the NL Wild Card spots is the Philadelphia Phillies. The Phillies had won six of their past 10 contests to push their overall record to 78-62 on the year at the time this team was ranked here.
Add in the return of former NL MVP Bryce Harper and the Phillies were a team to watch as the 2022 MLB schedule wrapped up play.
October
Rankings Position: Honorable Mention
MLB Playoff Standings: NL Wild Card #3
MLB Record: 87-75
Landing just outside of the Top 10 MLB Teams 2022 MLB October rankings list is the Philadelphia Phillies who snagged the last of the three National League Wild Card spots. 
After struggles early, the Phillies were able to put together a strong run down the stretch while edging out the Milwaukee Brewers by one game. Unfortunately this moved this team from Top 10 last month to our Honorable Mention.
The Phillies continued their success by sweeping the St. Louis Cardinals in the best of three series to move on to the NL Division series against division rivals the Atlanta Braves. During the regular season Kyle Schwarber carried the offense hitting 46 home runs while driving in 94 runs.
Standout Philadelphia Phillies Players
Bryce Harper
Phillies Player Stats: .286 AVG, 18 HR, 65 RBI, .877 OPS
While his season is in jeopardy of being over after requiring surgery to fix his left thumb, Bryce Harper to this point was putting together another MVP caliber season for the Philadelphia Phillies.
Entering July 12th, 2022 when we put together this list, Harper is hitting .318 on the year with 15 home runs to go along with 48 runs batted in and an OPS mark of .985 across 242 at bats.
Despite missing time, Harper ranks near the top among batting average, hits, doubles, home runs, and runs batted in among all designated hitters.
Rhys Hoskins
Phillies Player Stats: .246 AVG, 30 HR, 79 RBI, ..794 OPS
When you start to compare the top first baseman in baseball, Rhys Hoskins of the Philadelphia Phillies is in consideration.
The six-year veteran is continuing to put together solid numbers year in and year out. In 2022, the Phillies first baseman is hitting .252 with 18 doubles, 17 home runs, two triples, 42 runs batted in, and 45 runs scored.
In addition, Hoskins is currently posting a 2.1 Wins Above Replacement (WAR) mark to go along with a .345 On Base Percentage and an .484 slugging percentage. 
J.T. Realmuto
Phillies Player Stats: .276 AVG, 22 HR, 84 RBI, .820 OPS
An anchor within the Philadelphia Phillies lineup, J.T. Realmuto has been one of the best hitting catchers in all of baseball over the 5-6 MLB seasons and has continued to produce during the 2022 MLB season.
Realmuto is batting .236 on the year while posting an .310 On Base Percentage and picking up 20 extra base hits (11 doubles, two triples, and seven home runs).
In addition, Realmuto has picked up 35 runs batted in and scored 39 times for the Phillies looking to stay alive within the National League East division.
Alec Bohm
Phillies Player Stats: .280 AVG, 13 HR, 72 RBI, .713 OPS
Landing just outside of the Top 10 Third Baseman 2022 rankings list is the Philadelphia Phillies third baseman Alec Bohm. Bohm, who is just 25 years old, continues to develop into an everyday third baseman for the Phillies.
In 82 games during the 2022 MLB schedule, Bohm is batting .273 with 12 doubles, two triples and six home runs.
In addition to those numbers, Bohm has posted a .307 On Base Percentage to go along with 83 hits, 41 runs scored, and 33 runs batted in across 304 at bats this season.
Nick Castellanos
Phillies Player Stats: .263 AVG, 13 HR, 62 RBI, .694 OPS
After leading all MLB right fielders in hits during the 2021 MLB season, the Philadelphia Phillies right fielder currently ranks 2nd among all right fielders in baseball to start the 2022 MLB season.
Through 82 games to start the season, Nick Castellanos is batting .251 with 80 hits while trailing only Starling Marte.
To go with 80 hits, the Phillies outfielder has 18 doubles to go along with eight home runs and 44 runs batted in.
Kyle Schwarber
Phillies Player Stats: .218 AVG, 46 HR, 94 RBI, .827 OPS
Landing just outside of the Top 10 MLB Players 2022 October Rankings is the Philadelphia Phillies left fielder Kyle Schwarber.
Schwarber, who finished the season as one of our Honorable Mentions, is in his first season with the Phillies, provided a big bat in the lineup as the team fought for a playoff spot despite missing Bryce Harper for a portion of time during the season.
Schwarber finished the season leading the National League in home runs with 46 on the year while also finishing with 100 runs scored and 94 runs batted in.
Not only was Kyle Schwarber sitting outside the best players list but he was also #6 in our Top 10 Left Fielders 2022 Rankings list.
Everyone around the game of baseball has been aware of the power potential of Kyle Schwarber since his career started with the Chicago Cubs.
Those numbers have continued during the 2022 MLB schedule, as Schwarber currently leads all left fielders in home runs leading into July 12th, 2022.
In addition, Schwarber has also posted a .545 slugging percentage to go along with an .879 OPS, 10 doubles, 57 runs batted in and 48 walks over his first 290 at bats during the first half of the MLB season.
Bryson Stott
Phillies Player Stats: .234 AVG, 10 HR, 49 RBI, .653 OPS
Like many of the top rookies among the Top 10 MLB Rookies 2022 Rankings list, Bryson Stott was a former first round draft pick who the club drafted with the 14th overall pick during the 2019 MLB draft.
After a red-hot start to the 2022 Minor League Baseball season where Stott batted .333 over 36 at bats with two doubles, one triple and two home runs, the Phillies elected to bring him up to the majors. 
Since arriving, Stott has struggled batting just .122 over 41 at bats with one double and four runs batted in. Despite the struggles, Stott has showcased his ability to hit since joining the Phillies organization.
Related Links:
POPULAR POSTS
Thank you
Your email has been successfully subscribed.
Sorry, there are no polls available at the moment.