Justin Verlander Houston Astros 2022 MLB Season
Recapping the World Series Champion Justin Verlander's Houston Astros 2022 MLB Season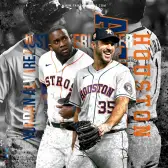 Justin Verlander
Justin Verlander started off in our Fan Rankings baseball regular season unranked in April and May. Since then Verlander has been ranked in the Top 10 Best MLB Player Rankings and now a World Series champion. Here is a recap of his season starting in June in his first ranking.
June
MLB Player Rankings: 9
After making just one start over the previous two seasons including missing all of 2021, Justin Verlander bounced back in a keyway while helping the Houston Astros to the top of the AL West division for the month of June.
The former AL MVP and CY Young award winner, is tied for the MLB lead with eight wins having an 8-2 overall record. To go along with the wins, Verlander has pitched to a 1.94 earned run average, .81 WHIP and 78 strikeouts in 78.2 innings of work.
In addition, Verlander has been strong at home for June pitching to a 1.65 earned run average with four wins over five starts when we ranked him.
July
MLB Player Rankings: 10
It is hard to look past the season Justin Verlander is putting together for the Houston Astros in 2022. Verlander, who missed all of last year with an injury, has rebounded to pitch as one of the top pitchers in all of baseball while showcasing his CY Young abilities.
Currently Verlander ranks 4th in all of baseball with a 2.00 earned run average over his first 16 starts of the season. In those 16 starts, Verlander has recorded 12 quality starts to go along with a league leading 11 wins while only posting three losses.
In addition, Verlander, who was just announced to his 9th MLB All Star game, has recorded 98 strikeouts over 103.1 innings of work and a .87 WHIP while also holding a 2.6 Wins Above Replacement (WAR) mark.
Earlier in the month of July we ranked Justin Verlander as 4th best Pitcher in Major League Baseball.
August
MLB Player Rankings: 4
The long time dominating starting pitcher Justin Verlander, who jumped from the 10th ranked player in our MVP rankings to #4, has returned to dominate in 2022 after missing all the end of the 2020 MLB season and all of 2021. 
Verlander, who has made nine All-Star teams, won an AL MVP award, two Cy Young Awards, and the pitcher's Triple Crown has shown no signs of slowing down during the 2022 MLB season while leading the Astros to the best record in the American League when we recorded this in August.
Verlander was ranked 7th in WAR (4.2), tied for 1st in wins (15), and led all of MLB with a 1.95 earned run average through his first 22 starts of the season.
September
MLB Player Rankings: 6
After missing all the 2021 MLB schedule, Justin Verlander has returned to his old dominating self while pitching as well as any starter in the game of baseball.
The Houston Astros ace was looking potentially to win his third AL Cy Young award depending on how he finished up the rest of the 2022 MLB schedule.
Verlander ranked 2nd in all of baseball with a 16-3 overall record, 1st in MLB in earned run average with a 1.84 mark, and 1st in MLB with a .86 WHIP when we ranked in September. 
October
MLB Player Rankings: 6
Houston Astros Stats: 18-4 W-L, 1.75 ERA, 185 K, .83 WHIP
It is hard not to put the Houston Astros ace Justin Verlander among the top players in Major League Baseball over the course of the 2022 MLB schedule.
Verlander, who missed all of last season, turned in another Cy Young caliber performance in 2022.
The Astros starter finished 2nd in all of baseball with 18 wins while leading the AL, led all starters with a 1.75 earned run average, and posted 185 strikeouts.
Justin Verlander finished the season as the 6th best MLB Player of 2022, 4th best Pitcher of 2022, and a World Series Champion!
Related Links:
POPULAR POSTS
Thank you
Your email has been successfully subscribed.
Sorry, there are no polls available at the moment.