Top 10 NFL Players – September 2022 Rankings
Ranking the best NFL Players this 2022-2023 NFL season as Josh Allen leads the way this month as the NFL MVP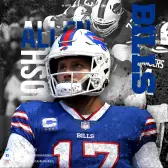 The next NFL season has arrived opening up the door for talented superstars of the NFL to continue to add to their NFL resumes.
Along with proven superstars continuing to put together a strong start to the 2022 NFL season, new young fresh faces are slowly emerging as the next wave of NFL superstars around the league.
Landing at the top of the list of the Top 10 NFL Players 2022 rankings September list is the Buffalo Bills second-team All-Pro quarterback Josh Allen.
Allen, who is having a strong start has helped guide his Bills team to a 2-0 start to open up the season in what looks to be a promising NFL season.
In addition to Allen, fellow quarterbacks Tua Tagovailoa of the Miami Dolphins, Jalen Hurts of the Philadelphia Eagles, Justin Herbert of the Los Angeles Chargers, and Patrick Mahomes are off to hot starts.
Meanwhile on the defensive side of the ball Marcus Williams of the Baltimore Ravens and Micah Parsons have made headlines to start the season. Here is a look at the Top 10 NFL Players 2022 rankings September.
Honorable Mention
Tyreek Hill
Team: Miami Dolphins
Previous: Unranked
It is hard not to include the cheetah into the Top 10 NFL Players 2022 rankings September list but despite his hot start he finds himself just outside of the Top 10.
Hill has been a key part of the Miami Dolphins hot 2-0 start to the 2022 NFL season while topping a long list of talented wide receivers in total receiving yards to start the season.
Hill currently ranks 1st in receiving yards with 284 through his first two games while also adding two touchdown receptions and 19 total catches.
Saquon Barkley
Team: New York Giants
Previous: Unranked
The talent level is all there for the New York Giants star running back and former Penn State Nittany Lions great Saquon Barkley.
Only issue since arriving in the NFL with Barkley has been his ability to stay healthy. Luckily for the Giants, Barkley is healthy and dominant to start the season while helping the team start the season with two straight wins.
Entering week 3 of the 2022 NFL schedule Barkley ranks 4th in the NFL in rushing attempts (39), 1st in rushing yards (236), 5th in rushing touchdowns (1), and 6th in rushing yards per carry (6.1). 
Top 10 NFL Players
10. Marcus Williams
Team: Baltimore Ravens
Previous: Unranked
Fresh to the Top 10 NFL Players 2022 rankings September list is the Baltimore Raven key off-season acquisition Marcus Williams.
Williams, who was signed by the Ravens to be a ball hawk within the secondary, has been exactly that to start the season.
The Ravens safety has posted double digit tackles in each of the first two contests as well as picking off three total passes and recording three pass defended. 
9. Lamar Jackson
Team: Baltimore Ravens
Previous: Unranked
Just in front of Marcus Williams on the top NFL players is his teammate Lamar Jackson who continues to showcase he is one of the most talented weapons in the NFL.
The former NFL Most Valuable Player got off to a hot start in 2022 throwing for 531 yards across the team's first two games to go along with six touchdown passes to just one interception.
In addition, the Ravens quarterback has posted a 76.5 QBR mark to go along with 136 rushing yards and one rushing touchdown.
In the team's late collapse in week 2 against the Miami Dolphins, Jackson was brilliant including posting a 79-yard touchdown run.
8. Nick Chubb
Team: Cleveland Browns
Previous: Unranked
One of the top running backs in the NFL over the past few seasons has been the former Georgia Bulldogs Nick Chubb.
Chubb, who has formed a solid combination with teammate Kareem Hunt, currently ranks in the top 10 among all offensive statistics among fellow running backs.
Currently Chubb has carried the ball 39 times on the year for 228 rushing yards, three touchdowns while averaging nearly six yards per carry (5.8). The Browns running back has also pulled in four catches with 28 yards receiving. 
7. Micah Parsons
Team: Dallas Cowboys
Previous: Unranked
Since taking the NFL by storm during his rookie season during the 2021 NFL schedule, Micah Parsons continues to be a havoc for opposing offensive lineman game in and game out.
Parsons who took home the 2021 NFL Defensive Rookie of the Year award as well as being named to the NFL Pro Bowl and as a First-Team All-Pro has gotten off to a fast start in 2022. 
The Cowboys star currently leads the NFL in sacks after posting four in the teams first two contests of the season. Among those four sacks, Parsons posted two sacks against both Tom Brady and Joe Burrow.
6. Jalen Hurts
Team: Philadelphia Eagles
Previous: Unranked
It is difficult not to be impressed with the way Jalen Hurts has played to start the season while helping the Philadelphia Eagles to a 2-0 start.
Despite passing for just one touchdown, Hurts has been as solid of a playmaker as any other quarterback in the NFL.
The Eagles quarterback has thrown for 576 yards on the year with one touchdown pass. However, his ability to make plays with his feet makes it difficult for opposing defenses to game plan the Eagles offense.
Hurts has added 147 yards on the ground while averaging nearly 5.5 yards per attempt to go along with three rushing touchdowns in those two contests.
5. Tua Tagovailoa
Team: Miami Dolphins
Previous: Unranked
One aspect of any good quarterback is composure, and that is exactly what the Miami Dolphins quarterback Tua Tagovailoa is showing to start the season.
After a solid performance in week 1, Tagovailoa put together one of the most impressive performances by any quarterback over the past few seasons throwing for four fourth quarter touchdowns while pushing his game total to six and his passing yard total to 469.
His performance helped the Dolphins come back to beat the Baltimore Ravens and push their record to 2-0 on the year.
4. Justin Herbert
Team: Los Angeles Chargers
Previous: Unranked
The Los Angeles Chargers stud quarterback lands at number four on the Top 10 NFL Players 2022 rankings September list while showcasing he ranks as one of the best passers in the NFL. 
Herbert, who currently ranks 5th in total passing yards with 613 yards nearly had his Chargers at 2-0 before falling to the talented Kansas City Chiefs and Patrick Mahomes.
Herbert, who threw a costly interception that was returned for a pick six was just one yard away from leading his Chargers to their second straight win to start the season. On the year Herbert has completed 72 percent of his passes for 613 yards, six touchdowns and just one interception.
3. Stefon Diggs
Team: Buffalo Bills 
Previous: Unranked
As you look around at the best wide receivers in the NFL it is easy to slot the Buffalo Bills star wide out as one of the best if not the best.
Diggs, who is a key component of the Bills offense and for their early season success continues to turn in big games in 2022.
The Bills wide receiver has started the season with 20 catches over his first two contests while recording 270 yards receiving and four touchdown receptions. Currently Diggs ranks 2nd in the NFL in receptions, 2nd in receiving yards, 1st in touchdown receptions while posting 11 first downs. 
2. Patrick Mahomes
Team: Kansas City Chiefs 
Previous: #6
All anyone could talk about during the off-season is what Patrick Mahomes was going to do without Tyreek Hill at wide receiver.
Despite the concerns and worry of most, Mahomes has put that to bed to start the season while leading the Kansas City Chiefs to back-to-back wins to start the 2022 NFL season.
Mahomes who struggled with turnovers at points during last season has yet to throw an interception in 2022.
On the opposite side, Mahomes has thrown for 595 yards to go along with seven touchdown passes and a QBR mark of 82.4 in those two games.
1. Josh Allen
Team: Buffalo Bills
Previous: Unranked 
At number one is the Buffalo Bills quarterback Josh Allen who is predicted by many experts to be in the running for the 2022 NFL MVP award.
Allen has started the season not only putting together strong offensive numbers but leading his Bills team to wins over both the Tennessee Titans and Los Angeles Rams by a combined 82-17 total.
Each of these teams were playoff teams last season with the Rams winning the Super Bowl. After throwing two interceptions in week 1, Allen rebounded throwing four touchdowns and zero in week 2.
His success pushed his season totals to 614 passing yards, seven passing touchdowns, and an 87.1 QBR. He currently ranks 4th in passing yards, tied for 1st in passing touchdowns, and 1st in QBR. In addition, Allen has added 66 rushing yards and one rushing touchdown.
How would you rank these National Football League players this 2022-2023 season? Rank below to be added in the NFL Power Rankings.
Related Links:
POPULAR POSTS
Thank you
Your email has been successfully subscribed.
Sorry, there are no polls available at the moment.