Top 10 MLB Rookies 2022 September Rankings
Ranking the best MLB Rookies of September 2022 as Michael Harris II moves up the rankings due to his stellar play so far this season. Also where Julio Rodriguez, Adley Rutschman, and more rank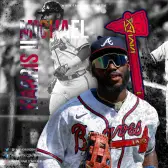 The next wave of great young talent continues to show up within Major League Baseball over the course of the 2022 MLB schedule.
As you look around at the young talent in MLB, the Top 10 MLB Rookies September 2022 rankings list is loaded with rookie players who are set to dominate for many years to come.
This includes a long list of potential MLB All-Stars both at the plate as well as on the mound that includes one rookie who made his MLB debut and the 2022 MLB All-Star game.
That MLB All-Star is the Seattle Mariners 21-year-old outfielder Julio Rodriguez who continues to be the top rookie in all of baseball.
As Rodriguez has stolen much of the headlines over the course of the season, other top rookies have showcased themselves both in the American League as well as in the National League.
This group of Top MLB Rookies include Adley Rutschman of the Baltimore Orioles, Spencer Strider of the Atlanta Braves, Bobby Witt Jr of the Kansas City Royals, and Michael Harris II of the Atlanta Braves, and  more. Here is a look at the Top 10 MLB Rookies September 2022 rankings list.
Honorable Mention
Seiya Suzuki
Team: Chicago Cubs
Landing just outside of the Top 10 MLB Rookies September 2022 rankings list is the Chicago Cubs right fielder Seiya Suzuki.
Suzuki is currently batting .260 on the year with an .332 On Base Percentage mark, 94 hits, 13 home runs and 45 runs batted in over his first 361 at bats of the season.
Among 2022 MLB rookies, Suzuki ranks 6th in doubles with 22, 8th in hits with 94, tied for 10th with 13 home runs, and eighth among rookies with at least 250 at bats with a .260 batting average.
Brock Burke
Team: Texas Rangers
As all eyes turn to starting pitchers both among veterans and rookies, relief pitching has been key around Major League Baseball for many of the top teams.
Among rookies one relief pitcher who has been as dominant as any relief pitcher in baseball is Brock Burke of the Texas Rangers. The 26-year-old relief pitcher has pitched to a 1.51 earned run average over 46 appearances during the 2022 MLB schedule.
Over his 46 relief appearances, Burke has allowed just 12 earned runs in 71.2 innings of work while striking out 78 total batters and posting a 2.2 Wins Above Replacement (WAR) mark. 
Top 10 MLB Rookies
10. George Kirby
Team: Seattle Mariners
Coming in at number 10 on the Top 10 MLB Rookies September 2022 rankings list is the Seattle Mariners young righty George Kirby.
Kirby who is just 24 years old has posted a 7-3 record on the year to go along with a 1.14 WHIP, 114 strikeouts and a 2.98 earned run average.
Among 2022 MLB rookie starting pitchers, Kirby's rookie year currently ranks third in wins, third in earned run average among rookies with at least 10 starts, and 4th in strikeouts among the group. 
9. Jose Miranda
Team: Minnesota Twins
Another new name landing on the Top MLB rookies is the Minnesota Twins first baseman Jose Miranda. Miranda, who is also just 24-years-old has been a bright spot among the Twins roster while helping to form a solid core of young players that also includes Byron Buxton and Carlos Correa.
The Twins first baseman is currently batting .275 on the year over his first 360 at bats while also posting a .330 On Base Percentage and .447 slugging percentage.
Among 2022 MLB rookies, Miranda ranks tied for 7th in home runs with 14, 2nd in runs batted in with 61, and 6th in batting average with a .275 among hitters with at least 250 at bats.
8. Steven Kwan
Team: Cleveland Guardians
One name that has appeared among the Top 10 MLB Rookies in 2022 is the Cleveland Guardians outfielder Steven Kwan.
The Guardians left fielder currently ranks 22nd in all Major League Baseball with a .291 batting average. In addition to a strong batting average of his rookie MLB season, Kwan has posted a .751 OPS, .368 On Base Percentage and a 3.9 WAR across his first 468 at bats of the season. Kwan has also picked up four home runs, three triples, 21 doubles, 55 walks and 38 runs batted in. 
7. MJ Melendez
Team: Kansas City Royals
As most of the attention has been on fellow Kansas City Royals rookie Bobby Witt Jr, another Royals rookie has put together a solid season while doing most of the catching with the team.
That rookie is MJ Melendez who is just 23 years old and has been strong both offensively and defensively for the team behind the plate.
Melendez is currently batting .219 on the year while picking up 16 doubles, two triples, 15 home runs, 52 runs batted in and 55 walks on the year.
The Royals rookie catcher currently ranks 12th in doubles, 6th in home runs, and 5th in runs batted in among all rookies.
6. Adley Rutschman
Team: Baltimore Orioles
All you have to do is look at the MLB standings and the success the Baltimore Orioles have had since the team elected to call up the former overall Top MLB Prospect Adley Rutschman. 
Rutschman has not disappointed behind the plate while helping to turn around the Orioles pitching staff. At the plate the Orioles top prospect has been solid batting .251 on the year while hitting 10 home runs and driving in 32 runs.
The statistics don't stop there as he currently leads all rookies with 29 doubles and has posted an OPS of .800 and a 4.4 WAR. His 29 doubles currently leads all MLB rookies despite having nearly 200 fewer at bats than the next player behind him.
5. Jeremy Pena
Team: Houston Astros
Sliding in at number five on the Top 10 MLB Rookies September 2022 rankings list is the Houston Astros shortstop Jeremy Pena.
Pena entered play on September 12th, 2022, batting .249 on the year while posting 17 home runs, 47 runs batted in and an OPS mark of .692.
Among rookies Pena ranks near the top in multiple statistics including ranking 6th in runs scored (57), 4th in hits (111), 4th in home runs (17), and 6th in runs batted in (47).
4. Spencer Strider
Team: Atlanta Braves
In Atlanta two Atlanta Braves rookies are making a case for the NL Rookie of the Year award as Spencer Strider along with teammate Michael Harris II have put together strong rookie seasons. 
Strider, who has been a staple among the team's pitching staff is currently tied for most wins by a rookie pitcher with 10, while also ranking 2nd in earned run average with a .269 among rookie starters with at least 10 starts.
In addition to those numbers Strider currently ranks 8th in all of MLB with 183 strikeouts in just 120.2 innings of work.
3. Bobby Witt Jr.
Team: Kansas City Royals
Entering the 2022 MLB season Bobby Witt Jr was as hyped up as a rookie as any in Major League Baseball. Now as the 2022 MLB schedule approaches the final few weeks of the season, Witt Jr has not disappointed for the Royals while ranking among one of the top rookies in all of MLB.
Currently the Royals stud infielder ranks tied among all rookies in runs batted in (71), 2nd in home runs (20), 2nd in doubles (25), 1st in triples (5), 3rd in hits (126), and tied for 2nd in runs scored (71).
With two rookies landing on the top 10, the future looks bright in Kansas City as the Royals look to return to a playoff caliber team.
2. Michael Harris II
Team: Atlanta Braves 
It would be hard to imagine the stat line that Michael Harris II of the Atlanta Braves would have put together had he been up from the start of the 2022 MLB Season.
Harris II didn't make his 2022 MLB debut till May 28th, before taking over day to day starting outfield duties for the Braves.
This past month, Harris has picked up 334 at bats for the club while posting 24 doubles, 18 home runs, driving in 56 runs, and stealing 16 bases. This moved him from his previous rank at 7 to what you see now.
To go along with the offensive statistics, Harris II has been outstanding in the outfield ranking among the top center fielders in the game.
1. Julio Rodriguez
Team: Seattle Mariners
No rookie in the game of baseball is going to be able to dethrone the Seattle Mariners All-Star outfielder Julio Rodriguez from the top spot among the Top 10 MLB Rookies September 2022 rankings list.
Rodriguez continues to lead all rookies in a number of statistics including runs scored with 76, home runs with 25, and tied for first in runs batted in with 71.
His performance at the plate has also helped guide him to a .277 batting average, 24 stolen bases, 133 total hits, and 23 doubles. Rodriguez is currently the front runner for the AL Rookie of the Year award.
How would you rank these rookies so far this season? Rank below to be added in the MLB Power Rankings
Related Links:
POPULAR POSTS
Thank you
Your email has been successfully subscribed.
Sorry, there are no polls available at the moment.