Top 10 MLB Rookies 2022 August Rankings
Ranking the best MLB Rookies of August 2022 as Adley Rutschman moves up the rankings once again due to his stellar play so far this season. Also where Julio Rodriguez, Bobby Witt Jr., and more rank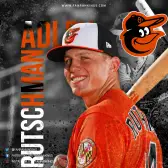 The 2022 MLB schedule continues to truck along as the calendar rolls into the final two weeks of August.
As fans continue to deliver some action-packed baseball during the 2022 MLB season, fans have also had the pleasure to watch some of the games top rookies slowly transcend into the next wave of stars of Major League Baseball.
While the list of rookies is long, only ten MLB rookies could find their way onto the Top 10 MLB Rookies August 2022 rankings list.
One of those names is 2022 MLB All-Star and the current face of the Seattle Mariners Julio Rodriguez.
While Rodriguez nearly won the 2022 MLB Home Run Derby contest, the Mariners star continues to put together a strong rookie year.
As Rodriguez continues to be the top rookie, other rookies such as Bobby Witt Jr of the Kansas City Royals and Adley Rutschman of the Baltimore Orioles have entrenched themselves as top stars. 
Here is a look at the Top 10 MLB Rookies August 2022 rankings list. 
Honorable Mention
Joe Ryan
Team: Minnesota Twins
Landing just outside of the Top 10 MLB Rookies August 2022 Rankings list is the Minnesota Twins rookie starting pitcher Joe Ryan. Ryan, who is 26 years old, has been a solid spot in the Twins rotation for most of his rookie season.
The Twins starter ranks tied for 1st in starts (20), 1st in wins (9), 1st in innings pitched (107.1), 3rd in strikeouts (105), and 2nd in WHIP among all rookie starting pitchers with a 1.13 mark.
Oscar Gonzalez
Team: Cleveland Guardians
A new name to the list of the August Top MLB Rookies is the Cleveland Guardians Oscar Gonzalez.
While Gonzalez is looked over in comparison to some of the other top rookies to land on this list, the Guardians 24-year-old outfielder has appeared in just 49 games this season however ranks third among all rookies with 20 doubles.
In addition to the 20 doubles, Gonzalez has scored 17 runs, hit three home runs, driven in 21 runs and is batting .307 on the year. 
Top 10 MLB Rookies
10. Brendan Donovan
Team: St. Louis Cardinals
It seems like we constantly see the St. Louis Cardinals produce top tier rookies and stud baseball players.
That is the case with Brendan Donovan who is slowly emerging as one of the top young stars of the National League, while being a top tier infielder on a very good Cardinal's roster.
Donovan is currently hitting .297 on the year across 88 games played with 16 doubles, one triple, two home runs and 32 runs driven in. 
9. Spencer Strider
Team: Atlanta Braves
Another name making his appearance on the Top 10 MLB Rookies August 2022 Rankings list is the Atlanta Braves starting pitcher Spencer Strider.
Strider, who is just one of a few top tier young stars on the Braves roster, has been a bright spot for a Braves team that has the third best record in the National League trailing only the New York Mets and Los Angeles Dodgers.
On the year Strider has appeared in 26 total games while making 15 starts for the Braves. Over those 26 outings, Strider has pitched 100.2 innings while striking out 151 total batters and pitching to a 2.95 earned run average.
8. Steven Kwan
Team: Cleveland Guardians
As Oscar Gonzalez has been a bright spot for the Cleveland Guardians, another Guardians rookie making a case for himself in 2022 is Steven Kwan.
Kwan currently ranks 4th among all rookies in doubles (19), tied for 1st in triples (5) and runs (62), and leads all rookies with 120 total hits.
His production at the plate has helped Kwan post a .301 batting average across 107 games played while posting a .373 batting average, .396 Slugging Percentage, and an .769 OPS mark.
7. Michael Harris II
Team: Atlanta Braves
Coming in at number 7 on the Top 10 MLB Rookies August 2022 Rankings is another Atlanta Braves rookie Michael Harris II.
The Braves rookie outfielder is as good defensively as any outfielder in baseball while also putting together a strong season at the plate for the Braves team looking to repeat as World Series Champions.
Harris II is currently batting .283 on the year over 272 at bats while posting 17 doubles, two triples, 12 home runs, and 41 runs batted in.
In addition, the Braves outfielder is a threat on the base path while posting 15 stolen bases during the 2022 MLB schedule.
6. MJ Melendez
Team: Kansas City Royals
2022 has been the year for stud rookie catchers to make their mark on Major League Baseball. One of those rookie catchers putting together a strong first season in the Majors is the Kansas City Royals 23-year-old catcher MJ Melendez.
Melendez has appeared in 92 games for the Royals this season while posting a .228 batting average over 320 total at bats.
Over that stretch, Melendez has picked up 15 doubles, two triples, 14 home runs, 42 runs batted in while picking up 45 total walks. Melendez is one of two rookies landing as some of Major League Baseball's top rookies in 2022.
5. Brock Burke
Team: Texas Rangers
As many relief pitchers around baseball get overlooked, one relief pitcher worth mentioning who has had a stellar rookie campaign for the Texas Rangers is Brock Burke.
Burke, who has settled into his role in the bullpen has made 41 appearances in 2022 while pitching to an astonishing 1.25 earned run average to go along with 71 strikeouts.
To go along with those strong numbers, Burke has recorded a .96 WHIP to go along with a Wins Above Replacement (WAR) mark of 2.7 for the Rangers this season.
4. Adley Rutschman
Team: Baltimore Orioles
All eyes have been on the Baltimore Orioles catcher since before his callup to the big-league club. He has gone from unranked, to his previous rank of 9 last month, and to now #4.
Adley Rutschman who started the season at Triple A for the Orioles has brought new life to the Orioles club who has not only guaranteed themselves a season with fewer than 100 wins but also currently sit with a winning record and just two games behind a wild card spot.
At the front of that success is the former number one overall Top MLB Prospect Adley Rutschman.
Despite starting the season in the minors, Rutschman leads all rookies with 24 doubles to go along while the Orioles have posted a 43-30 record with him in the lineup.
3. Jeremy Pena
Team: Houston Astros
When you're a rookie playing on a first-place team such as the Houston Astros it may be difficult to find playing time.
However, that hasn't been the case for the Astros rookie shortstop Jeremy Pena who has filled in nicely for the departure Carlos Correa.
Over 99 games this season, Pena is batting .246 with 15 doubles, 16 home runs and 44 runs batted in.
In addition to his numbers at the plate, Pena has played gold glove worthy defense at shortstop for the Astros for most of the 2022 MLB schedule.
2. Bobby Witt Jr.
Team: Kansas City Royals
Like Adley Rutschman all eyes were on Bobby Witt Jr before the start of the 2022 MLB season as he looked to make his way as the future of the Kansas City Royals.
Witt Jr hasn't disappointed in 2022 as the shortstop currently ranks 3rd among all rookies with 16 home runs, 2nd in runs batted in (60), and 3rd in hits (108). To go along with those numbers Witt is batting .249 with 60 runs scored and 21 doubles.
1. Julio Rodriguez
Team: Seattle Mariners
It is going to be nearly impossible for any rookie to catch Julio Rodriguez for the AL Rookie of the Year Award.
The Seattle Mariners All-Star outfielder has put together a stellar rookie season while posting a .274 batting average across 409 at bats.
Over those 409 at bats, Rodriguez has racked up 112 hits, 19 doubles, 19 home runs, 63 runs batted in to go along with a .332 on base percentage.
The Mariners outfielder has hit like the real deal during 2022 while also playing solid defense in center field for the Mariners across 105 games this season.
How would you rank these rookies so far this season? Rank below to be added in the MLB Power Rankings 
Related Links:
POPULAR POSTS
Thank you
Your email has been successfully subscribed.
Sorry, there are no polls available at the moment.