Top 10 Women's College Basketball Players – January 2022 Rankings
Ranking the best NCAA Women's college basketball players of January 2022 as Caitlin Clark of the Iowa Hawkeyes makes a leap in the rankings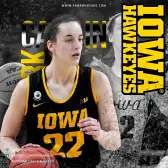 The 2021-2022 NCAA Women's Basketball season is moving along as the schedule rolls into the second week of January 2022. With just around two months till March Madness, the action is starting to heat up for all of the Women's Top Basketball teams while the Top 10 NCAA Women's Basketball players look to help their teams make a deep run into the NCAA tournament. 
Meanwhile one of the top players in the country continues to rehab with a potential to return to the hardwood in February.
As you look around the country, NCAA Women's Basketball is loaded with a ton of talented stars taking to the hardwood each night. One of those top stars continues to be Aliyah Boston who has the South Carolina Gamecocks at 15-1 on the year and at number one on the AP Top 25 Women's Basketball poll. 
Meanwhile in Iowa, Caitlin Clark continues to dominate as she moves up the Top 10 NCAAW BB players list as she currently leads the country averaging 25.2 points per game.
With that said, here is our list of the Top 10 NCAA Women's College Basketball Players:
Honorable Mention
Cate Reese
School: Arizona Wildcats
As you look around Women's college basketball, it is hard to look past the success of the Arizona Wildcats this year as they have started the season 11-1 while sitting ranked 7th in the country. Much of that success is led by senior forward Cate Reese and her ability to take over games when needed. 
On the year, Reese has shown up both at home as well as on the road including averaging 18.7 points a game away from Arizona this season. Over the last two games, Reese has scored 49 points to go with 13 rebounds, two assists and five steals. Overall, Reese is averaging 15 points a game this season to go with six rebounds and 1.1 assists per game.
Elissa Cunane
School: NC State Wolfpack
The NC State Wolfpack women's basketball program is as good as any in the country with a deep talented group of ladies leading the charge. One of those weapons is their senior center Elissa Cunane who continues to be dominant on both ends of the floor as the team currently sits ranked 4th in the country. 
Cunane has gotten hot of late scoring 19 points in back to back games including posting 19 points to go with 13 rebounds in the teams key 72-45 win over 19th ranked North Carolina in Atlantic Coastal Conference (ACC) play. On the year, Cunane is averaging 13.8 points a game to go along with 7.4 rebounds while being the team's vocal leader.
Top 10 College Players
10. Jordan Horston
School: Tennessee Lady Volunteers
When you look around at the top Women's teams in college basketball, they all have something in common. That one thing is they are loaded with talent and have some of the top women basketball players in the country. That can be said for the Tennessee Lady Volunteers who are led by Jordan Horston as they currently sit at 15-1 on the season. 
Horston is averaging 15.5 points a game to go with 9.6 rebounds and .38 assists on the year. Over her last three games, Horston has scored 50 points to go along with 31 assists and 11 assists while the Volunteers have gone 3-0 over that stretch.
9. Mackenzie Holmes
School: Indiana Hoosiers
Mackenzie Holmes is making a statement this season as one of the top players in the country as she helped the Indiana Hoosiers to 12 wins over their first 14 games while moving inside of the Top 10 teams in the country. Holmes, who is a junior, is putting together her best season to date averaging 17.9 points a game to go along with 8.2 rebounds and 1.9 blocks per game. 
In the team's impressive 70-63 win over 6th ranked Maryland Terps last week, Holmes scored 15 points to go along with 14 rebounds. In the teams five contests against Top 25 ranked programs, Holmes is averaging 20.8 points a game and 8.4 rebounds per game as the team has gone 3-2 in those matchups.
8. Nia Clouden
School: Michigan State Spartans
The Big Ten should be one exciting conference of Women's basketball this season loaded with talent players and talented teams. One of those teams is the Michigan State Spartans who are led by their senior guard Nia Clouden. 
In the year Clouden has posted nine games with at least 20 points, two games with at least 30 points and one game with 50 points. Overall Clouden ranks 10th in Women's basketball averaging 21.5 points a game while also averaging more than four rebounds and assists per contests.
7. Ayoka Lee
School: Kansas State Wildcats
One name that all college basketball fans should know of is the Kansas State Wildcats star center Ayoka Lee. Lee, who has helped the Wildcats to 2nd in the Big 12 this season with a 13-3 record has done nearly everything she can this season. Despite falling to Iowa State 73-70 in the team's last outing, Lee scored 38 points to go along with 11 rebounds, two assists, two steals and three blocked shots against one of the top teams in the country. 
Lee currently ranks 3rd in the country averaging 24.2 points a game while tied for 20th in the country averaging 20.8 rebounds per game. If the Wildcats can continue to play well, look for Lee to move up the rankings as one of the Top 10 NCAAW BB players.
6. Makenna Marisa
School: Penn State Nittany Lions
Another all-around great player is the Penn State Nittany Lions junior guard Makenna Marisa who is putting together her best season in college basketball. Marisa who is averaging a career high 21.7 points a game can do it all as she also averages 4.1 rebounds and 4.7 assists to go along with 1.6 steals per contests. 
Marisa currently ranks 8th in the country in points per game and 63rd in the country in assists per contests. Over her last two games, the Nittany Lions guard has scored 62 points to go along with five rebounds, seven assists and three steals.
5. Khayla Pointer
School: LSU Tigers
With another Top 10 program showing their talent this year, Khayla Pointer has made a name for herself as one of the top players in the country in her senior season. Pointer has posted at least 20 points eight times this season with the LSU Tigers going 6-2 in those contests. 
Overall, Pointer is averaging 18.1 points a game this season to go along with 6.8 rebounds and 5.3 assists while leading the Tigers to a 15-2 overall record. 
4. Ashley Joens
School: Iowa State Cyclones
One of the big names going into the Women's College Basketball schedule is the Iowa State Cyclones star Ashley Joens. Luckily for the Cyclones and fans of college basketball she was not disappointed as he helped the team to a 14-1 overall record while being ranked 9th in the country. 
Joens who has posted a solid resume to this point including back to back First Team All-Big 12 honors, is averaging 20.8 points a game to go along with 9.8 rebounds and 2.5 assists per contests. In the team's last three games, all wins including two over Top 25 programs, Joens has averaged 21.7 points to go along with 10.7 rebounds and 2.7 assists.
3. NaLyssa Smith
School: Baylor Bears
No one in the country may be as dominant as Nalyssa Smith as she continues to dominate each outing on the floor as the Baylor Bears currently sit at 10-3 on the year. Smith, who is in her senior season, is ranked inside the Top 20 in both points scored and rebounds per game while also ranking near the tops of the list in blocked shots per game. 
Smith is averaging 20.4 points a game to go along with 12.6 rebounds per contests while also adding 1.3 assists and 1.2 blocked shots per contests. Smith's leadership qualities have the Bears currently ranked 14th in the country.
2. Aliyah Boston
School: South Carolina Gamecocks 
Over her first two years with the South Carolina Gamecocks, Aliyah Boston has been one of the best players in the country earning two First Team All-SEC honors, two Lisa Leslie awards, National Freshman of the Year honors as well as taking home the 2021 SEC tournament MVP award. 
Her production has not slowed down this season as she is currently averaging 17.1 points a game to go along with 11.1 rebounds while helping her Gamecocks to the top spot among the AP Women's Top 25 poll after winning 15 of their first 16 games this season. Only thing left for her to achieve is to help her Gamecocks to a National championship.
1. Caitlin Clark
School: Iowa Hawkeyes
As far as the top two spots both of these ladies are as talented as any player in Women's college basketball. Entering play on January 12th, 2022 the Iowa Hawkeyes sophomore guard ranks 1st in the country in scoring averaging 25.3 points a game while also ranking 5th in the country averaging 7.1 assists. 
In addition, Clark is averaging 8.1 rebounds per game to go along with 1.6 steals while helping the Hawkeyes to an 8-4 record to start the season. Over her last three games, Clark is averaging 35 points a game to go along with 5.3 rebounds and 8.3 assists while the Hawkeyes posted a 2-1 record over that stretch.
How would you rank these college players for the 2021-2022 season? Rank below to be added in the Power Rankings and to have a chance to win a gift card to LAZADA, Amazon, Fanatics.com, or more that is specific to you. Join the contest by ranking below.
Related Links:
POPULAR POSTS
Thank you
Your email has been successfully subscribed.
Sorry, there are no polls available at the moment.