Top 10 MLB Rookies 2022 June Rankings
Ranking the best MLB Rookies of June 2022 as Bobby Witt Jr. continues his stellar play so far this season. Also where Julio Rodriguez, Brock Burke, and more rank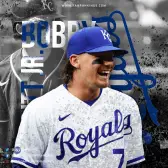 The next wave of talented baseball players have arrived at the Major League level as some of the game's top prospects are putting together strong rookie seasons to begin their MLB careers.
This includes the likes of potential AL Rookie of the Year award candidate Julio Rodriguez of the Seattle Mariners. Rodriguez, who was one of the top prospects in all of baseball during the 2021 MILB season, joined the Mariners to start the 2022 MLB schedule and has not disappointed.
As excitement builds around each of the top MLB rookies as the season moves on, their success continues to mark the beginning of a bright young future.
Joining Rodriguez on the Top 10 MLB Rookies June 2022 rankings list is another former top MLB prospect in Bobby Witt Jr while guys like Jeremy Pena, Jake Burger, Luis Gonzalez, and Joe Ryan all put together excellent starts to their career as well.
With that said, here is our list of the Top 10 MLB Rookie Rankings of June 2022
Honorable Mention
Steven Kwan
Team: Cleveland Guardians
Just missing the Top 10 MLB Rookies June 2022 rankings list is the Cleveland Guardians rookie outfielder Steven Kwan.
Kwan, who is just 24 years of age, has played solid defense in the outfield all season for the Guardians while also swinging a solid bat.
Kwan is batting .272 over 158 total at bats this season while picking up seven doubles, two triples, one home run, 16 runs batted in and 21 total walks.
Luis Gonzalez
Team: San Francisco Giants
Another rookie just missing the top MLB rookie's rankings 2022 list is the San Francisco Giants outfielder Luis Gonzalez just joined the team during the off-season after the Chicago White Sox placed him on release waivers.
Gonzalez has not disappointed to start the season posting a .302 batting average to go along 42 hits over 139 total at bats.
Despite his recent struggles in June where Gonzalez is batting just .184 in June, Gonzalez still ranks among the top rookies in batting average. 
Top 10 MLB Rookies
10. Dany Jimenez
Team: Oakland A's
Each year it seems like a new Oakland A's rookie is making headlines and that is the case with the team's rookie closer Dany Jimenez. Jimenez entered June 16th, 2022, ranked first among all relief pitchers in saves with 10 total saves.
On the year, the A's closer has converted 10 of 12 total saves while striking out 22 batters over 23 innings of work.
While he has struggled in June, Jimenez has demonstrated his ability to be overpowering at the back of the A's bullpen while he continues to develop as a closer.
9. MacKenzie Gore
Team: San Diego Padres
The San Diego Padres continue to be one of the top teams in all of baseball as they currently sit with the third best record in the National League.
While the team has a ton of fire power on offense, it has been the team's pitching that has been a bright spot early on including rookie MacKenzie Gore.
Gore has pitched to a 1-1 record in two starts during June while pushing his overall record to 4-2 on the year to go along with a 2.50 earned run average and 60 strikeouts over just 50.1 innings of work.
8. MJ Melendez
Team: Kansas City Royals
When you look around at all the MLB teams and the young talent within the organization the Kansas City Royals rank near the top with a solid group of young studs. This group includes both Bobby Witt Jr as well as MJ Melendez.
Melendez who was drafted by the Royals within the second round of the 2017 MLB draft, strong 2021 MILB season including 41 total home runs helped him earn his way to the big-league club in 2022. Melendez is currently batting .248 on the year with six home runs and 16 runs batted in.
7. Brendan Donovan
Team: St. Louis Cardinals
As the St. Louis Cardinals continue to put together a strong campaign to start the 2022 MLB season, one big surprise on the team's roster has been third baseman Brendan Donovan. 
Donovan, who made his MLB debut during the 2022 MLB season, is batting .341 over 129 at bats to include 44 hits, 13 doubles and one triple while driving in 20 runs and picking up 21 walks.
In addition to that success, Donovan has posted an impressive .448 on base percentage to go along with a .913 OPS and a .465 slugging percentage.
6. Brock Burke
Team: Texas Rangers
The group of young rookie pitchers around Major League Baseball continue to dazzle during their first full year in the Majors, one rookie pitcher making a name for himself is Brock Burke of the Texas Rangers.
Burke, who made the change to the bullpen this season has pitched to 4-1 record over 19 total appearances. Over those 19 innings, the former third round pick of the Tampa Bay Rays has pitched to a .83 earned run average to go along with 38 strikeouts over 32.2 innings of work.
In June, Burke has been as good as any relief pitcher allowing zero earned runs over eight innings of work while striking out seven batters. 
5. Joe Ryan
Team: Minnesota Twins
Coming in at number five on the Top 10 MLB Rookies June 2022 rankings is the Minnesota Twins starter Joe Ryan.
After making his debut last year for the Twins and making five total starts, Ryan has made a name for himself as one of the team's top starting pitchers.
Ryan, who has made nine starts during the 2022 MLB schedule has pitched to a 2.81 earned run average over 48 innings of work. Over those 48 innings, Ryan has allowed just 15 earned runs while pitching to a 1.02 WHIP and a 5-3 overall record. 
4. Bobby Witt Jr.
Team: Kansas City Royals
This is where the list of the Top MLB Rookies gets interesting as these top four players are some of the game's top overall prospects over the past few seasons.
One of those top MLB prospects is the former overall top prospect Bobby Witt Jr who made his pro debut during the start of the 2022 MLB schedule.
After a slow start, Witt Jr has gotten the bat rolling of late posting a .294 batting average in 51 at bats during June to go along with two doubles, one triple, two home runs, and eight runs batted in.
Overall, the Royals stud shortstop who is just 22 years of age, is batting .246 on the year with eight home runs and 32 runs batted in.
3. Jake Burger
Team: Chicago White Sox
When looking at some of the MLB top young stars, one name that has been on the list since his strong 2021 MILB season where he smashed 18 home runs to go along with 54 runs batted in. 
Despite the success, Jake Burger started in the minor leagues to start the 2022 season before getting called up to join the Chicago White Sox.
After a slow start, Burger has gotten the bat rolling in June, batting .359 with a .419 on base percentage to go along with five doubles, four home runs and 10 runs driven in.
Overall, on the year, the White Sox first baseman is batting .273 with eight home runs to go along with 23 runs batted in.
2. Jeremy Pena
Team: Houston Astros
As you look at the top two MLB Rookies in 2022, the debate could be that both Jeremy Pena and Julio Rodriguez are both well deserving of the top overall spot.
However, only one of those players could take home the spot with Jeremy Pena of the Houston Astros landing at number two.
Pena, who has taken over the starting shortstop duty with the departure of Carlos Correa has put together a strong rookie season.
While Pena is currently out with a wrist injury, he still has posted some of the top numbers as a rookie in 2022. Pena ranks near the top in every offensive category among all rookies including batting average (.277), home runs (9), and runs batted in (27).
1. Julio Rodriguez
Team: Seattle Mariners
In the end Julio Rodriguez of the Seattle Mariners lands at number one on the Top 10 MLB Rookies June 2022 rankings list.
The Mariners top overall prospect joined the MLB club to start the season and has not looked back. Rodriguez who is batting .263 on the year with eight home runs and 28 runs batted in has played as good as any rookie in Major League Baseball while also playing solid defense within the outfield.
In addition to his power numbers to start the season, Rodriguez is a threat to swipe a bag any time he lands on base, something that has accumulated to him leading all of baseball in steals with 17 total stolen bases.
How would you rank these MLB Rookies so far? Rank below to be added in the MLB Power Rankings 
Related Links:
POPULAR POSTS
Thank you
Your email has been successfully subscribed.
Sorry, there are no polls available at the moment.