Top 10 MLB Rookies 2022 July Rankings
Ranking the best MLB Rookies of July 2022 as Adley Rutschman goes from unranked to ranked this month due to his stellar play so far this season. Also where Julio Rodriguez, Bobby Witt Jr., and more rank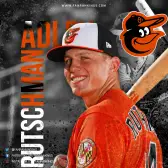 The first half of the 2022 MLB season is nearly in the books as the last week before the All-Star break has arrived.
As MLB All-Stars get set for a few days of festivities set to kick off July 18th, many of the games top rookies get a chance to relax, put in some extra work, and look back at the first half of their first MLB full season. 
One 2022 MLB rookie that won't get a chance to do that is the Seattle Mariners outfielder and potential AL Rookie of the Year Julio Rodriguez who will be heading to the 2022 MLB All-Star game.
As Rodriguez is putting together a stellar rookie season, a few other top MLB rookies are doing as well and are well deserving to land on the Top 10 MLB Rookies July 2022 rankings including Bobby Witt Jr, Jeremy Pena and Joe Ryan.
As Rodriguez continues to hold onto the top spot from June 2022, here is an updated look at the Top 10 MLB Rookies July 2022 rankings. 
Honorable Mention
Brock Burke
Team: Texas Rangers
Landing just outside of the Top 10 MLB Rookies July 2022 rankings is the Texas Rangers rookie relief pitcher Brock Burke.
Burke, who has been as solid as any reliever around Major League Baseball, has allowed just one earned run over 7.2 innings in July while pitching to a 1.22 earned run average on the year.
In addition to the low earned run average, Burke has allowed just a .97 WHIP over 44.1 innings of work while striking out 46 batters. 
Brendan Donovan
Team: St. Louis Cardinals
The St. Louis Cardinals 25-year-old left fielder has put together a solid rookie campaign for the red birds while also playing solid left field for the club.
As a rookie in 2022, Donovan has posted a 1.7 Wins Above Replacement mark while holding his own at the plate. Over 207 at bats this season, Donovan is batting .285 with 14 doubles, one triple, two home runs, 26 runs batted in and 29 walks.
His ability to work counts and pick up walks have helped the left fielder compose a .392 On Base Percentage and a .783 OPS in just 65 total games. 
Top 10 MLB Rookies
10. Juan Yepez
Team: St. Louis Cardinals
Coming in at number 10 on the Top 10 MLB Rookies July 2022 rankings is Brendan Donovan's teammate Juan Yepez.
Yepez, who has split his time all around the field for the St. Louis Cardinals including at first base, left field, right field, and designated hitter, has been a surprising addition to the roster. 
Through 60 games to start the season, Yepez has picked up 11 home runs to go along with 10 doubles in 204 total at bats.
Among rookies, Yepez ranks tied for 11th in doubles, 5th in home runs and tied for 5th in runs batted in among all MLB rookies in 2022.
9. Adley Rutschman
Team: Baltimore Orioles
Making his first appearance among Major League Baseball top rookies is the Baltimore Orioles former top overall prospect Adley Rutschman.
Rutschman, who started the season within the minors has been a bright spot for an Orioles team that has been surprisingly good in July.
The Orioles catcher has appeared in just 41 games this season spending time between catcher and designated hitter. Over those 41 games, Rutschman has batted .221 to go along with 13 doubles, one triple, four home runs and 12 runs batted in while picking up 16 walks.
In addition, the Orioles catcher's ability to work with the pitching staff has helped the team win eight straight games. 
8. Luis Gonzalez
Team: San Francisco Giants
The San Francisco Giants right fielder has been one of the more consistent rookies over the course of the 2022 MLB schedule as he currently ranks 1st among all MLB rookies with at least 150 at bats in batting average.
Gonzalez is currently batting .302 on the year over 169 at bats through 52 games played. The 26-year-old outfielder has also picked up 20 runs scored, 13 doubles, one triple, three home runs and 26 runs batted in to start his MLB career. 
7. Steven Kwan
Team: Cleveland Guardians
Looking at one of the top rookies in Major League Baseball, Steven Kwan has been a bright spot for the Cleveland Guardians in 2022.
The Guardians outfielder has appeared in 72 games this season for the team while batting .278 with a .362 On Base Percentage over 252 total at bats.
Over those at bats, Kwan has picked up the third most hits among rookies (70), including 11 doubles, three triples, and one home run.
In addition, Kwan ranks 2nd among rookies in 2022 picking up 30 walks to help his On Base Percentage.
6. Jake Burger
Team: Chicago White Sox
When you have one of the coolest last names in baseball, you tend to stick out among the rest of the peers. That is exactly what the Chicago White Sox first baseman Jake Burger has done during the 2022 MLB season while ranking among the top rookies.
The 26-year-old infielder for the White Sox is batting .250 on the year with an .302 On Base Percentage and a .760 OPS over 168 total at bats.
Burger, who was selected by the White Sox with the 11th overall pick during the 2017 MLB draft, has picked up 40 hits in the year including eight home runs while also in 26 total runs.
5. Joe Ryan
Team: Minnesota Twins
One of the hardest positions around Major League Baseball to be successful at as a rookie is on the mound.
However, Joe Ryan of the Minnesota Twins has been solid in his rookie year as he currently leads or ranks near the top among all rookie starters in nearly every pitching statistic.
Ryan leads rookies in wins (6) and earned run average (3.09) while ranking 4th in strikeouts (63), and 3rd in innings pitched (70). 
4. MJ Melendez
Team: Kansas City Royals
The Kansas City Royals future looks promising as the club currently has two of the top MLB rookies in 2022 with MJ Melendez landing in at number four on the Top 10 MLB Rookies July 2022 rankings list while his teammate Bobby Witt Jr lands at number three.
The 23-year-old catcher is batting .217 on the year for the Royals while picking up 44 hits over 203 at bats including nine home runs and eight doubles.
In addition to the hits, Melendez has picked up 30 walks this season to help push his On Base Percentage mark to .312 on the year.
3. Jeremy Pena
Team: Houston Astros
As for the number two spot on the Top 10 MLB Rookies July 2022 rankings list it could have been a flip flop between Jeremy Pena of the Houston Astros and Bobby Witt Jr.
That said, Pena has landed at number three after a strong start to his rookie season. The Astros rookie is currently batting .266 on the year with a .314 On Base Percentage while picking up 63 hits over 237 at bats.
Of those 63 hits, Pena has collected nine doubles, one triple, 12 home runs to go along with 32 runs batted in. 
2. Bobby Witt Jr.
Team: Kansas City Royals
After a somewhat of a slow start to his rookie season, Bobby Witt Jr has started to put together a solid resume over his first season in the big league.
Witt Jr currently leads all rookies with 18 doubles and 45 runs batted in. The Kansas City Royals shortstop also ranks tied for 3rd in home runs (12), tied for 11th in walks (19), 2nd in runs scored (45) and 2nd in hits (80).
Despite being just 22 years old, the Royals rookie has played well enough to be considered as an option to represent the club at the 2022 MLB All-Star game. 
1. Julio Rodriguez
Team: Seattle Mariners
The obvious choice as the top rookie in all of baseball through July 2022 is the Seattle Mariners All-Star outfielder Julio Rodriguez.
Rodriguez, who was selected to his first MLB All-Star team ranks near the top among all offensive categories among MLB rookies. Rodriguez currently leads all rookies in hits with 89, home runs with 15, and stolen bases with 21.
In addition, Rodriguez has picked up 17 doubles, two triples, 44 runs batted in and posted a .334 On Base Percentage to go along with a .274 batting average. The future looks bright in Seattle with Rodriguez patrolling center field.
How would you rank these Rookies so far? Rank below to be added in the MLB Power Rankings 
Related Links:
POPULAR POSTS
Thank you
Your email has been successfully subscribed.
Sorry, there are no polls available at the moment.