Top 10 MLB Players 2022 June Rankings
Ranking the best MLB players of June 2022 as Aaron Judge goes from unranked to #1. Also where Shohei Ohtani, Bryce Harper, and more rank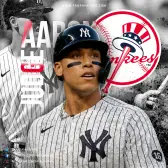 The 2022 MLB season continues to march along as the 2022 MLB All-Star Game and 2022 MLB Trade Deadline are just around the corner.
As teams approach the halfway point of 81 games, many of the MLB top players are just heating up as the heat starts to increase around the country. While there are many great ball players putting together big seasons in 2022, only ten can land on the Top 10 MLB Players June rankings list. 
One player leading the way is the AL MVP candidate and New York Yankees All-Star Aaron Judge. Judge, who has been red hot over the past month of the season, has helped the Yankees cruise to one of the Top 10 MLB teams in all of baseball as we sit in the middle of June.
In addition to Judge, other players who are having a strong start include Pete Alonso, Justin Verlander, Jose Ramirez, and Paul Goldschmidt.
With that said, here is our list of the Top 10 MLB Players Rankings of June 2022: 
Honorable Mention
Shohei Ohtani
Team: Los Angeles Angels 
The Los Angeles Angels dynamic two-way All-Star continues to put together a strong start to his MLB career during the 2022 MLB schedule.
Entering play June 16th, 2022, Shohei Ohtani has pitched to a 4-4 record over his first 10 starts of the 2022 MLB season while pitching to a 3.64 earned run average and 71 strikeouts in just 54.1 innings of work.
In addition, Ohtani is batting .259 with 13 doubles, 13 home runs and 37 runs batted in. In 50 at bats during June the Angels outfielder is hitting .300 with four doubles, one triple, two home runs with five runs driven in.
Mike Trout
Team: Los Angeles Angels 
Landing just behind his teammate, Mike Trout lands just outside of the Top 10 MLB Players June rankings list.
Despite strong performances in both April and May, Trout has struggled since the calendar flipped to June. In 35 at bats during June, Trout is batting just .229 with two doubles, three home runs and six runs batted in.
Despite the struggles the Los Angeles Angels outfielder is batting .289 with 16 home runs to go along with 34 runs batted in while still posting a 1.011 OPS and a .391 on base percentage.
Top 10 MLB Players
10. Yordan Alvarez
Team: Houston Astros
The Houston Astros just secured a long-term deal with power hitting outfielder Yordan Alvarez that will keep the 24-year-old outfielder with the team through the 2028 MLB season.
Alvarez's strong success last season and his hot start to 2022 helped lead to the new contract. On the year, Alvarez is batting .312 with 17 home runs and 45 runs batted in while ranking in the top 12 in nearly every offensive category.
Alvarez's bat is red hot over 47 at bats during June including 22 hits over 47 total at bats with four doubles, one triple, three home runs, and 17 runs batted in.
9. Justin Verlander
Team: Houston Astros
After making just one start over the previous two seasons including missing all of 2021, Justin Verlander has bounced back in a keyway while helping the Houston Astros to the top of the AL West division.
The former AL MVP and CY Young award winner, is tied for the MLB lead with eight wins having an 8-2 overall record. To go along with the wins, Verlander has pitched to a 1.94 earned run average, .81 WHIP and 78 strikeouts in 78.2 innings of work.
In addition, Verlander has been strong at home this season pitching to a 1.65 earned run average with four wins over five starts.
8. Rafael Devers
Team: Boston Red Sox
Looking around Major League Baseball headlining a strong group of young stud third baseman is the Boston Red Sox All-Star Rafael Devers.
Devers, who is coming off a strong 2021 campaign including taking home the Silver Slugger award ranks fifth in batting average (.332), seventh in home runs (16) and 17th in runs batted in (40) to start the 2022 MLB schedule.
Over his last 46 at bats, Devers has batted .283 with five home runs, three doubles and 14 runs batted in while posting a .377 on base percentage while helping the Red Sox win eight of their past 10 contests.
7. Bryce Harper
Team: Philadelphia Phillies
The reigning NL MVP is off to another hot start to the 2022 MLB season as he currently ranks near the top ten in every offensive category including batting average, home runs and runs batted in. While his performance has been strong to start the season, his recent hot streak has helped him raise his numbers.
Since the start of June Harper is batting .372 while posting a .462 on base percentage to go along with two doubles, five home runs 14 runs batted in and eight walks. Overall, the Phillies All-Star is batting .317 with 15 home runs, 46 runs batted in and a 1.000 OPS. 
6. Alek Manoah
Team: Toronto Blue Jays
One name that you might not be familiar with is that of the Toronto Blue Jays starter Alek Manoah.
Despite not being a household name, after his strong start, his name should start to make its rounds around MLB as he has been as dominant as any pitcher in baseball to start the season. 
Manoah has posted a strong June posting a 3-0 record while allowing just three earned runs over 19.2 innings of work helping lower his earned run average to 1.67 and pushing his record to 8-1 on the year.
5. Tony Gonsolin
Team: Los Angeles Dodgers
As we continue to see dominant starting pitching to start the season, one pitcher that is well deserving of a spot on the Top 10 MLB Players June rankings list is the Los Angeles Dodgers starter Tony Gonsolin.
Gonsolin, who made 13 starts last season, has already made 12 starts during the beginning of the 2022 MLB season while posting an 8-0 record.
In addition to winning eight of his first 12 starts, the Dodgers are 9-3 overall in games he has started. In June, the Dodgers starter was 3-0 with a .49 earned run average over 18.1 innings of work. 
4. Paul Goldschmidt
Team: St. Louis Cardinals
One player who is making a case for himself to be the NL MVP is the St. Louis Cardinals first baseman Paul Goldschmidt.
Goldschmidt enters June 16th, 2022, batting .347 with 16 home runs and 56 runs batted in. Currently the Cardinals first baseman ranks first in average, seventh in home runs, third in runs batted in and first in OPS (1.070) in all of baseball.
This production has continued in June as Goldschmidt has 18 hits over 54 at bats including four doubles and five home runs while driving in 13 runs and picking up 13 walks. 
3. Pete Alonso
Team: New York Mets 
The New York Mets continue to be one of the hottest teams in the National League to start the season with Pete Alonso helping to carry the load.
Alonso is currently posting the highest average of his career at .284 to go along with 18 home runs and 59 runs batted in while also picking up nine doubles.
The Mets first baseman's strong start has helped pace the Mets offense that has helped guide the team to the best start in the NL.
2. Jose Ramirez
Team: Cleveland Guardians
While the Cleveland Guardians have had their struggles at times on offense and finding complimentary pieces to slot in the lineup around Jose Ramirez.
None of this has slowed his production down as Ramirez enters mid-June batting .307 with 16 home runs while leading all of Major League Baseball with 62 runs batted in.
His bat has picked up over 51 at bats in June as he is batting .333 with a .404 on base percentage to go along with eight doubles, three home runs and 11 runs batted in.
1. Aaron Judge
Team: New York Yankees
Landing at number one on the Top 10 MLB Players June rankings list is the hottest hitter in all of baseball over the last month plus of the season in Aaron Judge.
Judge, who has been a driving factor in the New York Yankees posting the best record in all of baseball, continues to lead the game in home runs while also ranking in the top 15 in nearly every offensive category.
Judge is currently batting .313 on the year with 25 home runs, 49 runs batted in and a 1.067 OPS. Over the last 52 at bats in June, Judge is batting .346 with seven home runs, 11 runs batted in and five multi-hit performances.
How would you rank these MLB Players so far? Rank below to be added in the MLB Power Rankings 
Related Links:
POPULAR POSTS
Thank you
Your email has been successfully subscribed.
Sorry, there are no polls available at the moment.