Top 10 NHL Teams Right Now – April 2022 Rankings
Ranking the best NHL Teams right now as Nathan MacKinnon, Mikko Rantanen and Cale Makar lead the Colorado Avalanche up the March NHL Power Rankings in the 2021-2022 season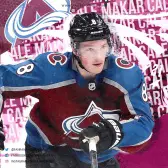 We are just under two weeks left in the NHL season, the Eastern Conference for the playoffs is completely locked up and the Central Division is more or less locked up as well. 
There are still some teams that might sneak into the Wild Card out West. It is increasingly starting to look like the Vegas Golden Knights are going to miss the NHL Playoffs for the first time in their franchise history. 
The Colorado Avalanche and the Florida Panthers are still duking it out for number one in the NHL, but it's looking more like Colorado will win their second consecutive Presidents Trophy. Anyway, here are the top ten teams in the NHL right now. 
Honorable Mention
Pittsburgh Penguins 
Pittsburgh just missed the top ten as they continue to stay relevant in the Eastern Conference. The change in ownership hasn't slowed the team down at all as they hold the third-place spot in the Metro Division. They currently have a record of 43-23-11 and have 97 points. 
Sidney Crosby is still the leader of the Pens on and off the scoresheet with 80 points this season in 64 games played. They did bring Rickard Rakell at the deadline to sure up the top six and have 10 points in 14 games. 
Jeff Carter is still a force in the NHL for the Penguins with 41 points in 71 games this season. The Penguins have been proof that anything can happen in the playoffs. All it takes is Crosby to get on a hot streak and the Penguins are in the Eastern Conference Finals.
Top 10 NHL Teams
10. Boston Bruins 
The Boston Bruins locked up a Wild Card spot in the Eastern Conference and are only three points behind the Tampa Bay Lightning and are currently 46-24-5 on the season. The Bruins are currently being led in scoring by Brad Marchand with 73 points and NHL fan favorite David Pastrnak with 71 points. 
They did add long-time Duck's defensemen Hampus Lindholm and then immediately sign him to an eight-year extension but has only added 4 assists in 7 games for the Bruins. 
It doesn't look like the Bruins are going to make a run this year in the postseason, especially considering the goaltending is shaky at best. Anything can happen in the postseason so who knows.
9. Tampa Bay Lightning 
It's starting to look like two back-to-back Cups is starting to catch up with the Tampa Bay Lightning this season. 
They are currently holding on to the last playoff spot in the Atlantic Division at the moment with 100 points, but the Bruins aren't very far behind them. They are 14 points behind their cross-state rivals in Miami, how the tables have turned. 
Steven Stamkos is leading the team in goals and points with 33 goals this season and 84 points, pretty since he hasn't been 100% this past few seasons. Victor Hedman is still their rock on defense and could very much lead them to a third consecutive Cup.
8. Minnesota Wild
Listen, the Wild have been playing great this season and I don't want to discredit it. They are not going to make it very far into the postseason. 
They currently sit in the last playoff spot in the Central Division with 101 points and don't have to worry about being bumped since they have a 10-point lead on Nashville and Dallas. 
If for some reason Kaprizov is to get injured or miss any time, Minnesota is going to crumble as Mats Zuccarello can't hold the torch alone. Ryan Hartman is still playing very well with 59 points in 75 games, but he wouldn't be scoring as much without Kap. 
Also, Marc-Andre Fluery is a great goalie, but has been declining the past few seasons. People like Fluery the person so much they seem to forget his best season are behind him.
7. Calgary Flames
This is the season that the Flames need to capitalize on their success with a few key players contracts coming up at the end of the season. Johnny Gaudreau is having a career season right now with 107 points in the last 76 games this season. 
Matthew Tkachuk is also having an insane season with 39 goals and 59 assists for 98 points in 76 games. They also added Tyler Toffoli at the deadline as well who has 21 points in 31 games since coming over from Montreal. 
It's going to be a rough offseason for the Flames as their three out of their four top scorers need new contracts. If they don't meet Colorado, they have a good shot at a run in the West.
6. St. Louis Blues
It is insane that Vladimir Tarasenko had requested a trade before the expansion draft and looked like he could be the poster boy for Seattle, and he is now leading the Blues in points. In just 59 games this season, Tarasenko has 76 points, 33 goals and 43 assists. 
Brandon Saad has also been playing well since ditching the Avalanche for his third Central Division team with 46 points in 72 games. 
The Blues hold the second place spot in the Central Division right now but are not going to clinch the division mathematically. Despite their great play, they probably won't be the team to come out of the West unless lady luck pays them another favor.
5. New York Rangers
What is going on with the New York Rangers? Weren't they in a full rebuild just a few years back? They picked in the top three two seasons in a row, and while they have not been playing lights out, they will surely round out the top six for the next few seasons. 
Artemi Panarin is leading the team in points with 22 goals and 68 assists for 90 points in 71 games. For the second season in a row, Adam Fox is getting it done on defense yet again with 68 points in 73 games. 
Igor Shersterkin is also playing fantastic for the Rangers with a 2.05 GAA and .935%. The addition of Andrew Copp is also paying off as he has 13 points in 13 games. It is going to be one amazing postseason for the Rangers this year.
4. Carolina Hurricanes
Holding on to the number one spot in the Metropolitan Division, the Carolina Hurricanes are firing on all cylinders right now and it shows. 
They are also looking to lock up their second consecutive division championship as they look to finally make a deep postseason run. They don't have any players that are in the top ten in points, but they are scoring all up and down the lineup. 
Sebastian Aho and Andrei Svechnikov are tearing it up for them with Aho having 77 points and Svech having 67. They also added Max Domi at the deadline who has put up 6 points in 14 games thus far with the Canes.
3. Toronto Maple Leafs
Is it the year the Leafs finally make it through the first round? Honestly, I hope so because I am so tired of the Leafs being bad jokes and that poor fanbase needs a break. Just kidding I grew up a Flyers fan and I am for anything that takes the attention away from me. 
The Leafs are currently second in their division with 106 points and most of their offense is coming from Auston Matthews. He just broke the 100-point plateau and has 58 goals on the season, surely going to break 60 goals in a season. 
Nylander is also having a revolution of a season, third on the team in scoring tied with Tavares at 74 points. Their biggest problem is the back end of their lineup but adding Lyubushkin and Giordano has definitely put a bandage on it for the time being. They could definitely make a run this season depending on how the cookies crumble and if they stay healthy.
2. Florida Panthers
The Florida Panthers have been truly impressive this season and are honestly the favorite to win the Stanley Cup in the East. They are the top seed in the Eastern Conference, number one in the Atlantic, and number two in the NHL. 
They do have a chance to catch up with the Avalanche but only time will tell. Their roster coming into the season looked stacked, played well, and they even added long time Flyers captain Claude Giroux and long time Canadian Ben Chiarot. 
Since being traded, Claude Giroux has 16 points in 14 games, keeping his consistency the Flyers benefited from for more than a decade. Jonathan Huberdeau is the Panthers undoubted MVP as he has 108 points in 75 games played this season with 78 of them being assists. This is the year for the Panthers to really go for it and it is looking like they might just go the distance.
1. Colorado Avalanche
Would you believe that just 5 years ago the Avalanche were dead last in the NHL with only 48 points and are now on the cusp of their second consecutive Presidents Trophy? Joe Sakic is a magic man that has been able to take his team from the pits and bring them up to the top of the NHL. 
The bulk of their success is coming from the usual players: MacKinnon, Rantanen and Makar. The best part is that they have been able to stay consistent without Nazem Kadri and team captain Gabriel Landeskog. Getting Bowen Byram back recently was better than any deadline trade they ever could have made. 
Even though they haven't been able to get him in contract talks, Darcey Kuemper has been killing it for the Avalanche in net with a 2.43 GAA and .924 SV%. Hopefully they make it past the second round but are a way better team than any team in the West currently.
How would you rank these National Hockey League teams so far in the 2021-2022 season? Rank below to be added in the Team Power Rankings and to have a chance to win a gift card to LAZADA, Amazon, Fanatics.com, or more that is specific to you. Join the contest by ranking below.
Related Links:
POPULAR POSTS
Thank you
Your email has been successfully subscribed.
Sorry, there are no polls available at the moment.