Top 10 NHL Right Wings 2022 Rankings
Ranking the best Right Wings in the NHL for the 2021-2022 season as Mikko Rantanen leads the way. Also where David Pastrnak, Patrick Kane, and more rank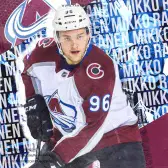 I have personally found it interesting that centers are good at playing on the wing, but wings are not able to jump into the middle of the ice as well. 
There have been some very good right wingers in the NHL, such as Jaromir Jagr, and sadly the late greats of Mike Bossy and Guy Lafleur who passed away this year. Living up to those greats, here are the Top 10 Best Right Wingers in the NHL right now.
Honorable Mention
Claude Giroux
Team: Florida Panthers 
If there ever was an embodiment of the word consistent, it is not the Philadelphia Flyers. Luckily for the word Claude Giroux was. 
Drafted by the Flyers in 2006, he played 1000 games with the franchise before the team did him a favor and traded him to the Florida Panthers. Originally a center, Giroux has found himself on the wing these past few seasons as players have moved up around him. 
In 72 games between the Flyers and Panthers he has 20 goals and 39 assists for 59 points. With the Panthers he does have 2 goals and 15 assists in 15 games. 
Top 10 NHL Right Wings
10. Troy Terry
Team: Anaheim Ducks 
There are quite a few teams in the NHL scratching their heads right now wondering how Troy Terry fell to 148th overall in the 2015 NHL Draft. 
The former University of Denver NCAA Champion took the NHL by storm this season, even being in the top ten in points scored at one point. 
So far this season the Duck has 36 goals and 28 assists for 64 points in 74 games this season. He is a showcase to how bright the future is in Anaheim.
9. Ryan Hartman
Team: Minnesota Wild
It is completely insane that three, technically four NHL teams failed to see Hartman's potential as a top six forward in the NHL. 
He signed as a free agent with the Wild after being traded by the Flyers to the Stars and then not signed by Dallas. In his previous two seasons with the Wild he has only scored 42 points but this season he was just playing differently. 
So far in 77 games he has scored 32 goals and 29 assists for 61 points. Despite being a typical wing, he is currently playing as the number one center for the Wild.
8. Andrei Svechnikov
Team: Carolina Hurricanes 
The Carolina Hurricanes and their fans instantly knew that they got a truly special player 2nd overall in 2018. 
What is kind of funny is that the Hurricanes now have the 2nd and 3rd overall picks from that draft. "Svech" is now on year four of his NHL career and has exceeded his career high in points. In 75 games this season he has scored 30 goals and 38 assists for 68 points.
7. David Pastrnak
Team: Boston Bruins
In my opinion, before Pastrnak was drafted NHL teams slept on the Hockey Allsvenskan. Pasta had to wait till the 25th overall pick came around in the 2014 NHL Draft to hear his name called. 
Since then, he has turned into an NHL fan favorite with his wacky hairstyle and less then ordinary stick tape. 
So far this season he has scored 38 goals and 33 assists for 71 points in 69 games played. He isn't close to beating his career high, but he is always fun to watch.
6. Timo Meier
Team: San Jose Sharks 
Timo Meier is one of the most under the radar players in the NHL. The Sharks have taken a major fall from grace since their Stanley Cup appearance so many years ago. Meier was drafted 9th overall in a rare Sharks first round. 
Since then, he has been a constant in the Sharks lineup and has been rewarded for his stellar play this season. In 72 games played this season he has scored 33 goals and 40 assists for 73 points. The Sharks may not be having themselves a great season, but Meier surely is.
5. Mats Zuccarello
Team: Minnesota Wild
Mats Zuccarello has been around and consistent in the NHL since about 2011 after playing in the Swedish Hockey League. He has not been a New York Ranger since 2019 and when I hear the name, I still think Blueshirts. 
After being traded by the Rangers to the Stars, Mats signed as a free agent with the Wild and has only seemed to get better at scoring. He is currently 5th in NHL scoring by a right wing with 23 goals and 55 assists for 78 points in 69 games.
4. Vladimir Tarasenko
Team: St. Louis Blues 
Vlady is one of those players in the NHL that no one really has an issue with. It looked like the long-lasting romance between him, and the Blues was coming to an end as he requested a trade and was left exposed to the Kraken. 
I am unaware if he still feels that way since I do not know him personally, but his scoring may say otherwise, or he is stoking his own trade flames. He is currently 4th in the NHL for points by a right wing with 33 goals and 46 assists for 79 points in 73 games this season.
3. Patrick Kane
Team: Chicago Blackhawks 
Greatest American born scorer of all time? Patrick Kane is starting to challenge Mike Modano for that title. 100 more goals and he will be knocking on that door. 
One coinflip away from being a Philadelphia Flyer, Patrick Kane clinched the Stanley Cup against that very team in 2010. So far this season he is 3rd in the NHL with points scored by a right wing with 26 goals and 65 assists for 91 points in 74 games.
2. Mitch Marner
Team: Toronto Maple Leafs 
Marner blew up the NHL a few years back with 94 points in 82 games but since then he has been unable to break 67 points on the season. 
He is often called out by Toronto media for his inconsistency scoring and his basic ineffectiveness in the last two postseasons. He has more than silenced his critics since he has scored 95 points this season with a little bit of road left. 
So far this season he has scored 34 goals and notched 61 assists, surpassing his career high at the moment by one point.
1. Mikko Rantanen
Team: Colorado Avalanche 
At the time of writing this Mikko Rantanen is currently out of the Avalanche lineup with a non-covid related illness. 
Hopefully it is nothing serious and he is just resting but the Avalanche are noticeably different without him. Mikko is 2nd in scoring by right wingers and is number one on this list because of his ability to carry the Avalanche without MacKinnon and Landeskog. 
So far this season he has scored 36 goals and 55 assists for 91 points in 73 games played. We all hope he is back soon. 
How would you rank these National Hockey League Left Wings in the 2021-2022 season? Rank below to be added in the Power Rankings and to have a chance to win a gift card to LAZADA, Amazon, Fanatics.com, or more that is specific to you. Join the contest by ranking below.
Related Links:
POPULAR POSTS
Thank you
Your email has been successfully subscribed.
Sorry, there are no polls available at the moment.