Top 10 NHL Players MVP Race – April 2022 Rankings
Ranking the best NHL players of the 2021-2022 NHL season so far in the month of April as Connor McDavid leads the way towards the Conn Smythe Trophy. Also where Alexander Ovechkin, Leon Draisaitl, and more rank for NHL MVP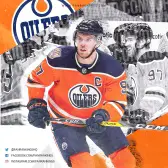 There is a little less than two weeks left in the 2021-22 NHL regular season and a few teams are still in the hunt, but the standings and brackets are more or less in place. 
The East is locked up but there is still a lot of movement left in the West. Some teams and players have really stepped up in the last half, you'll notice some Leafs and Flames on this list that otherwise may not have been there. 
With all that being said, here are the top ten players in the NHL right now for April.
Honorable Mention
Nathan MacKinnon
Team: Colorado Avalanche 
Listen, if it was not for the 16-game head start cause MacKinnon was out with injury, MacKinnon would be the number one player on this list. 
In just 59 games played this season, MacKinnon has 84 points, 31 goals and 54 assists. If he hadn't missed time in the beginning of the season, he would have been way passed McDavid and the other 14 players ahead of him. 
MacKinnon is the heart of the Avalanche and Makar is the soul and this is the year for the Avalanche to step up or step out. MacKinnon is also +21 and is fourth in the NHL for points per game. 
Top 10 NHL Players
10. Mikko Rantanen
Team: Colorado Avalanche
Mikko has been the Bull Moose for the Avalanche this season as MacKinnon and Landeskog have both missed significant time this season. 
As of writing this, Mikko is tied for ninth in the NHL with J.T. Miller in scoring at 91 points on the season. Those 91 points come from 36 goals and 55 assists in 72 games play this season. 
Dubbed "The Finisher" by some Denver Sports outlets, Mikko has been consistent in the Avalanche lineup this season as the team looks to lock up their second consecutive Presidents Trophy, but they will have to fight off Florida to do it.
9. Kirill Kaprizov
Team: Minnesota Wild
There is no shortage of great things I can say about Kirill Kaprizov and his game. Drafting players like Kaprizov is always a gamble given there is no certainty that a KHL All-Star will want to come over and play in the United States, let alone in Minnesota. 
Kaprizov is tied for eighth in NHL scoring behind Mitch Marner of the Toronto Maple Leafs at 93 points on the season. He has scored 43 goals and 50 assists in 74 games this season. 
Kaprizov is going to have to keep the scoring up if he and the Wild have any hopes at a long playoff run.
8. Mitch Marner
Team: Toronto Maple Leafs
Earlier this season Mitch Marner was the subject of a lot of ridicule as he was not playing even close enough to his contract, but those fears have been more than extinguished. 
He is currently tied for his career high of 94 points in a single season and he will surpass that record. In 72 games this season he has 34 goals and 60 assists. 
The Maple Leafs have looked very good in the last half of this season, but I am not sure if they are going to be able to go the distance. He is also averaging over 20 minutes a game, along with a plus 23 this season.
7. Cale Makar
Team: Colorado Avalanche
Cale Makar is only second in scoring on defense after Roman Josi but is by far the single best defensemen in the NHL this season. 
The best part about Cale Makar's game is that he is doing it with three other defensemen that could easily be Norris caliber players on any other team. In 71 games this season Cale has 26 goals and 56 assists for 82 points in the span and with the absence of Landeskog he has been an assistant captain. 
Cale Makar is the keystone in a core that is locked up long term in Colorado so there are plenty of great seasons ahead. He is also now the holder for most points by an Avalanche defensemen.
6. Matthew Tkachuk
Team: Calgary Flames  
Matthew Tkachuk's explosive season can be greatly credited to Johnny Gaudreau's first 100 points season, not to discredit Tkacuk at all. 
The Flames are on fire right now and are posed to have an interesting playoffs if they can keep the momentum. Tkachuk has played almost every game for the Flames this season with 96 points in 75 games. 
Those points came from 39 goals and 57 assists. He also has registered 27 points on the power play. Also, important to note that he is doing all of this in a contract year, what a shock!
5. Auston Matthews
Team: Toronto Maple Leafs 
It feels like I have been seeing and writing about Auston Matthews for a long time but he's only 24 and way younger than I am, so maybe it's just because I am not in the Toronto sports market. 
This season Matthews has really stepped up his game, breaking the 50-goal plateau and has 102 points on the season, a career first for him. 
So far this season, Matthews has 58 goals and 44 assists for 102 points this season, playing 5 games less than everyone else in front of him in the points race. Looking strong to make it past the first round at the very least.
4. Leon Draisaitl
Team: Edmonton Oilers 
The man behind McDavid, I still think he is personally way better than McDavid and the NHL media just pushes that McDavid is the man. 
So far this season Draisaitl has scored 54 goals and 51 assists for 105 points in 75 games. He is only second in goals scored behind Auston Matthews. 
The problem Draisaitl and Oilers face is a lack of depth and being 7 points behind the Flames in the standings for the Pacific Division title. The Oilers are playing okay in the final stretch but it's going to be for the Draisaitl and the Oilers to face any deep teams.
3. Johnny Gaudreau
Team: Calgary Flames 
Johnny Hockey is having the season of his career this year, in a contract year. When he came onto the scene a few years back, he was the talk of the NHL, but his popularity has slipped in the past few years as Calgary has been average at best. 
With the prospect of a slight rebuild and possible relocation, Gaudreau is playing himself into a contract the Flames may not be able to afford. But maybe his hometown team can. 
Gaudreau is now third in the NHL in scoring with 36 goals scored and 69 assists in just 75 games, that's insane considering his next season before was 99 points in 82 games. The Flames are looking good, but down have the center depth to go the distance but I have been wrong before. He is also leading the league with a +59.
2. Jonathan Huberdeau
Team: Florida Panthers 
Speaking of just incredible seasons, Jonathan Huberdeau is on the cusp of an even greater one. The 2011 3rd overall pick is leading his Eastern Conference leading team in points with 108 with 7 games left to go. 
In 75 games this season Huberdeau has 30 goals and a mind blowing 78 assists. With the added firepower of Claude Giroux on the wing, Huberdeau and the Panthers are looking to make a run, possibly repeating the 2001 Stanley Cup Finals against Colorado, wouldn't that be something!
1. Connor McDavid
Team: Edmonton Oilers
What else can be said about Connor McDavid, he is on his fifth 100+ point season and is currently sitting at 110 points in 75 games played this year. 
Those points came from 42 goals and 68 assists, leading his club and the entire NHL. Many fear the Oilers are doing to McDavid is similar to what the Flyers did to Giroux, years of mediocrity and the waste of a franchise talent. 
McDavid is the best player in the NHL right now and it is sad to think that the Oilers can't build something consistent around him and Leon. It speaks volumes when McDavid has to play the entire OT versus Colorado. McDavid is the best player in the show and for good reason.
How would you rank these NHL players so far in the 2021-2022 season? Rank below to be added in the Power Rankings and to have a chance to win a gift card to LAZADA, Amazon, Fanatics.com, or more that is specific to you. Join the contest by ranking below.
Related Links:
POPULAR POSTS
Thank you
Your email has been successfully subscribed.
Sorry, there are no polls available at the moment.