Top 10 NHL Players 2022 Rankings
Here are the Top 10 Best NHL Players 2022 as we are in the middle of the NHL Playoffs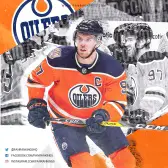 Eight players broke the 100 point mark this season, a good amount of them playing for Canadian teams. McDavid of course led the way in point production, with Draisaitl not far behind him. 
Despite being the second-best team in the NHL, the Avalanche had no top ten producers, absolutely insane! Here are the top ten players from the 2021-2022 season that is going after that Conn Smythe Trophy and Hart Memorial Trophy.
Honorable Mention
Nathan MacKinnon
Team: Colorado Avalanche
It is insane that at the age of 26, next year is MacKinnon's 10th season in the NHL. This season he had a down year, but that is only because he missed sometime at the beginning of the season. 
If you do the math, he would have been far beyond 100 points on the season. In 65 games this season, he had 32 goals and 56 assists for 88 points. 
Top 10 NHL Players
10. Mitchell Marner
Team: Toronto Maple Leafs 
Marner is a product of one of the best junior hockey programs in Canada, even winning the Robertson Cup with the London Knights in 2016.
Since then, he has been a prolific winger for the Leafs and this season he was only three points short of hitting the 100-point benchmark.
This season, in 72 games, he scored 35 goals and 62 assists for 97 points. The Leafs sadly did not make it out of the first round, where they lost to Tampa Bay. In seven playoff games, he had eight points.
9. J.T. Miller
Team: Vancouver Canucks 
It was very surprising to see J.T. still on the Canucks after the deadline, they weren't out points wise, but it didn't look like they would be close.
He could be moved at the draft, but I doubt that will happen. The one thing that sinks for J.T. is that he played in Tampa for two years and the year after he was traded, they won back-to-back Stanley Cups.
He was to a conference final in 2020 though. This season, in 80 games, Miller had 32 goals and 67 assists for 99 points.
8. Matthew Tkachuk
Team: Calgary Flames
Matt Tkachuk is another one of the great players that came out of the 2016 London Knights team, he actually scored the game winner that clinched their victory. 
He immediately jumped into the NHL and has been a force to score and mix it up for the Flames. He chose the best year to pop off, as he is in a contract year. This season, in 82 games he had 42 goals and 62 assists for 104 points.
7. Steven Stamkos
Team: Tampa Bay Lightning 
I have not met someone who doesn't like watching Steve Stamkos play, he is a class act and absolutely electric to watch on the ice.
At the ripe age of 32, he is still very much putting up points for the Lightning. This season he led his team in points with 42 goals and 64 assists for 106 points on the season.
He and his team were able to sweep the Panthers and are currently waiting for who wins between New York and Carolina. He has eight points in 11 games this postseason.
6. Auston Matthews
Team: Toronto Maple Leafs
Auston Matthews had the career to end all career years this season. In just 21 more games, he eclipsed his points total on the previous season by 40 points.
That is just insane considering the Leafs were playing more difficult teams. He even led the NHL this season with goals scored at 60.
In 73 games this season, he had 60 goals and 46 assists on the season for 106 points. Despite losing in the first round, he had nine points in seven games.
5. Kirill Kaprizov
Team: Minnesota Wild
Kirill Kaprizov came across the pond a seasoned pro and was ready to make a splash with the Minnesota Wild.
What is interesting about Kaprizov is that he speaks little to no English but led his team to the playoffs. He has won almost everywhere he has played.
If the Wild get better around him, he won't be long until he adds a Stanley Cup to the trophy cabinet. Kap played 81 games this season and scored 47 goals and 61 assists for 108 points.
4. Leon Draisaitl
Team: Edmonton Oilers
Leon Draisaitl is one of the most complete players in the NHL and if NHL players do make it back into the Olympics, look to him to be the captain of Team Germany, who will be a force. Playing on the wing to Connor McDavid, Draisaitl had another 100-point season.
In 80 games, he scored 55 goals and 55 assists for 110 points. Right now, after 11 playoff games played, he has 22 points. Truly elite.
3. Johnny Gaudreau
Team: Calgary Flames
Johnny Hockey really waited until the last minute to have an absolutely stellar year for the Flames and may have played himself financially out of Alberta.
Before this season, he had a career high of 99 points and had a few disappointing playoff runs with the Flames. In 82 games played this season, he scored 40 goals and 75 assists for 115 points, third in the NHL.
2. Jonathan Huberdeau
Team: Florida Panthers
Despite four amazing years with the Saint Johns Sea Dogs, he never won any team championships in the QMJHL.
The NHL has had tremendous success, including a Presidents Trophy this season. They were swept by the Lightning in the second round of the playoffs this week, where he only had 5 points in ten games.
During the season, he was second in the NHL for points with 30 goals and 85 assists for 115 points.
1. Connor McDavid
Team: Edmonton Oilers
Connor McDavid may be the best skilled player playing in the NHL right now and has absolutely turned the jets on for his Oilers this postseason.
He eclipsed his career high of 108 points this season scoring 44 goals and 79 assists for 123 points in 80 games this season.
Currently in the playoffs, he has 6 goals and 19 assists for 25 points. Still unsure if it is their year with how well Colorado is playing but, only time will tell.
How would you rank these National Hockey League Players in the 2021-2022 season? Rank below to be added in the Power Rankings. 
Related Links:
POPULAR POSTS
Thank you
Your email has been successfully subscribed.
Sorry, there are no polls available at the moment.