Top 10 NHL Left Wings 2022 Rankings
Ranking the best Left Wings in the NHL for the 2021-2022 season as Jonathan Huberdeau leads the way. Also where Alex Ovechkin, Artemi Panarin, and more rank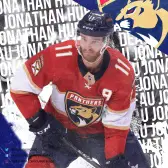 Gordie Howe, Robitaille, and Shanahan, some of the best left wingers to play in the NHL. Wing is typically where most NHL players learn how to play the game as its role is simple in breakouts. 
Players on the wings have become scoring icons in the modern NHL with players like Ovechkin and Panarin in the league. I am just hoping that Ovi catches up to Gretzky, and so does Gretzky! Here are the Top 10 left wingers in the NHL this 2021-2022 season. 
Honorable Mention
Alex DeBrincat
Team: Chicago Blackhawks
DeBrincat might go down as one of the biggest draft steals in NHL history as he was passed over 38 times before finally getting picked up by the Blackhawks 39th overall in the 2016 NHL Entry Draft. 
He was unable to win the Calder in his first season but was an NHL All-Star this season. The Blackhawks are absolutely not making the playoffs this year, but the Cat is still hunting. So far this season DeBrincat has 40 goals and 36 assists for 76 points in 78 games. 
Top 10 NHL Left Wings
10. Kevin Fiala
Team: Minnesota Wild
Kevin Fiala is one of those names that feels like has been around for a long time, but he is actually only 25. Drafted 11th overall in the 2014 NHL Entry Draft, Fiala spent the early part of his career with the Milwaukee Admirals before becoming a full time Pred in 2015. 
In 2019 he was traded to the Wild and has made himself at home. This season he has 32 goals and 45 assists for 77 points in as many games played. Fun fact, he can speak five different languages.
9. Filip Foresberg
Team:Nashville Predators 
Ah, Filip Foresberg, the best winger in Capitals history. Totally joking, a year after he was drafted by the Caps he was traded to the Predators for Martin Erat and Michael Latta. 
Since then, he has become one of the best goal scorers in Predators franchise history. He is also the second player in NHL history to score a lacrosse goal. 
So far this season in 64 games played he has 39 goals and 37 assists fir 76 points, keeping up his consistent pace. 
8. Jake Guentzel
Team: Pittsburgh Penguins
The Penguins haven't had very good or deep draft classes, since they have been leveraging their future effectively to bring players in to stay relevant. Jake Guentzel was one of those rare players and he wasn't even a first-round pick. 
Drafted out of the University of Nebraska Omaha 77th overall, Guenztel has since won two Stanley Cups with Penguins and has seemingly gotten better every year. So far this year he has scored 40 goals and 41 assists for 81 points in 72 games this season.
7. Kyle Connor
Team: Winnipeg Jets
Kyle Connor is one of the best American ice hockey players in the NHL right now and he doesn't even play stateside. 
Three years ago, the Winnipeg Jets locked him up long term and he still has four seasons left on his contract. He would truly be a sight to see if the NHL went to the Olympics. 
This season he is 7th in the NHL in scoring by left wings with 44 goals and 44 assists for 88 points in75 games. The Jets are a little weak at center, but he is playing on the top line with Paul Statsny currently.
6. Alex Ovechkin
Team: Washington Capitals 
When, or better yet if. If Ovechkin retires, he will go down as one of the best wingers and goal scorers to ever play in the NHL. 
Before the season started, Ovechkin had played in 730 NHL games and scored 730 goals and 590 assists, and the excitement never left his face. 
At the prime age of 36 years around the sun he has scored 50 goals and 40 assists for 90 points in 75 games. It is still insane to me that he has only won one Cup.
5. Artemi Panarin
Team: New York Rangers 
You would not believe me if I told you this, but the Bread Man has only been in the NHL for about seven seasons and won the Calder in his first season. 
What is really funny is that Tarasenko told the Blues about Panarin way before he became a Blackhawk. One of the most anticipated free agents in the last decade, Panarin has found a home in a city that never sleeps. 
He is currently 5th in the NHL for points by a left wing with 22 goals and 74 assists for 96 points in 73 games this season.
4. Kirill Kaprizov
Team: Minnesota Wild 
Kaprizov's arrival in the NHL was almost a carbon copy of Panarin's. Won the Gagarin in the KHL, came over and won the Calder and turned into a goal scoring machine. 
Kaprizov is actually a five-time KHL All-Star. Now he is 4th in the NHL for points scored by a left wing this season and is one of the most exciting players to watch in hockey. 
So far this season he has 44 goals and 53 assists for 97 points in 76 games.
3. Matthew Tkachuk
Team: Calgary Flames 
We all knew that Matthew Tkachuk was going to hit 100 points this season as it was just a matter of time. 
The 24-year-old Scottsdale native has been playing out of his mind this season with Johnny Gaudreau as they play more than likely their last hooray together. 
His points totals this season are actually very visibly appeasing with 40 goals scored and 60 assists for 100 points this season. The Tkachuk family is actually massive in the NHL as four of his relatives currently play in the NHL.
2. Johnny Gaudreau
Team: Calgary Flames 
Johnny is having the career year to end all career years while his contract is just about up with the Flames. 
The former Beanpot MVP is second in the NHL for points scored by a left winger just behind Huberdeau. The Flames are going to do all that they can to keep him but only time will tell. 
So far this season in 78 games this season, Gaudreau has scored 38 goals and 71 assists for a whopping 109 points on the season, he is also +60 this season.
1. Jonathan Huberdeau
Team: Florida Panthers
It is kind of interesting that Quebec has the fewest players drafted from their province and then Jonathan Huberdeau comes along and leads all left wingers in points this season. 
The Saint-Jerome native came onto the scene in 2013 and never touched the AHL, even winning the Calder. 
So far this season he has led his Panthers to an Atlantic Division Title and a very good chance at winning the Stanley Cup. So far this season in 77 games played he has 30 goals and 83 assists for 113 points in that time.
How would you rank these National Hockey League Left Wings in the 2021-2022 season? Rank below to be added in the Power Rankings and to have a chance to win a gift card to LAZADA, Amazon, Fanatics.com, or more that is specific to you. Join the contest by ranking below.
Related Links:
POPULAR POSTS
Thank you
Your email has been successfully subscribed.
Sorry, there are no polls available at the moment.