Top 10 NHL Goalies 2022 Rankings
Ranking the best Goalies in the NHL for the 2021-2022 season as Igor Shesterkin leads the way. Also where Andrei Vasilevskiy, Frederik Andersen, and more rank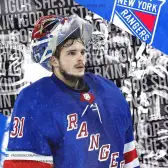 Goalies, in my opinion, are the most important players on any hockey team and their dedication to their craft is absolutely amazing.
The mental and physical condition you have to be in to stop a small rubber object flying at you over 80 mile an hour is just insane.
Goalies have been so incredible at their position, the NHL had to change the rules so that the pads became smaller, and players had a better chance to score. 
This year there were some outstanding saves and even better stats. Here are the top ten goalies in the NHL after this past season.
Honorable Mention
Jake Oettinger
Team: Dallas Stars 
Dallas has needed a homegrown goalie for a long time, and they finally saw the fruits of their labor this season with the emergence of Jake Oettinger the past couple of seasons. 
The 2021 Bronze winner at the World Championships in Latvia, really outdid himself this season. 
During the season he went 30-15-1 on the season with an SV% of .917 and a GAA of 2.53. These stats make him a more than worthy honorable mention on this list.
Top 10 NHL Goalies
10. Darcey Kuemper
Team: Colorado Avalanche 
After the better part of four seasons being lit up by the Avalanche when Kuemper played in Arizona, this past season he was brought to Mile High via a trade when Grubauer left in free agency.
"The Kuemperor" went 37-12-4 on the season, playing 3258 minutes and had a GAA of 2.54 and an SV% of .921. The Avalanche have been plagued in recent years during the playoffs with injuries in net.
The Avalanche have quite the duo with Kuemper and Francouz and the cup is there if they can stay healthy.
9. Andrei Vasilevskiy
Team: Tampa Bay Lightning  
Vasilevskiy might be one of the greatest goaltenders to ever come out of Russia and his play in juniors for Tolpar was outstanding, with a 1.93 GAA in his final regular season. 
Since coming over the Atlantic Ocean and beating Bishop out of his net, Vasilevskiy has been a four-time NHL All-Star, one-time Conn Smythe Winner, one-time Vezina trophy winner, and a two-time Stanley Cup Champion.
He wasn't as fantastic this season as usual, but he's still had a 39-18-5 record with a .916 SV% and a 2.49 GAA. The Lightning drew a rough start against the Toronto Maple Leafs, but it is making for some great puck.
8. Antti Raanta
Team: Carolina Hurricanes 
Raanta has been a name that has been around for a long time now, and that is because of his success on some really good Blackhawks teams. 
He bounced between the Rangers and Coyotes before finally signing with the Hurricanes in free agency last postseason. 
He has been the backup when Andersen was healthy and right now in the playoffs he is the starter. On the season he went 15-5-4 with an SV% of .912 and a GA of 2.45.
7. Linus Ullmark
Team: Boston Bruins
After a very long and successful career in Buffalo, Ullmark decided to take a chance at winning and signed in free agency with the Boston Bruins and started a pretty good tandem with Jeremy Swayman. This season he went 26-10-2 posting a .912 SV% and a 2.45 GAA in his first season with Bruins.
6. Tristan Jarry
Team: Pittsburgh Penguins
Have you ever had that friend that puts in minimal effort and still comes out ahead somehow? That's the Pittsburgh Penguins.
The Penguins just keep getting lucky and staying competitive. Jarry was drafted in the second-round way back in 2013 and split a lot between the WBS Penguins and the Pittsburgh Penguins.
He took over the net when Matt Murray was moved out of Pittsburgh and has been solid for the Pens ever since. He was the 6th best goaltender in the NHL season last season and went 34-18-8 on the season. He had a .919 SV% and a GAA of 2.42.
5. Jeremy Swayman
Team: Boston Bruins
There was hope that the Bruins and the NHL would find another goalie in Boston to adore with the departure of Tuuka Rask. In the 2017 NHL Draft that goalie was selected 111th overall and that was Jeremy Swayman.
One of the few Alaskan born players in the NHL, let alone NHL history, Swayman has been the man for Boston this season with Halak leaving. 
He played 10 games last season, but this year was his year. The 5th best goalie in the NHL this season, Swayman went 23-14-3 with a .914 SV% and a 2.41 GAA.
4. Ilya Sorokin
Team: New York Islanders 
Sorokin is surprisingly not a rookie this season and his name is kind of hushed with Varlamov also sharing the crease with him.
Despite being drafted in 2014, Sorokin didn't come across the pond till 2020, after he won a Gold Medal in 2018 with the Olympic Athletes from Russia.
Despite the Islanders having a poor year, Sorokin went 26-18-8 with a .914 SV% and a 2.40 in that time. Safe to say it is his net now out on the island.
3. Jacob Markstrom
Team: Calgary Flames 
Not sure how, but people get Markstrom and Backstrom mixed up all the time, Markstrom is not the longtime Minnesota Wild goalie.
Markstrom started his NHL career with the Panthers in the sunshine state until a trade that sent him up to British Columbia.
He still flipped back and forth between the NHL and AHL but has been an NHL mainstay as of late. He was the 3rd best goalie in the NHL this season going 37-15-9 with a SV% of .922 and a GAA of 2.22.
2. Frederik Anderson
Team: Carolina Hurricanes 
I have been singing praises about Andersen's rebound to the top after leaving the best hockey team in Ontario. Many forget that this twice drafted Norfolk Admiral was once an Anaheim Duck before being traded to Toronto.
Sadly, even with an amazing season he is out on injury at the moment with injury. This season Freddy went 35-14-3 with an SV% of .922 and a GAA of 2.07.
1. Igor Shesterkin
Team: New York Rangers 
Here he is, the best goalie in the NHL this season. Basically, a seasoned pro when he came over from the KHL and an Olympic Gold Medal in 2018, Shesterkin was all but ready to pick up the mask after Henrik put it down to retire.
Like many goalies on this list was drafted in 2014 in the 4th round. With an insane 1,622 shots in his direction, he turned away 1,516 from his net. 
He only allowed 106 goals on the season, not the lowest but still impressive. He went 36-13-4 this season with an SV% of .935 and a GAA of 2.07.
How would you rank these National Hockey League Centers in the 2021-2022 season? Rank below to be added in the Power Rankings and to have a chance to win a gift card to LAZADA, Amazon, Fanatics.com, or more that is specific to you. Join the contest by ranking below.
Related Links:
POPULAR POSTS
Thank you
Your email has been successfully subscribed.
Sorry, there are no polls available at the moment.