Top 10 NHL Draft Grades 2022 Rankings
Ranking the Top 10 NHL Draft Grades for the 2022 - 2023 NHL Season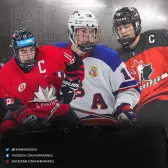 The 2022 NHL Entry Draft has come and gone, and it was a pretty exciting one, with some major trades and some teams really stocking the cupboards for their draft pools. Some teams did way better than others.
While the Avalanche only had two picks in the draft, they picked two really good players. Some teams, like the Coyotes, had very deep drafts. Here are the top ten team draft classes from the 2022 NHL Entry Draft. 
Honorable Mention
Ottawa Senators
Draft Grade: C
The Senators, coming off of their new arena announcement, had nine picks in this year's draft and drafted their seventh overall pick away.
They did get DeBrincat from the Blackhawks in a steal. Filip Nordberg, their second-round pick, is okay at best and will surely be a great player on their team eventually.
It is safe to say that their picks were kind of wild, but it was not as bad of a draft as some people make it out to be.
Top 10 NHL Draft Grades
10. San Jose Sharks
Draft Grade: C++
The San Jose Sharks had a surprisingly great draft class, despite not moving on from some of their key pieces.
The Sharks had ten picks in the draft and got a potential steal in Filip Bystedt, a center who played for Linkoping in the SHL last season. I think their class steal is definitely center Cameron Lund out of the USHL at 34th overall.
He still has some growing to do but he should be a great pick going forward. Every team should take a goalie every draft, and Jake Furlong from a strong Mooseheads team was a solid pick up.
9. Washington Capitals
Draft Grade: C+
For a team that has been consistently competitive, had one solid draft, despite blowing up their goalie core. The Capitals have never been scared to roll the dice on Russian players, and global events still have not stopped that.
They snagged a top ten player at 20th overall in Ivan Miroshnichenko from Omskie Krylia of the VHL (the KHL version of the AHL). His shot is NHL ready, but I do not think he will make the team next season. They also got a great defensemen in Ryan Chesley at 37th overall.
Despite letting their goalies go, they did not draft one this year. Alexander Suzdalev and Ludwig Persson were great pickups in the third round as well.
8. Winnipeg Jets
Draft Grade: B
Some great trades allowed the Jets to make a splash at this year's draft, especially with a nice spot at 14th overall and 30th overall from the Rangers.
They got Rutger McGroarty 14th overall from the USNTDP team, who is committed to playing at the University of Michigan this fall. His hockey IQ is insane and is going to be a nice blue chip in their pipeline, he has been compared to Ryan Callahan.
They really knocked it out of the park, picking up Elias Salomonsson and Danny Zhilkin in the second and third rounds. Domenic DiVincentiis was a great pickup in goal from the North Bay Battalion.
7. New Jersey Devils
Draft Grade: B
When you pick second overall in the NHL draft, it is hard to not have a good draft. After getting Hughes and Hischier, the Devils skipped over Shane Wright.
They picked up the second highest Slovakian player taken in the draft with Simon Nemec. Nemec is a 6'1" right-handed defensemen who is the full package and the real deal. I would be shocked if he is not on the Devils next season.
Seamus Casey from the USNTDP was a great pickup as he has flashes of Sam Girard. They probably could have snagged a better goalie at 102, but Tyler Brennan could turn into a great backup. The Devils did great, despite passing on Wright.
6. Buffalo Sabres
Draft Grade: B+
The team that is constantly in a rebuild. The Sabres got really lucky picking up Power last year and continued to get great talent in this draft.
They absolutely stole Matthew Savoie at 9th overall from Winnipeg Ice. Savoie is a perfect center with both offensive and defensive capabilities.
They also got Ostlund and Kulich at 16th and 28th overall. Both players are great in the offensive zone and really stacked up on their forward prospects.
For a team that is constantly criticized for taking defensemen, they did not take one till the 4th round, and Lindgren is a pretty good player out of the WHL. Great draft for the Sabres.
5. Columbus Blue Jackets
Draft Grade: B+ 
When it comes to a middle of the road team, you want a quality draft. The Blue Jackets absolutely delivered.
They only had seven picks, but it looks like they nailed it at each one. David Jiricek is a great defender out of the Czech Extraliga. He is a big defenseman that can skate as well. They then went on to snag Denton Mateychuk 12th overall from the Moose Jaw Warriors.
Both of these D men will certainly shape out to be top four defensemen for the Blue Jackets in the near future.
Sergei Ivanov looks like a great goalie early and will surely be a great prospect in net when he slowly but surely makes it over across the pond. This was a fantastic draft for the Blue Jackets.
4. Seattle Kraken
Draft Grade: A
The Seattle Kraken stacked up draft picks, having 11 in this year's draft. They also have 13 picks in the 2023 Draft, nine picks in 2024, they are looking to build their team through the draft.
Well, a great way to do that is by taking the number one overall pick in almost all simulations fourth overall. The Kraken got lucky after Montreal, Arizona, and New Jersey passed over Shane Wright.
I don't need to go off about how good a right is, he might not be the next Wayne Gretzky, but he will be solid for the Kraken for years to come. They also snagged some great players in the second round, picking up Jagger Firkus, Niklas Kokko, Jani Nyman, and David Goyette.
Kokko might be the best goalie available in this draft, and they got him at 58th overall. They took some great players in the later rounds, but the first two were outstanding.
3. Chicago Blackhawks
Draft Grade: A
Trading DeBrincat made no sense, they drafted him in the second round, and the player they took will not be as great as he is now. The Blackhawks took eight players in the first three rounds and took them in a bevy of positions except for goalie.
Kevin Korchinski is a solid player out of the WHL in Seattle. He was ranked in the back half, at 17th give or take.
He is the best offensive defensemen in the draft though. Frank Nazar is a good pickup too; he was ranked top ten in most drafts. He will probably slot into the middle six eventually.
Their 25th overall pick is going to take some work, but Rinzel will be a great defensemen in a few years. They had a pretty good draft but gave up way too much to get the picks.
2. Montreal Canadiens
Draft Grade: A+
The first team in NHL history to go to the Stanley Cup final one season, and then finish dead last the next. They got the first overall pick and shocked most of the hockey world passing on Wright and taking Juraj Slafkovsky.
Slafkovsky isn't as complete as Wright, not saying he is bad, but I think they may have made the wrong decision. They also got Kirby Dach in a trade with Chicago, a young forward who can score. Filip Mesar at 26 is a great pickup at the end of the draft as well.
The Habs got some great players in this draft, but they probably want to be picking in the same spots next draft.
1. Arizona Coyotes
Draft Grade: A++
The Yotes passing on Wright is still pretty insane given the state of their franchise. The got lucky enough to get Logan Cooley, one of the best USNTDP kids to come through the draft at third overall.
They then sagged Conor Geekie off the Winnipeg Ice (now hurt), which is great as Winnipeg had an amazing team in the WHL last season. Maveric Lamoureux at 29 was not a bad pick as well.
Julian Lutz was a question mark for me as he missed most of last season with injury. The Coyotes did not take a goalie as well.
Cooley will definitely be on the Yotes roster this fall, but they are definitely going to be tanking for the next draft.
How would you rank these NHL teams after the draft? Rank below to be added in the Power Rankings.
Related Links:
POPULAR POSTS
Thank you
Your email has been successfully subscribed.
Sorry, there are no polls available at the moment.