Top 10 NHL Defensemen 2022 Rankings
Ranking the best Defensemen in the NHL for the 2021-2022 season as Cale Makar leads the way. Also where Victor Hedman, Adam Fox, and more rank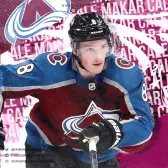 In the so-called formula to win a Stanley Cup, you definitely need a center and a consistent goalie. But some teams will build a team from the back out and have a rockstar defense and be able to make a deep cup run with an average offense. 
This list comprises among the best defensemen in the NHL this season and their consistency has made it so that almost all of them have a chance at the greatest trophy in North American sports. Here are the top ten defensemen in the NHL this season.
Honorable Mention
Rasmus Dahlin
Team: Buffalo Sabres 
It has been a rough past couple of years for the Sabres and their fans. They fired most of their front office and had to rehire a few because they were accidently fired, yikes. 
One of the shining bright spots of this time has been their dumb luck of getting the first overall pick in the 2018 NHL Draft and got Rasmus Dahlin. 
The Sabres season is basically over but so far this season in 76 games he has scored 11 goals and 39 assists for 50. He is at his career high thus far and only us upwards to go.
Top 10 NHL Defensemen
10. Devon Toews
Team: Colorado Avalanche  
You know those two second round picks the Islanders got from Colorado in that cap dump to make room for their forwards wasn't enough. 
Since coming over to the Avalanche, Toews has been a penalty killing machine and borderline All-Star on the point. 
He is currently 10th in the NHL for scoring by a defensemen with 13 goals and 44 assists for 57 points in 64 games this season. It must be envious to have four Norris caliber defensemen on their lineup.
9. Aaron Ekblad
Team: Florida Panther 
Despite being out since about the trade deadline, Aaron Ekblad is still 9th in the NHL for scoring by a defensemen this season. 
He's been the backbone of the Panthers these past few years and when he gets back if he can keep up the pace, he and his team will be rewarded. 
In only 61 games this season, Ekblad has been able to notch 15 goals and 42 assists for 57 points. When he returns, he will be greeted by a revamped Panthers defensive core with the addition of Ben Chariot and Robert Hagg.
8. Quinn Hughes
Team: Vancouver Canucks 
Despite being on the outside looking into the playoffs this year, a lot of the Canucks players have been having career if not close to career years. 
Quinn Hughes has only scored 6 goals this season but is an assist machine. So far in 71 games this season, he has notched up 55 assists. 
Pretty outstanding for just 22 years old. He is by far the best defensemen the Canucks have had in a long time, despite his plus minus only being +8.
7. Kris Letang
Team: Pittsburgh Penguins
Kris Letang, Sidney Crosby, and Evgeni Malkin have played together longer than any other trio in NHL history and have won three Cups from it.
 Despite being almost 35 this year, Letang is still putting the points up on a consistent and elite level. So far this season he has scored 8 goals and notched 55 assists in 73 games this season. 
Not sure if the Penguins have the gas to go all the way this year, but Letang has really put them in the position to have the chance to do so.
6. Morgan Rielly
Team: Toronto Maple Leafs 
Getting close to a decade long Leafs career, Morgan Rielly was for a long time, the only guy on the Leafs blueline. 
Now he has players such as Muzzin and Giordano to help him out and he has really stepped up his play. So far this season in 77 games, Rielly has scored 10 goals and notched up 55 assists. 
The former Moose Jaw Warrior has far surpassed expectations this season and has hopefully given the Leafs enough at a Cup run.
5. John Carlson
Team: Washington Capitals 
There is one fact that lives in my head rent free, and that fact is that the pick used to select John Carlson by the Capitals was originally the Flyers pick. 
For the last decade the Flyers have struggled on defense. This season he almost has a chance of breaking his season record for points but right now he only has 68 on the season, 7 short. 
He has played in 73 games for the Caps this season and has racked up 15 goals and 53 assists, 5th in the NHL for points by a defensemen.
4. Adam Fox
Team: New York Rangers 
Adam Fox has taken a small step back after winning the Norris trophy last season but is still playing great for the team he very desperately wanted to be on. 
He requested a trade twice and would not sign with any team but the Rangers, proof to stick to your guns to get what you want. 
So far this season the assistant captain has played 74 games for the Rangers and has scored 11 goals and 58 assists for 69 points. It's all gravy from here as his career high in points from last season was 47 in a shortened season.
3. Victor Hedman
Team: Tampa Bay Lightning 
Possibly the biggest reason for their two Stanley Cups, Victor Hedman is still the backbone for the Lightning and has played in every single game for them this season. The only player in the top ten of points scored by a defensemen to do so. 
In 76 games played this season, Hedman has scored 19 goals, second in the category and has 54 assists for 73 points. He is currently 3rd in the NHL for defensemen points scored.
2. Roman Josi
Team: Nasvhville Predators 
Roman Josi has really been the guy for the Predators this season and despite that his team has been holding on to a Wild Card spot for dear life. 
In 75 games played this season, the Predators captain has scored 20 goals and a position leading 69 assists for 89 points on the season. 
He might have Cale Makar beat for the Norris in points alone, but Cale is looking to build off his Calder season just two years ago. If it was only stats in consideration for position, Josi would top the list.
1. Cale Makar
Team: Colorado Avalanche 
Cale Makar was one decision away from being the 2nd overall pick in his draft class, but poor decision making by the Flyers made them miss out. 
Cale Makar exploded onto the scene after his time at UMass-Amherst finished during the first round of the Stanley Cup playoffs and scored 6 points in ten games. 
Since then, he has been a career point per game player. So far this season Cale leads defensemen in goals scored at 27 and has 57 assists for 84 points, just 4 points shy of 1st in points scored by a defensemen.  
How would you rank these National Hockey League Defensemen in the 2021-2022 season? Rank below to be added in the Power Rankings and to have a chance to win a gift card to LAZADA, Amazon, Fanatics.com, or more that is specific to you. Join the contest by ranking below.
Related Links:
POPULAR POSTS
Thank you
Your email has been successfully subscribed.
Sorry, there are no polls available at the moment.