Top 10 NHL Centers 2022 Rankings
Ranking the best Centers in the NHL for the 2021-2022 season as Connor McDavid leads the way. Also where Sidney Crosby, Auston Matthews, and more rank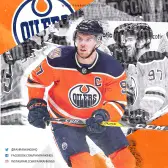 In the Stanley Cup winning formula, you need at least one outstanding center. You might be able to get away with middle of the road skilled wings, but you need a guy in the center of the ice to dish the puck. 
These 11 names have been absolutely killing it and because of that almost every team on this list has a chance at the Stanley Cup this postseason. Here are the Top 10 Centers in the NHL Power Rankings this season.
Honorable Mention
Elias Lindholm
Team: Calgary Flames
You have to imagine the Hurricanes are kind of regretting trading their 2013 5th overall pick. 
None of the three players the Hurricanes got are on the team anymore while Lindholm and Hanifin have turned into total studs. 
Lindholm has turned into a number one center for the Flames and has played in every game so far this season. In 77 games the center has put up 39 goals and 39 assists for 78 points. Truly elite.
Top 10 NHL Centers
10. Matt Duchene
Team: Nashville Predators 
I was truly heartbroken when Matt Duchene was traded from the Avalanche to the Senators, but he clearly wanted out of Colorado for some time. After two short stints with Ottawa and Columbus, Duchene signed with the Nashville Predators. 
Despite a lackluster last season, Duchene is on fire this season. Duchene has played 73 games this season and, in that time, has been able to put up 40 goals and 38 assists for 78 points. This is a career high in goals and points for him.
9. Aleksander Barkov
Team: Florida Panthers
As much as it pains me to say, the Florida Panthers are probably going to win the Stanley Cup this year, they are just way too good. 
Barkov is a big reason for that success as he has been playing outstanding for the Cats. While he has only played in 63 games this season, he has been able to put up 37 goals and 48 assists for 85 points.
He is 6th on the list in scoring by centers this season and there is no doubt he would be in the top three if not hampered by injury.
8. Sidney Crosby
Team: Pittsburgh Penguins 
Despite growing up right down the road from the Flyers, as a fan of the game, Sidney Crosby is my favorite player in the NHL. 
He is 34 years old and is 9th in the NHL in points by a center this season. Crosby has been a career long Penguins and is the epitome of consistency. 
So far in 64 games this season, Sid the Kid has been able to put up 29 goals and a mind blowing 51 assists. He has been slowing down but if the Penguins keep getting him quality wings, he'll keep it up.
7. Nazem Kadri
Team: Colorado Avalanche 
Before his injury, Nazem Kadri was pretty close to leading the NHL in points at 31 years old. He is also having a career high in points at the ripe age of 31. 
He just returned to play the other night in Seattle for the Avs. Before this season his career high was 61, and this season he has 84. When the Avalanche lineup is healthy, he has slotted into the second center spot and has put up 26 goals and 58 assists in that time. 
He is sadly playing himself out of Colorado as the Avalanche will not be able to keep him around with their cap crunch coming up.
6. Steven Stamkos
Team: Tampa Bay Lightning
If there was ever a player that deserved a Stanley Cup, it is Carey Price. Just kidding, Stamkos was definitely on that list till he got one, and then another. 
The longtime Tampa Bay Lightning captain has been a scoring machine and even came back from a broken leg during his prime. 
This season the 32-year-old has been really proving he is just as good if not better than Brayden Point. In 75 games this season he has put up 33 goals and 54 assists for 57 points.
5. J.T. Miller
Team: Vancouver Canucks 
Despite the Canucks mediocre season, J.T. Miller has been one of the few constants. Coming off a near Western Conference Final appearance in the Edmonton Bubble a few years back, the Canucks really thought they had something there, but it was lightning in a bottle success. 
Despite that. J.T. Miller has played almost every game for the Canucks this season and has been able to put up 30 goals and a whopping 63 assists for 93 points this season. The Canucks are three points out of the playoffs, and they have a shot.
4. Auston Matthews
Team: Toronto Maple Leafs 
It is pretty upsetting that after such an amazing season, Auston Matthews is currently out day to day with an injury. 
The Leafs are in the more than capable hands of John Tavares right now, but you know they are missing him during this season's home stretch. Auston Matthews is 3rd in NHL scoring by centers with 58 goals and 44 assists for 102 points in 70 games and he missed/ is missing 12 games. 
Who knows what he could have done with a full 82 game season and has a hockey fan I hope he is back for the playoffs.
3. Leon Draisaitl
Team: Edmonton Oilers 
I will say it every time I make one of these lists, Leon is better than Connor and it's a conspiracy he isn't talked about more often. 
Back to Earth here, Draisaitl is playing out of his mind this season with 54 goals and 52 assists for 106 points in 76 games this season. When it comes to offense it is really the Draisaitl and McDavid show in Edmonton.
If they had a few more players that were consistent, the Oilers would be knocking onto the door of the Cup every season.
2. Nathan MacKinnon
Team: Colorado Avalanche 
Despite being only 7th on the list in points scored by a center this season, MacKinnon is honestly tied with McDavid for best center in the NHL this season. 
The biggest reason is talent. MacKinnon has the uncanny ability to create plays and turn something into nothing out of thin air. Despite only playing 61 games this season, MacKinnon has amassed 31 goals and 54 assists for 85 points in that time. 
The same scoring span in a full season puts him well over 100 tied with McDavid. This is the year for the Avalanche to truly go for it, Cup or bust.
1. Connor McDavid
Team: Edmonton Oilers
Connor McDavid, the next Sidney Crosby, one of the best drafted players since Wayne Gretzky, hasn't played a single game in the third round of the Stanley Cup Playoffs.
That being said he is over .500 in those 21 games with 22 points. Right now, he is on the verge of surpassing his career high in points this season as in 76 games this season, he has scored 43 goals and 70 assists for 113 points. Pretty insane but it means nothing without a Cup.
How would you rank these National Hockey League Centers in the 2021-2022 season? Rank below to be added in the Power Rankings and to have a chance to win a gift card to LAZADA, Amazon, Fanatics.com, or more that is specific to you. Join the contest by ranking below.
Related Links:
POPULAR POSTS
Thank you
Your email has been successfully subscribed.
Sorry, there are no polls available at the moment.