Top 10 Fantasy Football Rookie Rankings – Draft 2022
Ranking the Top 10 Fantasy Football Rookies for your upcoming Fantasy Draft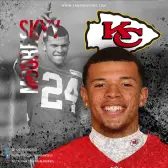 The 2022 NFL preseason rolls into the final week as team's get set for preparations for the upcoming 2022 NFL schedule.
As the NFL regular season approaches, fantasy football drafts are taking center stage as football fans, fantasy football experts, and even professional Daily Fantasy Football (DFS) players have their eyes on fantasy football rankings.
One aspect of the fantasy football landscape entering your upcoming drafts is the 2022 NFL Draft class and how those guys stack up for fantasy football.
Luckily for you our Top 10 Fantasy Football Rookie Rankings Preview 2022 list is here to help you out.
One of those Top 10 Fantasy Football Rookies to consider in your Fantasy Football draft is the New York Jets rookie Breece Hall who the team selected within the 2nd round of the 2022 NFL Draft.
While Hall leads the group of top tier rookie running backs, the group of young stud receivers is deep including Skyy Moore, Treylon Burks, Drake London, and Garrett Wilson.
Meanwhile the rookie tight ends include a potential sleeper pick in Isaiah Likely for the Baltimore Ravens. Here is a look at the Top 10 Fantasy Football Rookie Rankings Preview 2022 list:
Honorable Mention
Kenny Pickett
Team: Pittsburgh Steelers
Position: Quarterback
Rookie quarterbacks are a difficult pick for any fantasy football owner, but Kenny Pickett may be worth a look at in 12 team leagues as a legitimate second quarterback option.
Pickett, who the Pittsburgh Steelers selected with the 20th overall pick during the 2022 NFL Draft has a shot to be the starter from the start of the regular season.
If Pickett lands the starting job, another rookie on the Steelers to consider is wide receiver George Pickens. 
Jameson Williams
Team: Detroit Lions
Position: Wide Receiver
You have to love the talent and the potential of Jameson Williams of the Detroit Lions. The former Alabama Crimson Tide star wideout is a big-time playmaker and a threat to take it to the house any throw his way.
Despite his potential, concerns with the Lions offense and more importantly the play at the quarterback position could impact his true success as a rookie during the 2022 NFL schedule.
Top 10 Fantasy Football Rookies
10. Garrett Wilson
Team: New York Jets
Position: Wide Receiver
On the offensive side of the football the New York Jets team has an opportunity to be a fun and exciting team built around a young nucleus of potential fantasy football studs.
One of those fantasy studs is the former Ohio State Buckeyes wide receiver Garrett Wilson. Wilson, who the Jets selected with the 6th overall pick during the 2022 NFL Draft, has solid side at six foot as well as speed to be a true threat in the Jets passing attack.
While Wilson's upside is higher with Zach Wilson under center during 2022, he should have the ability to make some deep plays early on if the Jets have to turn to Joe Flacco under center.
9. Ken Walker III
Team: Seattle Seahawks
Position: Running Back
If the NFL season was entering the 2021 NFL season and Ken Walker III was the running back, you would see his name much higher on this list.
Unfortunately, he lands with the Seattle Seahawks one season too late as the team has concerns at the quarterback position that could hamper and delay his potential to put up a big season in 2022.
Nonetheless, if the Seahawks can find some type of solid play at quarterback, Walker III may have an opportunity to put together some solid numbers as opposing offenses have to worry about D.K. Metcalf and company.
8. Isaiah Likely
Team: Baltimore Ravens
Position: Tight End
Possibly one of the NFL rookie sleepers during the 2022 NFL season is the Baltimore Ravens tight end Isaiah Likely.
Likely joins a Ravens offense that lacks big premier wide receivers but features one of the top NFL tight ends in Mark Andrews.
One thing we know for sure is the Ravens love to work in multiple tight end packages, and Lamar Jackson loves to look for his tight ends.
Likely has been dominant in preseason while showcasing his big play potential and athleticism. While Likely will lose fantasy value playing alongside Andrews, he should still see plenty of time lining up at TE2, as well as various positions as a wide receiver in 2022.
7. James Cook
Team: Buffalo Bills
Position: Running Back
The Buffalo Bills enter 2022 as a true contender to compete for the Super Bowl Championship while having one of the top offenses in the NFL.
The team's deep receiving corps and tight ends while having Josh Allen under center makes their offense a difficult one to stop.
While the team saw solid play from a mixture of running backs in 2022, James Cook has the potential to take over the primary ball carry role on a Bills offense that ranked 5th in the NFL in yards per game and 4th in points per game during the 2021 NFL schedule.
That said, Cook is a dangerous play due to the deep roster at running back on the Bills roster including Devin Singletary and Zack Moss.
6. Christian Watson
Team: Green Bay Packers
Position: Wide Receiver
Who will take over as the Green Bay Packers number one wide receiver now that Davante Adams has moved on to the Las Vegas Raiders?
That is the big question many fans are asking but one thing is for sure, Aaron Rodgers has the talent to make any wide receiver great.
With Rodgers under center, Christian Watson is a fantasy football rookie to consider in deeper drafts especially if you decide to take Rodgers as your starting quarterback.
While some may turn away from Watson due to his slow progress in camp this summer due to him recovering from a knee procedure, this may allow other fantasy owners to land him as a late wide receiver option.
Watson is a big physical style receiver that has great size at 6 foot 4 inches that should be a red zone threat for one of the best passing quarterbacks to ever play the game.
5. Treylon Burks
Team: Tennessee Titans
Position: Wide Receiver
When you have arguably the best running back in the NFL, it is easy to expect that team to be a run dominant offense.
However, with Derrick Henry in the backfield, the passing game for the Tennessee Titans should be wide open in 2022 as opposing defenses must turn their attention to slowing him down.
This should open the passing attack for the Titans offense including wide receiver Treylon Burks who should have an opportunity to fill the void left with the departure of AJ Brown.
His potential to be a big-time threat lands Burks at number five on the Top 10 Fantasy Football Rookie Rankings Preview 2022 list. To go along with his size, Burks is a strong physical receiver with solid speed to match his frame.
4. Drake London
Team: Atlanta Falcons
Position: Wide Receiver
One NFL rookie wide receiver who has all the potential in the world is the former USC star Drake London.
However, with the departure of Matt Ryan his true potential may take a few seasons as the team looks to find their new star quarterback.
That said, London is expected to be the team's top wide receiver while also playing alongside one of the game's top young tight ends in Kyle Pitts.
As teams potentially look to double team Pitts, it should allow London one on one matchups early on during the 2022 NFL season.
3. Chris Olave
Team: New Orleans Saints
Position: Wide Receiver
Landing at number three on the Top 10 Fantasy Football Rookie Rankings Preview 2022 list is another top star from the Ohio State Buckeyes football team Chris Olave.
Olave, who like his teammate Garrett Wilson is a big-time playmaker, should have an opportunity to be a big threat in the New Orleans Saints passing attack.
Olave's potential revolves around how well quarterback Jameis Winston plays as well as whether Michael Thomas is healthy and playing.
If Thomas is healthy from the start of the season, Olave is a serious fantasy option for fantasy owners in later rounds as teams will look to slow down Thomas.
2. Breece Hall
Team: New York Jets
Position: Running Back
While many fantasy experts and rankings have Breece Hall as the top rookie fantasy football option, he lands at number two on our list.
If Hall was on a team with a top tier passing attack such as the Green Bay Packers or Tampa Bay Buccaneers, he would easily be the top fantasy option.
Nonetheless, it is hard to put too much stock in the New York Jets offense especially with Zach Wilson dealing with an injury that may keep him off the field to start the season.
That said, Hall should have an opportunity to be the team's big play threat despite having Michael Carter on the field as well.
1. Skyy Moore
Team: Kansas City Chiefs
Position: Wide Receiver
In at number one on the Top 10 Fantasy Football Rookie Rankings Preview 2022 list is the former Western Michigan wide receiver Skyy Moore.
While some of the other receivers have higher draft profiles playing at larger schools, Moore is a speedy, crafty receiver that should fit well in the Kansas City Chiefs offense.
Add in the fact Moore will have Patrick Mahomes throwing him the ball and the offense lacks the playmaker in Tyreek Hill, Moore should be involved early and often. In addition, Andy Reid has shown his ability to call creative offenses to factor in playmakers.
How would you rank these fantasy players going into your fantasy draft? Rank below to be added in the Power Rankings.
Related Links:
POPULAR POSTS
Thank you
Your email has been successfully subscribed.
Sorry, there are no polls available at the moment.