Top 10 Women's College Basketball Rankings – January 2022
Ranking the best NCAA Women's college basketball teams of January 2022 as the NC State Wolfpack battle for the #1 position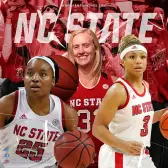 The 2021-2022 NCAA Women's Basketball Schedule is rolling along as we enter play the second week of January 22nd, 2022. At the front of the pack is the rolling South Carolina Gamecocks squad who has picked up wins in 15 of their first 16 games this season. 
After a dominating run to the NCAA Final Four during March Madness in March of 2021, the Gamecocks are looking for a deeper run and a NCAA Championship during March Madness 2022. 
Meanwhile as the Gamecocks continue to hold down the top spot, the NC State Lady Wolfpack continue to dominate as well as they make a run at the Atlantic Coastal Conference Championship and a deep run of their own. 
Along with the Wolfpack and Gamecocks, the Top 10 Women's BB Teams list is loaded with talent including the Stanford Cardinals, the Tennessee Lady Volunteers, Indiana Hoosiers and Stanford Cardinals. 
With that said, here is our list of the Top 10 NCAA Women's College Basketball Teams of January 2022:
Honorable Mention
UConn Huskies
The UConn Lady Huskies are as good as any of the Top 10 Women's BB Teams on this list, unfortunately the loss of their star Paige Bueckers and a string of bad luck that saw four straight games get postponed due to COVID-19, questions are left to be answered by the Huskies as they have fallen down the rankings. 
After losing to the Bueckers, the Huskies lost two of their next three contests including a heartbreaking 69-64 loss to the Louisville Cardinals. 
The team was able to rebound from their four game absence to pick up a much needed win over Creighton on Sunday to move to 13-2 on the season. Next up for the Huskies are matchups against Butler and Xavier.
LSU Tigers
Making a run at the Women's AP Top 10 is the LSU Tigers who have improved to 15-2 on the season. 
During their impressive run to start the season the Tigers picked up key wins against three top ranked programs including Iowa State, Georgia and Texas A&M with their only loss against Top 25 programs coming to South Carolina. 
The Tigers are led by Khayla Pointer who is averaging 18.1 points a game to go along with 6.8 rebounds and 5.3 assists per contest. Up next for the Tigers is a Thursday Showdown against Missouri before a weekend matchup against Vanderbilt.
Top 10 NCAAW Rankings
10. Michigan Wolverines
One Women's Basketball program that may be getting overlooked to start the 2021-22 NCAA Women's Basketball schedule is the Michigan Wolverines. 
The Wolverines, who have started the season winning 13 of their first 15 games, currently sits just outside of the Top 10 on the latest Women's AP Top 25 rankings list. Despite that, the Wolverines have a pretty impressive resume this season including key wins against ranked programs including Oregon State, Baylor and Ohio State. 
After their latest loss to Nebraska, the Wolverines bounced back with a key win against Rutgers that helped keep them alive in the Top 10. Up next for the Wolverines is Penn State before a weekend Top 10 showdown with Maryland.
9. Maryland Lady Terps
Before discrediting how good this Maryland Terrapins team is because of the four losses, the time is needed to research those four losses. 
In those four losses, the Terps lost to the 5th ranked NC State Wolfpack, 7th ranked Stanford Cardinals, 1st ranked South Carolina Gamecocks and 8th ranked Indiana Hoosiers in overtime. 
All four losses came to teams inside of the Top 10 while the team also had a key win over the 6th ranked Baylor Bears. This Terps team is as talented as any team in the country and should make another run at the Big Ten title this season. Up next for the Terps is a Top 15 showdown with the Michigan Wolverines on Sunday before a matchup against Ohio State next week.
8. Indiana Hoosiers
After their impressive 70-63 overtime win over the Maryland Terps, the Indiana Hoosiers are making big strides in the Women's Top 10 BB Teams list. 
The Hoosiers who are 12-2 to start the season have key wins over 20th ranked Ohio State, 6th ranked Maryland and 13th ranked Kentucky while their only two losses on the year came to the Stanford Cardinals and NC State Wolfpack. 
The Hoosiers are led by Ali Patberg who is averaging 12.6 points a game and Mackenzie Holmes who is averaging 17.9 points a game. Up next for Indiana is Nebraska before a weekend matchup against the Purdue Boilermakers.
7. Stanford Cardinals
Depending on who you ask, the Stanford Cardinals could be ranked as high as number two while currently sitting at two on the NCAA Women's AP Top 25 rankings. 
That said, with many great women's basketball teams this season and three losses to this point, the Cardinals drop in our Top 10 Women's BB teams list. All three losses this season have come against Top 25 Women's Basketball programs including South Carolina, USF and Texas. 
Despite the losses the team does have three top 25 wins on their resume. Up next for Stanford is a Top 25 showdown with Colorado before a Sunday Pac 12 matchup against UTAH.
6. Iowa State Cyclones
When you have only one loss on the year and you have one of the best players in the country in Ashley Joens as your star, it is easy to see why you are ranked inside of the Top 10 Women's BB teams. 
The Cyclones only loss of the season came back on December 2nd, 2021 against an LSU team that is one of the hottest teams in the country. Since then the Cyclones have won seven straight contests including Top 25 wins against Oklahoma and Iowa. 
Next up for the Cyclones is a matchup against 25th ranked Kansas State before facing off against Oklahoma State. Joens is averaging 20.4 points a game this year to go along with 9.9 rebounds and 2.5 assists per contest.
5. Arizona Wildcats
One surprising team to make the Top 10 list is the Arizona Lady Wildcats who started the season with 11 straight wins before losing on Sunday to USC. 
In addition, the Wildcats have had two games postponed and one canceled which have limited their total games to just 12. On the year, Cate Reese is carrying the load for the Wildcats averaging 15 points a game to go with six rebounds and 1.1 assists per contest. 
The Wildcats will have their hands full with back to back road games against Oregon State and Oregon before returning home to face off against Utah next week. 
4. Tennessee Lady Volunteers
A once storied program for women's basketball is slowly attempting to return to their top form as they have played to a 15-1 record to start the season with their only loss coming at the hands of Stanford back on December 18th, 2021. 
Since that loss the Volunteers are rolling, winning six straight contests including a 73-45 blowout of 25th ranked Texas A&M on Thursday January 6th, 2022. The Volunteers junior guard Jordan Horston has been carrying the load over the team's last three wins scoring 50 points to go along with 31 rebounds and 11 assists. 
Up next for the Volunteers is a key matchup at Vanderbilt before back to back Top 25 showdowns with Kentucky and Georgia. 
3. Louisville Cardinals
With the top three teams on the Top 10 Women's BB teams list all could have a case to be put at the number one spot including the Louisville Cardinals. 
The Cardinals started the season with an overtime 61-59 loss against a 22nd ranked Arizona Wildcats team. Since that loss, the Cardinals have won 13 straight games including wins against Kentucky, Michigan, UConn and Georgia Tech all ranked inside of the Top 20 at the time of their matchup. 
The Cardinals are a well-rounded team led by Emily Engstler who averages 10.6 points a game to go along with 8.4 rebounds and 1.6 assists per game. Up next for the Cardinals is a matchup against Syracuse before a weekend matchup against Boston College.
2. North Carolina State Wolfpack
Much like Atlantic Coastal Conference (ACC) counterparts, North Carolina State Wolfpack is one team that could make a case for the top spot this season. 
Led by senior center Elissa Cunane, the Wolfpack have won 14 of their first 16 contests to start the season. The team's only losses came to South Carolina, the top overall team in women's college basketball and a 17th ranked Georgia Bulldogs team. 
Along the way the Wolfpack have beaten 19th ranked North Carolina last week as well as 6th ranked Indiana and 2nd ranked Maryland this season. Up next for the Wolfpack is a matchup against Virginia before back to back Top 25 showdowns against Duke and Louisville.
1. South Carolina Gamecocks
Despite picking up a loss back on December 30th, 2021 in overtime against Missouri this South Carolina Gamecocks team is still the team to beat this season. 
The team has reeled off 15 wins in 16 games this season including going 8-0 against teams ranked in the AP Women's Top 25 poll. This includes wins against 13th ranked LSU and #21 ranked Kentucky last week to push their win total to 15. 
This Gamecocks roster is as deep as any women's basketball team this season led by Aliyah Boston (17.1 ppg), Zia Cooke (12.6 ppg) and Destanni Henderson (11.7 ppg). Up next for the top ranked Gamecocks is a matchup against Texas A&M on Thursday January 13th, 2022 before a Sunday showdown against Arkansas.
How would you rank these powerhouse schools? Rank below to be added in the Power Rankings and to have a chance to win a gift card to LAZADA, Amazon, Fanatics.com, or more that is specific to you. Join the contest by ranking below.
Related Links:
POPULAR POSTS
Thank you
Your email has been successfully subscribed.
Sorry, there are no polls available at the moment.