Top 10 Women's College Basketball Players – February 2022 Rankings
Ranking the best NCAA Women's college basketball players of February 2022 as Maddy Siegrist of the Villanova Wildcats goes from unranked to ranked this month. Also where Caitlin Clark, NaLyssa Smith, Aliyah Boston, and more rank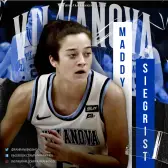 The 2021-2022 NCAA Women's Basketball schedule is approaching the final two plus weeks of action as teams fight to build the resume required to land into the Women's National Championship.
 As these teams look forward, the stars of these teams also start to power on and put together some of their best performances of the NCAA basketball season. From All-American options to women who can take over the game on any night of the week.
Leading that charge is a long list of talented NCAA Women's Basketball players including the likes of Caitlin Clark of the Iowa Hawkeyes and Maddy Siegrist from the Villanova Wildcats. Currently these two teams are the top two scorers in the country. 
Clark is currently averaging 27.6 points a game while Siegrist is averaging 26.4 points a game. Other top NCAA stars include Ayoka Lee from Kansas State, NaLyssa Smith from Baylor and Makenna Marisa from Penn State.
With that said, here is our Power Rankings of the Top 10 NCAAW Basketball Players
Honorable Mention
Cate Reese
School: Arizona Wildcats 
Just missing one of the Top 10 NCAAW BB Players rankings is the former McDonald's All-American and two time All-Pac 12 team member Cate Reese. Reese whose college basketball career is coming to an end is putting together her best season since arriving to play for the Arizona Wildcats. 
Reese is averaging a career high in points this season scoring 15.2 points a game while also averaging 6.3 rebounds, one steal and one assist per game. The Wildcats star has scored at least 17 points in three straight games while posting three double doubles on the year.
Mackenzie Holmes
School: Indiana Hoosiers 
The Indiana Hoosiers junior forward Mackenzie Holmes is a force this season and a key reason the team is sitting at 18-4 on the year and atop the Big Ten. Holmes, who has earned a long list of honors since joining the Hoosiers is in route to earning a potential a second All-Big Ten selection as well as a candidate to be an All-American. 
In 14 games this season, Holmes is averaging 17.9 points a game to go along with 8.2 rebounds and nearly two blocks (1.9) per game. Over the teams last five wins, Holmes has registered two double double performances including a 17 point, 19 rebound game against WMU. 
Top 10 College Players
10. Jordan Horston
School: Tennessee Lady Volunteers
Coming in at number 10 on the Top 10 NCAAW BB Players rankings is the Tennessee Lady Volunteers star guard Jordan Horston. Horston has been a key weapon for the Lady Volunteers this season as they sit 2nd in the SEC with an overall record of 21-4. 
Horston currently leads her team in points per game (16.4), rebounds per game (9.6), assists per game (3.9) and steals per game (1.4). Her ability to take over a game has helped the Lady Volunteer's to a 5-2 record against AP Top 25 ranked Women's Basketball teams. 
9. Khayla Pointer
School: LSU Tigers
As you look around the NCAA Women's Basketball top tiers each team is built around one true star if not more. That is the case for the LSU Tigers basketball team that has surprised many this year as they have dominated the SEC and in general winning 21 of their first 25 games while helping them move to the 11th ranked team in the country. 
Khayla Pointer is one of those stars leading the charge; she currently sits 27th in points scored per game at 19.3 while also adding 6.2 rebounds and 5.2 assists. Pointer is an excellent guard who can not only score but open up teammates for good looks.
8. Nia Clouden
School: Michigan State Spartans
A second straight Big Ten women's basketball star lands on the list. This time the star comes from the Michigan State Spartans senior guard Nia Clouden. Clouden, who is from Maryland, is putting together her best season in college ball as she has averaged career highs in points per game (20.5), rebounds per game (4.2) and assists per game (4.2). Clouden is a solid shooter who is averaging 42.1% from behind three point territory and 44.7% from the field this season.  
7. Maddy Siegrist
School: Villanova Wildcats
One of the hottest teams in all of NCAA Women's Basketball is the Villanova Wildcats who are winners of nine of their last 10 games including a key win over the 8th ranked UConn Huskies. Over those nine games, the team's top star carrying the load is junior forward Maddy Siegrist. 
Over those 10 games, Siegrist has led all scorers in nine of the 10 contests while topping the 30 point mark in six of those contests as well as at least 20 points in two additional games. The Wildcats star is currently ranked 2nd in scoring averaging 26.4 points a game and 36th overall in rebounds while averaging 9.9 rebounds per game. Maddie and the Wildcats are sure to make noise in the March Madness NCAA Tournament.
6. Makenna Marisa
School: Penn State Nittany Lions
Despite the troubles the Penn State Nittany Lady Lions have faced this season, it hasn't been all gloom on campus as Makenna Marisa is playing at All-American level while giving it all each time on the floor. 
Marisa entered play on February 17th, 2022 ranked 8th overall in points scored while averaging 22.4 per game while also adding in four rebounds and 4.1 assists per contests. Marisa is a solid two way player who can not only score but also defend as she is currently averaging 1.7 steals per game.
5. Ashley Joens
School: Iowa State Cyclones
Since arriving on campus at Iowa State, Ashley Joens has been one of the best players to take the floor for the Iowa State Cyclones. After averaging 11.7 points as a freshman, Joens has continued to evolve her game over the next three seasons including her senior season this year. Joens is currently averaging 19.8 points a game to go along with 9.2 rebounds and 2.2 assists per game. With Joens leading the charge the Cyclones have stormed to the top spot in the Big 12 after starting the season winning 21 of their first 25 games. 
4. Aliyah Boston
School: South Carolina Gamecocks
When you are the top team in all of Women's College Basketball like the South Carolina Gamecocks, it is going to be hard to have at least one of the Top 10 NCAAW BB Players. Unfortunately, the team is just so well rounded, only one made the team but she is well deserving. 
This outstanding player is Aliyah Boston who has helped lead the Gamecocks to an incredible 23-1 mark to start the season while dominating Top 25 ranked programs. Boston is looking to add to her All-American honor from last season while also taking home additional hardware in the SEC.
3. NaLyssa Smith
School: Baylor Bears
Much like with Aliyah Boston as well as Ayoka Lee and Caitlin Clark, NaLyssa Smith is one of the four players that are well deserving of one of the top four spots. With these last four spots, it was a difficult choice on which player was deserving of each and each had some consideration for the top overall spot. 
In the end, Smith comes in at number three on the Top 10 NCAAW Basketball Players rankings as she is averaging 21.2 points a game this season to go along with 11.2 rebounds per game. The Baylor Bears senior forward is one of only a few players ranked inside of the top 10 in scoring and inside the top 20 in rebounds.  
2. Ayoka Lee
School: Kansas State Wildcats 
The six-foot six-inch Kansas State Wildcats center Ayoka Lee is as good as any women's basketball player in the country and it is showing up in the statistics this year. Lee who has averaged 15.7 points a game as a freshman and 19.1 points a game as a sophomore, is following those two seasons up averaging a career high 23.8 points a game as well as 10.4 rebounds and 3.2 blocked shots per game. On the year Lee has led the team in scoring 19 times while posting four games with at least 30 points, one game with at least 40 points and one game with 61 points. 
1. Caitlin Clark
School: Iowa Hawkeyes
Coming in at number one NCAA Women's College Basketball player is the Iowa Hawkeyes sophomore guard Caitlin Clark. Clark, who has solid size for a guard is following up her stellar freshman season averaging 27.2 points a game to go along with 8.1 rebounds and eight assists. 
The Hawkeyes star guard is currently leading all scorers while also ranking 1st in Women's College Basketball with her eight assists per game. On the year, the talented guard has posted nine double doubles, three 40 point scoring performances and five games with at least 30 points scored. 
How would you rank these college players for the 2021-2022 season? Rank below to be added in the Power Rankings and to have a chance to win a gift card to LAZADA, Amazon, Fanatics.com, or more that is specific to you. Join the contest by ranking below.
Related Links:
POPULAR POSTS
Thank you
Your email has been successfully subscribed.
Sorry, there are no polls available at the moment.