MLB Player Rankings by Position 2022
Ranking the best MLB players by position in the 2021-2022 season at First Basemen, Right Fielder, Catcher, Shortstop, and more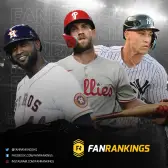 MLB Player Rankings by Position
First Basemen
Paul Goldschmidt
Team: St. Louis Cardinals
You could have easily flipped the top three players on this list (Freddie Freeman – Los Angeles Dodgers, Vladimir Guerrero Jr. – Toronto Blue Jays) depending on the statistics you were ranking. 
Paul Goldschmidt is #1 as he currently sits with the highest fielding percentage amongst his position (.998 mark) while also leading first baseman in hits (107) while also getting 28 doubles, 19 home runs and 65 runs batted in over the course of 315 at bats to start the season.
Runner Up: Freddie Freeman – Los Angeles Dodgers
Related Link: MLB Top 10 First Basemen 2022 Rankings 
Second Basemen
Jose Altuve
Team: Houston Astros
The top spot as the best second baseman in MLB 2022 goes to All-Star Jose Altuve of the Houston Astros.
Altuve leads second baseman in home runs with 17 despite appearing in just 69 total games to start the 2022 MLB season.
Altuve has also scored 45 runs on the year while reaching base on 74 hits including 17 doubles. The Houston Astros second baseman has also reached base 33 times on walks and six stolen bases so far.
Runner Up: Jazz Chisholm Jr. – Miami Marlins
Related Link: MLB Top 10 Second Basemen 2022 Rankings 
Third Basemen
Jose Ramirez
Team: Cleveland Guardians
Ramirez is heading to his 4th All-Star team and in 2022 currently leads all third baseman with 68 runs batted in.
Ramirez picked up 89 hits to start the season including leading 2nd baseman with 29 doubles to go along with four triples, 17 home runs and 39 walks. 
Ramirez's production on the diamond has him ranked 9th in all of baseball with a 3.5 Wins Above Replacement mark.
Runner Up: Rafael Devers – Boston Red Sox
Related Link: MLB Top 10 Third Basemen 2022 Rankings 
Shortstops
Dansby Swanson
Team: Atlanta Braves 
The Atlanta Braves Dansby Swanson ranks first among all shortstops in fielding percentage (.985), 2nd in fewest errors (5), and 1st in assists (227).
While his glove has been amazing to start the season his bat has been as good. Swanson ranks 5th in doubles (19), 3rd in home runs (14), 3rd in runs batted in (50), 2nd in On Base Percentage (.357) and 1st in On Base percentage (.848) through his first 87 games played this season.
Runner Up: Trea Turner – Los Angeles Dodgers
Related Link: MLB Top 10 Shortstops 2022 Rankings 
Pitchers
Tony Gonsolin
Team: Los Angeles Dodgers
The Dodgers have big stars such as Clayton Kershaw and Walker Buehler to headline their rotation but it is another star making headlines to start the 2022 season. 
That star is Tony Gonsolin who has been brilliant to start the 2022 MLB season while pitching to an 11-0 record to go along with a league leading 1.62 earned run average.
Tony Gonsolin leads Major League Baseball with a .80 WHIP while also recording 80 strikeouts through July 11th, 2022.
Runner Up: Shane McClanahan – Tampa Bay Rays
Related Link: MLB Top 10 Pitchers 2022 Rankings 
Catchers
Alejandro Kirk
Team: Toronto Blue Jays
The Toronto Blue Jays 23 years old All-Star, Alejandro Kirk, landing the starting catcher spot on the AL East All-Star team is putting together a brilliant season behind the plate while also being credited with the success the Blue Jays pitchers are having right now.
Kirk leads all catchers in batting average (.309) and hits (75), has also posted 32 walks, 12 doubles, 10 home runs and 33 runs batted in to start the 2022 MLB schedule.
Runner Up: Wilson Contreras – Chicago Cubs
Related Link: MLB Top 10 Catchers 2022 Rankings 
Center Fielders
Mike Trout
Team: Los Angeles Angels
Every year Mike Trout continues to be one of the best players in baseball and in 2022 there is no difference in these Major League Baseball rankings.
The 3 time AL MVP is as good as any in 2022 while batting .265 with 23 home runs, 48 runs batted in and 17 doubles while also picking up 38 walks.
While Trout's overall numbers are down compared to some of his past performance years, he is still on pace to hit 35 plus home runs and drive in nearly 100 runs as he tries to help lead the Los Angeles Angels to the playoffs.
Runner Up: Bryon Buxton – Minnesota Twins
Related Link: MLB Top 10 Center Fielders 2022 Rankings 
Right Fielders
Aaron Judge
Team: New York Yankees
With Aaron Judge's contract looming, and the New York Yankees failing to secure his long-term deal, the star right fielder is putting together the best season of his career.
Aaron Judge currently leads all of MLB in home runs with 30 and also ranks in the top 5 in runs batted in 64. Overall Judge has seen a split between right field and center field for the Yankees during the 2022 MLB schedule.
In addition to the home runs, he is also batting .282 with a .617 slugging percentage, 41 walks, 87 hits and 13 doubles. This type of production has landed Aaron Judge as the front runner for the AL MVP award heading into the 2022 MLB All-Star game.
Runner Up: Mookie Betts – Los Angeles Dodgers
Related Link: MLB Top 10 Right Fielders 2022 Rankings 
Left Fielders
Yordan Alvarez
Team: Houston Astros
If you are wondering who the best left fielder in baseball is, you don't have to look no farther as Yordan Alvarez has produced enough to take over that spot.
While he has spread around the field in 2022, the Astros slugger has spent majority of his time in left field while ranking as one of the best in his position.
Overall, Yordan Alvarez is ranked third in baseball with 26 home runs, 17th in batting average with a .306 mark, tied for 7th with 60 runs batted in and leads all players with a 1.058 OPS.
Runner Up: Andrew Benintendi – Kansas City Royals
Related Link: MLB Top 10 Left Fielders 2022 Rankings 
DH
Bryce Harper
Team: Philadelphia Phillies
While Bryce Harper's season was in jeopardy of being over after requiring surgery to fix his left thumb, he to this point was putting together another MVP caliber season for the Philadelphia Phillies.
Entering July 12th, 2022, he is hitting .318 on the year with 15 home runs to go along with 48 runs batted in and an OPS mark of .985 across 242 at bats.
Despite missing time, Bryce Harper ranks near the top among batting average, hits, doubles, home runs, and runs batted in among all designated hitters.
Runner Up: Giancarlo Stanton – New York Yankees
Related Link: MLB Top 10 Designated Hitters 2022 Rankings 
POPULAR POSTS
Thank you
Your email has been successfully subscribed.
Sorry, there are no polls available at the moment.