Top 10 FIFA World Soccer Player Rankings 2022
Ranking the best football players in the world such as Lionel Messi, Robert Lewandowski, Mohamed Salah, Cristiano Ronaldo, and many more for the 2022 year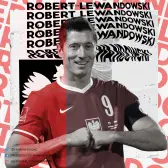 Honorable Mention
Erling Haaland
Country: Norway, Borussia Dortmund
Club: Borussia Dortmund, Bundesliga
Haaland is the new golden boy from Borussia Dortmund. He is only 21 years old and he is making a big difference on the field when he is playing. 
He has a whole career ahead to achieve everything. Many teams are interested to sign him, but one thing is for sure he will be the leader and new big football star.
Ruben Diaz
Country: Portugal
Club: Manchester City, Premier League
Ruben Diaz is an example of a modern defender with amazing technique and sense for playing. Although a defender he is very often creating goal chances and scores goals himself.
He has domestic titles with Benfica and Manchester City but he failed to win the Champions league since Manchester City lost to Chelsea in the final.
Leonardo Bonucci
Country: Italy
Club: Juventus, Serie A
Another Italian in the best 11. Bonucci is 35 years old but he is playing on the top level and showed his class on the EURO. 
Although he is European champion with Italy and has played for Inter, Milan and Juventus he doesn't have a Champions league title.
David Alaba
Country: Austria
Club: Real Madrid, La Liga
This Austrian player doesn't know enough titles. Since the season 2012-2013 when he was in Bayern Munich, he has won every domestic title, 9 in Bundesliga and now the 10th in a row in La Liga with Real Madrid. He has 2 UEFA Champions League titles with Bayern Munich in 2012-2013 and in the 2019-2020 seasons.
Gianluigi Donnarumma
Country: Italy
Club: Paris Saint-Germain, Ligue 1
The goalkeeper of Italy was named the best player of the EURO 2020. Italy conquered Europe. After a better penalty shootout, she won against England and climbed to the roof of the Old Continent. 
Great credit for this historical success also goes to the keeper of the net, Gianluigi Donnarumma, who defended two penalties to the English in the penalty series. 
In the end, he was named the best player of the European Championship. Although very young, he now has the title of European champion behind him, as well the best goalkeeper in Serie A, and France Ligue 1 title with PSG.
Top 10 FIFA World Rankings
10. Neymar
Country: Brazil
Club: Paris Saint-Germain, Ligue 1
Many will say that if he stayed in Barcelona, he would become a legend like Ronaldinho or even Messi. Neymar misses the Champions League trophy with PSG to prove everyone wrong. 
He is now again in the company of Messi and maybe next season they will reach the Champions League top. However, his skills and knowledge of the football game is without a doubt on the top level.
9. Kevin de Bruyne
Country: Belgium
Club: Manchester City, Premier League
Kevin de Bruyne is a player who can make the difference in the most difficult and tight matches. 
Without a doubt he deserves to be among the best players in the world and although he has won many trophies and personal awards, he still misses out on the Champions League title.
8. Kylian Mbappe
Country: France
Club: Paris Saint-Germain, Ligue 1
Alongside Haaland, definitely the best young players of the new generation. Although he is very young, he proved himself on the big stage and many European giants are interested in signing him. 
He has a lot of trophies for his age, he is World Champion with France but he hasn't won the Champions league title yet.
7. Cristiano Ronaldo
Country: Portugal
Club: Manchester United, Premier League
Of course, this kind of team can't be without him. As Messi he also has taken the football game to a whole new level and it's difficult to believe that someone will soon be like C.Ronaldo or Messi.
Ronaldo can brag that he proved himself in more teams than Messi and won titles in every one of them. He has 5 UEFA Champions league trophies in his career and also he is top goalscorer in this competition.
6. Jorginho
Country: Brazil
Club: Chelsea, Premier League
He seems quiet and like he is not too much in the game but in fact he leads and dictates the tempo of his teams. He won EURO with Italy and Champions League with Chelsea last season.
5. N'Golo Kanté
Country: France
Club: Chelsea, Premier League
If Jorginho seems quiet and modest, what can we say about Kante? In his career he has won everything, he is World Champion with France and European club champion with Chelsea from last season.
4. Karim Benzema
Country: France
Club: Real Madrid, La Liga
Benzema is like wine, as he gets older he becomes better and better. After C. Ronaldo left Real Madrid many thought that Benzema's form would fall but the opposite happened. 
He is playing the season of his career and definitely deserves to be on this list. This season he won the Spanish LaLiga with Real Madrid and has the opportunity to win the Champions League trophy again.
3. Mohamed Salah
Country: Egypt
Club: Liverpool, Premier League
This Egyptian magician was going from club to club until he came to Liverpool and found himself. He is playing in constant form for several seasons and has amazing skills and never fails to deliver. 
He helped Liverpool to win their first Premier League title in 20 years and also has won one Champions League trophy in 2018-2019 season.
2. Lionel Messi
Country: Argentina
Club: Paris Saint-Germain, Ligue 1
What can we say about him that was not said before. He has 6 European Golden Shoe awards and seven Ballon d'Or. 
He has won everything with Barcelona and even 4 UEFA Champions league titles. This season he became champion of France with his new team PSG.
1. Robert Lewandowski
Country: Poland
Club: Bayern Munich, Bundesliga
Last season Ballon d'Or Striker of the year who broke numerous records certainly earned this award perhaps even last season. 
Lewandowski surpassed the competitors of Mohamed Salah and Lionel Messi, who earlier, according to many opinions, undeservedly won the Golden Ball of "France Football". 
Lewandowski broke many records including the most goals scored in a season in Bundesliga and his team again won the title. Among many titles he has one Champions League trophy in his career in the 2019/2020 season.
Related Links:
POPULAR POSTS
Thank you
Your email has been successfully subscribed.
Sorry, there are no polls available at the moment.