Top 10 FIFA Qatar World Cup 2022 Best Player Rankings
Ranking the best Footballers in the FIFA Qatar 2022 World Cup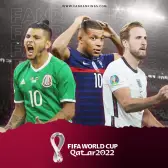 Honorable Mention
Harry Kane
Country: England
Will Harry Kane be able to return the trophy back home? We don't know but he is England's talisman and the one who will be leading England again this year.
We all know that Harry Kane is a world class player and one of the best strikers in the world but his international form is not as good as his club form; he hasn't scored an international goal from open play since November 2021.
England has built a new team who will support Kane in everything, the sad thing is that a lot of their stars will miss the World Cup due injuries.
Top 10 FIFA Qatar World Cup Player Rankings
10. Luka Modrić
Country: Croatia
Croatia's best ever player is back. Even at 37 years old, Luka Modrić is still one of the very best midfielders in the world, his level hasn't dropped a bit and he showed that by winning both La Liga and Champions League.
The 2018 Ballon d'Or winner is back with the Croatia national team to try to emulate what they did back in 2018 by reaching the World Cup final but this time with a different ending. 
His partnership with both Brozovic and Kovacic is a formidable one that will control most of the matches.
9. Thibaut Courtois
Country: Belgium
While he was heavily criticized a year ago, Courtois is right now the best goalkeeper in the world, in fact, we can already consider him as one of the best goalkeepers Real Madrid ever had.
Now, he has to prove himself again but this time with the national team because while many of his teammates are not in their top anymore, Courtois is at the top of his game.
He is without a shadow of a doubt, one of the stars of the Belgium team that will try to reach glory.
8. Memphis Depay
Country: Netherlands
The main man of the squad. Memphis, along with Frenkie de Jong and Virgil are the leaders and the spine of this talented team.
If you are questioning why Memphis is on this list is because he plays like a God for the international team, and despite not playing his best football with FC Barcelona he is doing a great job when he plays, we have to be honest with that.
But with the Dutch team he is something special, he scored 17 goals in 16 matches last year and this year 4 goals in 6 matches; 21 goals in 22 matches. Amazing.
7. Robert Lewandowski
Country: Poland
Same thing with Portugal but in a more extreme way. Poland is a national team that will focus on just one player, that will put their hopes in just one player: Robert Lewandowski, the best striker in the world.
Now playing for FC Barcelona, Lewa has already scored 18 goals in all competitions this year and showed that everything with Bayern Munich can do it with FC Barcelona… Except for keeping them in the Champions League, but it is not entirely his fault to be honest.
He has scored 76 goals for the Poland national team and let's hope he adds more to the count.
6. Cristiano Ronaldo
Country: Portugal
Cristiano Ronaldo is currently having a really hard time with Manchester United and also some personal issues are affecting him, but right now he is happy to be back with the national team.
Although he is not the same deadly striker that he was a couple of years ago, he is still very effective and can carry a whole team on his own; just remember his hat-trick against Spain in 2018… Ok, he was in his prime back then, but he is still capable of doing that. Cristiano is an all-time great and never underestimate him.
5. Karim Benzema
Country: France
The current Ballon d'Or must show why he was awarded with that trophy. After all this time away from the national team, Benzema came back strong at the 2021 Euros where he scored 4 goals in 4 matches.
Currently, Benzema is Real Madrid's main star and has shown that this team can reach European Glory even without both Cristiano Ronaldo and Gareth Bale, and with the national team we expect that his partnership with both Giroud and Mbappe will produce tons of goals. It is safe to say that this will be his last world cup and he is extremely motivated because of that.
4. Kevin De Bruyne
Country: Belgium
The current best midfielder in the world has proved that he can do everything in the Premier League, but can he do the same while playing for Belgium?
Roberto Martinez, Belgium's manager, said: "For me he's the most incredible playmaker in world football at this present time" and he is not entirely wrong.
Kevin De Bruyne is indispensable for both club and country and, because of Eden Hazard's injuries and current low level, he is Belgium's main star. He came third in the 2022 Ballon d'Or, the highest spot ever reached by a Belgium footballer.
3. Neymar Jr.
Country: Brazil
Neymar may overtake Pele as Brazil's all time goal scorer in this tournament so the pressure put on him will be colossal. And not only because of that, also because this will be his last world cup which is why the Brazilians are expecting Neymar to win the tournament.
Neymar has been explosive all season while playing for PSG along with both Messi and Mbappe but can he do the same with Vinicius Jr, Roberto Firmino, Gabriel Jesus, and Richarlison?
Currently playing as an attacking midfielder, Neymar will be the main responsible for creating chances for all of them.
2. Lionel Messi
Country: Argentina
Everybody expects the best footballer the world has ever seen to win the 2022 World Cup because this will be his last chance to do it.
Messi is not in his prime anymore, but he is still the most complete attacker out there; he can score, assist, create, dribble, everything.
Sure, he is not as fast and agile as before, but he compensates for this with his godly creativity and his near inhuman vision.
Now, with Scaloni as Argentina's coach, and a very balanced and composed team, it's the time for Messi to show that he is the best to ever play the game.
1. Kylian Mbappe
Country: France
The second-best young player in the world (I personally think Haaland is better) already won the World Cup in 2018, but obviously he wants to win it again.
A prodigy, Neymar is sometimes considered the new Thierry Henry, but that is wrong, he is the new Kylian Mbappe.
Although he sometimes shows an out-of-this-world arrogance that is considered his biggest sin, it is good to show confidence, and he has a lot of confidence in himself. Nevertheless, he hasn't scored a single goal for France since 2021 so he must deliver this time for sure.
Related Links:
POPULAR POSTS
Thank you
Your email has been successfully subscribed.
Sorry, there are no polls available at the moment.