Top 10 Best Forwards in Soccer 2022 Rankings
Ranking the best Strikers in Football of 2022 as Karim Benzema leads the way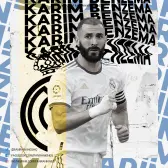 Today we will be talking about the 10 best forwards in the world. 10 attacking players that are so good in this task that they can single-handedly win a game with their goals or leave win defenders on the floor because of their world class technical ability.
We will be discussing not only the classic number 9 players, no; we will add both wingers and false-9 because they are forwards too, they can be as dangerous as a main striker, so get ready; this are the top 10 best forwards in the world in 2022
Honorable Mention
Rafael Leao
Club(s): AC Milan
Rafael Leao is something special; highly skillful, fast, unselfish, and capable of playing everywhere at the front.
Previously compared with Cristiano Ronaldo, the Portuguese is now usually compared with both Kylian Mbappé and Thierry Henry; in 2022, Leao established himself as one of the best dribblers in Europe, also as one of the best young players in the world and the MVP of the Serie A.
In addition to scoring goals, Leao is also a player with very good vision and he takes advantage of this to assist his teammates. 
Top 10 Best Forwards in Soccer
10. Cristiano Ronaldo
Club(s): Manchester United
Cristiano is still world class, dangerous and important; but he is not the same player he was, he is not in his prime anymore.
The return of former European Golden Shoe award winner, Cristiano, to Manchester United can be considered as his swan song, because sadly in a few years he will hang up his boots on his career.
But like I said before, "El Bicho" is still one of the most feared forwards in Europe, he is still capable of tearing your defense apart and scoring one of the best goals you will ever see.
9. Heung-min Son
Club(s): Tottenham Hotspur
He is nicknamed "Sonaldo" for a reason, right? Son was able to score 23 league goals without scoring a single penalty in a season where Salah scored the same quantity of goals but with penalties, that shows you how good he is.
Agile, rapid, versatile, and skilled enough to shoot perfectly with both feet; while Kane was not in his best shape, Son stepped up to give us one of the best individual performances of the last season.
Loved by everyone, we only hope that Sonaldo can have a great season, I'm not even a Spurs' fan but I love Sonny.
8. Mohammed Salah
Club(s): Liverpool FC
Egypt's best ever product. The only reason why Salah is above Sonaldo is because he, along with Son, scored the most goals, but at the same time he delivered the most assists in the league with 13 assists.
But despite that, Salah is still world class and one of the best attacking players in world football.
The "Egyptian Messi" is probably, along with Kevin De Bruyne, the best player in the Premier League by a mile and he shows that every week he plays.
7. Neymar Jr.
Club(s): Paris Saint-Germain F.C.
A happy Neymar is a joy to watch, a happy Neymar is one of the best players in the world, and a happy Neymar is one of the most dangerous forwards you will ever see.
Ridiculously skillful and technical; Neymar can do everything he wants and leave you on the floors with it.
His talismanic winger partnership with Messi is destroying everyone in France, but can they do the same in the Champions League? We have to wait for it.
6. Lionel Messi
Club(s): Paris Saint-Germain F.C.
Lionel Messi; the greatest footballer this world has ever seen, just like Cristiano, is not in his prime anymore.
Now 35, Messi is slower, less agile, and his goal scoring ability has declined, but despite that, he is still as dangerous as ever because he will always find a way to break your defense and score a goal or assist a teammate.
Now, he started the season in great shape, and we ask ourselves; will we be able to see Messi outplaying everyone this year and winning another Ballon d'Or, the Champions League, and the World Cup? I honestly hope so.
5. Vinicius Jr.
Club(s): Real Madrid CF
Do you remember the player who was bullied by everyone because he missed so many goals, was proclaimed the next big thing and was almost a meme but suddenly he became extremely dangerous and started tearing apart every single Club(s) in Europe?
Yup, that is Vinicius Jr. Vinicius one night said: "Tomorrow I will start playing well" and he did it. Ridiculously fast, skilled, technically gifted, and now considered the next Ronaldinho, Vinicius led Real Madrid to a successful campaign where they won almost everything. Goals, assists, and skills… That is Vinicius for you.
4. Kylian Mbappé
Club(s): Paris Saint-Germain F.C.
The addition of Mbappé in the list makes PSG the only team with its front three here. Mbappé is the successor of Thierry Henry, they are almost the same player; the day Mbappe assists more than 20 times in a single league campaign I will officially consider him the next Henry.
Already a world class player since he was 19; Mbappé is the future, already a killer in the area capable of scoring how many goals he wants, the only thing that Mbappé lacks is teamwork, the day he dominates that, he will be unstoppable.
3. Erling Haaland
Club(s): Borussia Dortmund, Manchester City
The android, the monster, the next Cristiano Ronaldo. Erling Haaland took the world by storm when he scored 9 goals in a single match back in 2019, and after that, everything changed.
He signed with Borussia Dortmund and scored three goals on his debut… Astonishing. There, he matured into a world class striker scoring a total of 86 goals in 89 matches in all competitions for 3 years.
This year he signed for Manchester City where he already has 14 goals in 10 matches. This is getting ridiculous.
2. Robert Lewandowski
Club(s): FC Bayern München, FC Barcelona
The only reason why Erling Haaland failed to win the Bundesliga with Borussia Dortmund was because of this man over here.
Robert Lewandowski is probably the greatest striker of the last 10 years after Luis Suarez. The polish is a force of nature, he scores because he wants; with the foot, with the chest, with the head, or with the butt, it does not matter; he will score.
He scored a total of 344 goals in 375 matches with Bayern Munich, and now with FC Barcelona, he is giving them what they lost when Messi left; a ton of goals. The real winner of the 2020 Ballon d'Or and the 2022 European Golden Boot winner as the top scorer.
1. Karim Benzema
Club(s): Real Madrid CF
The next Ballon d'Or winner, we already know it, nobody deserves the Ballon d'Or more than him.
Benzema's 2022 season was one of the best individual campaigns ever; Champions League winner, La Liga winner, UEFA Super Cup winner, and Supercopa de España winner.
He won everything and also scored 44 goals in 46 matches that season with 27 goals and 12 assists only in La Liga.
Karim Benzema showed everybody that he is more than just a simple striker; he is a monster, a natural born genius, and most importantly; he showed the world that even losing your most important players, with professionalism, determination, and heart, you can be the best in the world.
Related Links:
POPULAR POSTS
Thank you
Your email has been successfully subscribed.
Sorry, there are no polls available at the moment.