Top 10 NHL Teams Right Now – February 2022 Rankings
Ranking the best NHL Teams right now as Cale Maker leads the Colorado Avalanche to the top of the February NHL Power Rankings in the 2021-2022 season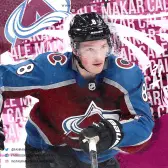 The All-Star Break is officially over, and the NHL is back in full swing, the next major milestone in the 2021-2022 season is the trade deadline and it is coming fast at the end of next month! 
These teams will definitely not look the same, well besides Vegas, who currently sits $10 million over the salary cap right now! Some teams are definitely out and will be sellers, such as the Flyers and Arizona Coyotes. Without further ado, here are the top ten teams in the NHL right now. 
Honorable Mention
Washington Capitals 
The Capitals are definitely sliding since their Stanley Cup win a few years back. Samsonov and Vanecek have been playing great for the Caps this season, but they are a far cry from how great Holtby used to be, even though he has fallen off of a cliff as well. The team currently holds the first wild card spot with 59 points, just 4 points ahead of the Boston Bruins. 
They are of course being led in points by Alex Ovechkin who has 29 goals and 30 assists this season. Evgeny Kuznetsov is also playing very well this season with 15 goals and 31 assists. If the Capitals get in the playoffs, anything can happen, but I don't think it is their year. 
Top 10 NHL Teams
10. Vegas Golden Knights
Right now, as of writing this, the Calgary Flames are beating the Golden Knights 3-0 at the end of the first. They did blow the Oilers out 4-0 in their own barn last night so I don't think you can expect that twice in a tough Alberta road trip. After tonight they don't have a game till the 16th, at home against the Avalanche. 
Vegas is in first place for the weak Pacific Division this season. While strong, this is not the same Vegas team fans are used to. The team is being led in points by Chandler Stephenson with 12 goals and 26 assists for 38 points. Marchessault is leading in goals scored with 20 on the season. The team is poised to get a boost with Eichel and Martinez returning to the lineup soon.
9. Minnesota Wild
The Wild are in a battle with the Predators for the second-place seed in the central position and are only two points ahead of the Blues who are currently holding the first-place wild card spot. It is really a three-way battle for who is the second behind the Avalanche for the Central this year. 
The Wild are unsurprisingly being led in points by Kirill Kaprizov who has 19 goals and 34 assists for 53 points in just 41 games this season. Mats Zuccarello is also having a great year with 12 goals and 28 assists for 42 points. They are also getting stellar goaltending from Kaapo Kahkonen who has a GAA of 2.44 and an SV% of .924. You always want to see that GAA with a one in the beginning, but it is what it is.
8. Nashville Predators
The Predators are holding on to their second-place spot in the Central for dear life as the Blues and Wild are hot on their heels. The Avalanche have basically all but ran away with it at this point. Roman Josi has been really finding the points sheet lately, taking over leading points from Duchene. Josi has 13 goals and 31 assists for 44 points. Duchene is still having one hell of a season with 21 goals and 20 assists for 41 points. 
Finally finding a home since leaving Colorado. Juuse Saros is also still filling that hole in net that Rinne left, keeping his team in the game with a 2.35 GAA and an SV% of .927. They are going to have to keep the play strong and win some division games to stay in second.
7. Toronto Maple Leafs
The Maple Leafs have the unenviable spot of being in the same division as the southeast powerhouse of hockey in Florida. Despite being 30-10-3, they are in third in their division by 6 points. But do have a 4-point lead over the first wild card team. The Leafs are being led offensively by Auston Matthews who has 31 goals and 22 assists in 40 games. The success story of the season is Michael Bunting's revenge tour as the rookie has 13 goals and 16 assists in 43 games. 
He has more often than not found himself on the first line with Matthews and Marner. Marner has also picked up the production with 40 points in 34 games. Jack Campbell has been the guy in net for the Leafs with a 2.30 GAA and a solid SV% of .925. What a year for them so far, hope the second round doesn't catch up with them again.
6. Pittsburgh Penguins
Just when you thought the Penguins were finally going to fall off of that cliff, they climb, no, fly right back up to the top. Right now, they are third in the Metropolitan Division with a 28-11-8 record for 64 points. They have a 5-point lead over division rivals the Washington Capitals. Most of the offensive production is coming from Jake Guentzel, who has 23 goals and 25 assists for 48 points in 41 games. 
Crosby is also still piling the points up with 13 goals and 28 assists this season for 41 points. Jeff Carter also secured himself a two-year deal, playing for the cross-state rival of the team that drafted him. All-star Tristan Jarry is THE guy in net for the Pens with an GAA of 2.21 and an SV% of .925. Not sure if it will be a banner year for the Penguins but it is a very exciting year.
5. New York Rangers
I know fans vote in the All-stars but come on, Artemi Panarin got absolutely robbed. Panarin has 13 goals and 39 assists in 42 games for 52 points. Team Russia would have been insane at the Olympics if the NHL players went. 
Mike Zibanejad is still making eyes roll in Ottawa as he has 49 points in 47 games this year, many thought he would have been traded by now but is rebounding very well. Shesterkin is also playing lights out for the Blue Shirts as he has a 2.10 GAA and .937 SV% in 29 games this season. The Rangers are only one point behind the Canes for first in the Metropolitan and it is honestly anyone's division.
4. Carolina Hurricanes
Many, including me, are hoping that this year is the year the Hurricanes can finally take that next step. They took a swing on media circus Tony DeAngelo and boy has it paid off as he has been more or less their first defenseman., leading the core in points with 8 goals and 28 assists. Offensively the Hurricanes are being led by Sebastian Aho with 19 goals and 27 assists for 46 points in 41 games played. 
Svech is working slightly slower with only 17 goals so far this season. I have to praise Freddy Andersen once again as he has seen a full 180 in his play since leaving Toronto. He has started 31 games this season for the Canes and has a GAA of 2.08 and an SV% of .927. Only time will tell if they go the distance.
3. Tampa Bay Lightning
I really thought the Lightning would take a step back this season after two Stanley Cups, but no. The Lightning are currently in the second spot of the Atlantic Division and the entire Eastern Conference. 
The Bolts are being led in points by their captain Steven Stamkos who has 20 goals and 32 assists for 52 points in 45 games. Hedman is also playing out of his mind with 10 goals and 37 assists for 47 points in 46 games. Ross Colton is also not having a half bad second season in the NHL. So far, the sophomore has 9 goals and 11 assists in 43 games this season. 
It doesn't need to be said but I will, Andrei Vasilevskiy is a good hockey goalie. He has started 36 games for the Bolts this season and has only allowed 81 goals in that time. His GAA is 2023 and his SV% is at a .922, literally outstanding. I really hope the Bolts and Cats meet in the playoffs this year; it would be a series of the decade.
2. Florida Panthers
The Panthers were on a steady incline the past few seasons, ever since the Flyers just beat them into the playoffs a few years back. The Florida Panthers are currently 32-10-5 on the season with an NHL leading 69 points. 
The top of the mountain in the Sunrise State is Jonathan Huberdeau who has 17 assists and an insane 47 assists for 64 points in 47 games. Sam Reinhart is also having a career year with 16 goals and 28 assists. Anthony Duclair is also making a nice home for himself down south after bouncing around the NHL, he has 19 goals and 16 assists so far this season. 
Sergei Bobrovsky is also playing very well for the Cats, he has started 32 games this season and has a high GAA at 2.56, but his SV% is .920, not bad. Again, I hope that they find themselves up against the Bolts in the playoffs.
1. Colorado Avalanche
The Colorado Avalanche are the team this year, at this exact moment they are second in the NHL, but they had an extended break due to the All-Star weekend. They are one point behind the Panthers in the standings, but have played 3 less games than the Panthers, you can do that math, they are the better team.
They have also rallied without team leader Nathan MacKinnon who sadly broke his nose in a game against the Bruins. In a contract year, Nazem Kadri is leading the team in points with 19 goals scored and 41 assists for 60 points in 41 games played. Mikko Rantanen is also proving that he is probably the best winger in the league behind Ovechkin. He has 24 goals and 30 assists in 41 games this season. 
Cale Makar is also looking like an early Norris favorite with 18 goals and 26 assists for 41 points in 40 games. They are also being backstopped by the best goalie tandem in the NHL with Darcy Kemper and Pavel Francouz. Here is hoping that Bowen Bryram can come back and not have to hang them up early.
How would you rank these National Hockey League teams so far in the 2021-2022 season? Rank below to be added in the Team Power Rankings and to have a chance to win a gift card to LAZADA, Amazon, Fanatics.com, or more that is specific to you. Join the contest by ranking below.
Related Links:
POPULAR POSTS
Thank you
Your email has been successfully subscribed.
Sorry, there are no polls available at the moment.