Top 10 NHL Rookies of November 2021 Power Rankings
Ranking the best NHL Rookies deserving of the Calder Trophy so far in the 2021-2022 NHL season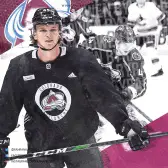 This season is quite the year for rookies, with a few blue-chip prospects taking the jump into the National Hockey League, some names included such as Trevor Zegras, Moritz Seider and Bowen Byram. 
Detroit's rookies are really leading the way in these NHL hockey power rankings, but it is early in the season, here are our picks for the top 10 rookies in the NHL deserving of the Calder Memorial Trophy right now during this 2012-2022 NHL season.
Honorable Mention
Jamie Drysdale
Team: Anaheim Ducks 
We can't talk about rookies in these NHL power rankings without mentioning Jamie Drysdale. He hasn't been flashy enough to be top-ten, but he is going to be the leader of the Ducks blue line for years to come. 
He played two seasons for the Erie Otters of the OHL before COVID shut his OHL career down way too early. During that time, he put up 16 goals and 71 assists in 112 games. He also won Gold at the 2020 WJCs with Canada. 
He was drafted 6th overall by the Ducks in 2020 but some feel that he should have gone higher. In his first pro season last year he put up 10 points in 14 games with the San Diego Gulls and registered 8 points in 24 games with the Ducks. 
He is currently playing on the top pair for the Ducks next to Hampus Lindholm. He has played 16 games so far for the Ducks and has 1 goal and 6 assists in that time. Him and his rookie mate which we will discuss later in this article have helped the Ducks rank 7 in our NHL Team Rankings 2021 for November.
Top 10 NHL Rookies
Michael Bunting
Team: Toronto Maple Leafs 
Bunting was a 4th round draft pick of the Arizona Coyotes way back in 2014. After he graduated from the OHL, he bounced around the AHL and had a brief stint in the ECHL. 
Bunting played 323 games in the AHL between the Roadrunners and Falcons, scoring 85 goals and 120 assists. He did play 26 games for the Coyotes over two seasons, registering 11 goals and 3 assists. 
Opportunities dried up for him in Arizona and he signed a two-year contract with the Maple Leafs and is putting solid numbers in a fourth line role for the Leafs. So far, he has 4 goals and 3 assists in 16 games, not a bad find for the Leafs who have struggled for depth scoring. Don't think he will be getting the Calder or anything, but it's nice to see him getting a shot with the Leafs.
Anton Lundell
Team: Florida Panthers 
Lundell was great during his time in the SHL, he played 108 games, plus 20 playoff games for HIFK, combined he had 36 goals and 39 assists in 128 games in the SHL. He won Gold twice, Silver once and Bronze once representing Finland internationally, more than likely an early pick for Finland this Olympics. 
The Panthers snagged him 12th overall in the 2020 NHL Draft and in 11 games this season he put up 3 goals and 4 assists on a stacked Panthers lineup. He's currently a middle six forward, slotting in center. His contribution has helped the Panthers become the #1 team in our NHL Team Rankings 2021 for November.
Tanner Jeannot
Team: Nashville Predators 
Tanner Jeannot is one of those players I really like. He goes undrafted in all his eligible years and signs an entry-level contract on a team that is willing to take a swing at him. 
He signed his ELC in 2018 after 4 successful seasons in Moose Jaw where he put up 77 goals and 93 assists in that time. He moved on to play in the AHL and ECHL for Nashville's affiliates and finally cracked the NHL roster this season. 
He went from an undrafted player bouncing around the minors to a top six forward in his rookie season, putting up so far, 5 goals and 3 assists in 15 games this season. I don't think he will catch up to some other players on this list, but he certainly is an impressive and fun story to hear about.
Trevor Zegras
Team: Anaheim Ducks 
Trevor Zegras, Mr. USA himself, looks like he is done in the AHL and is a full-time NHL player. He played two seasons on the USNDT, got drafted by the Ducks 9th overall in 2019, then played one season for Boston University where he had 36 points in 33 games. 
He then won Gold for the USA in the 2021 World Juniors. Even though he was a top-ten pick, he is looking like a steal at #9. He played his first pro season last year splitting time between the AHL and the NHL. 
He had 21 points in the AHL and 13 points at the NHL level. So far this season through 14 games he has 4 goals and 4 assists, playing as the second line center for the Ducks. He is definitely contributing to a team that ranks #7 in our NHL Team Rankings 2021 for November. I think he has a shot at the Calder, but competition is stiff.
Cole Sillinger
Team: Columbus Blue Jackets 
Cole Sillinger, the homegrown kid courtesy of the Columbus effect. The Columbus effect is that more players are being drafted out of Ohio since the Blue Jackets came in 2000. 
Cole was drafted 12th overall by the Jackets in the 2021 NHL Entry Draft after putting up 46 points in 31 games for Sioux Falls in the USHL. He would have continued to play for Medicine Hat in the WHL, but the season COVID messed everything up in the junior hockey league. 
Cole made the Blue Jackets out of camp and so far, has 4 goals and 4 assists in 8 NHL games. Like Zegras, he is also a second line center because of his successful play.
Jonathan Dahlen
Team: San Jose Sharks 
When it came to the Sharks, I really thought I was going to be writing about William Eklund, but after 9 games and 4 assists, he is back in Sweden. Dahlen was a second-round pick in the 2016 NHL Entry Draft by the Senators. 
He was signed by the Canucks in 2017 and split time the past few years between the AHL and Allsv. In 2019, the Canucks and Sharks made a trade that sent Dahlen to San Jose and this season he is a full time regular in the NHL. 
So far, he has 6 goals and 2 assists, the Sharks aren't great this year but are better than last year. He is currently playing on the top line for the Sharks next to Couture and Meier.
Bowen Byram
Team: Colorado Avalanche 
Byram was my number one pick, but thanks to a rogue elbow from a Vancouver Canuck, Bo is currently in concussion protocol. Byram was drafted 4th overall in the 2019 NHL Entry Draft by the Avalanche thanks to the Matt Duchene trade. 
He went back down to the WHL since he wasn't quite ready for the NHL and thanks to the NHL/CHL agreement he could not go to the Eagles in the AHL. He played 19 of the Avalanche games last season, racking up two assists. 
He made the roster full time, and thus far this season he has 3 goals and 5 assists. He would be in competition for top 2 on this list if it was not for the injury, hoping he is back soon.
Dawson Mercer
Team: New Jersey Devils 
When I say that the New Jersey Devils have been drafting well recently, I mean they have been drafting really well recently. Mercer was drafted 18th overall in the 2020 draft. 
He benefited from the QMJHL not canceling their 2020-2021 season due to CVOID like the OHL and WHL did. In 5 seasons in the OHL Mercer played 194 games, had 84 goals and 102 assists. 
He played 35 playoff games in juniors too, registering 6 goals and 11 assists. He won Gold at the 2020 WJC's and won the Guy Carbonneau Trophy in 2021 with the Sagueneens for best defensive forward. Right now, he is the second line center for the Devils, playing with Bratt and Johnsson and has registered 5 goals and 6 assists as one of the NHL rookie scoring leaders in 14 games played.
Moritz Seider
Team: Detroit Red Wings 
Moritz Seider might be the second-best defensive prospect in the NHL right now behind the injured Bowen Byram. Off of the success he had in the DEL, winning the 2019 Championship with Adler Mannheim, where he only had 5 assists in 14 games. 
Seider went 6th overall in the 2019 NHL Entry Draft. He then played 49 games in the 2019-2020 season for the Griffins in the AHL where he had 22 points in 49 games. Last season, with the weird schedule in both the NHL and AHL, he spent the season in the SHL. 
He recorded 28 points in 41 games with Rogle BK. Sedier is currently playing on the top defensive pair for the Red Wings alongside Dan Dekeyser. He has 2 goals and 10 assists in 17 games this season.
Lucas Raymond
Team: Detroit Red Wings 
Sticking with the Red Wings and their impressive prospect pool. Lucas Raymond may be the early Calder favorite as he is the NHL rookie scoring leader with 17 points in 17 games played for the Red Wings this season. 
He spent most of his time over in Sweden playing for Frolunda HC in the SHL and also their J18 and J20 teams. He played 77 games in the SHL and scored 12 goals and 18 assists for 30 points. 
He won Gold for Sweden at the U18 IIHF World Championship. So far this season he has been on the top line with Dylan Larkin and Tyler Bertuzzi, he has 7 goals and 10 assists in 17 games. He is an early favor for the Calder and would not be surprised if he won it. 
How would you rank these NHL rookies so far in the 2021-2022 season? Rank below to be added in the Power Rankings and to have a chance to win a gift card to LAZADA, Amazon, Fanatics.com, or more that is specific to you. Join the contest by ranking below.
Related Links:
POPULAR POSTS
Thank you
Your email has been successfully subscribed.
Sorry, there are no polls available at the moment.