Top 10 NHL Rookies – January 2022 Rankings
Ranking the best NHL Rookies deserving of the Calder Trophy so far in the 2021-2022 NHL season. Tanner Jeannot makes a dramatic leap up the NHL Rookie Ladder for this month of January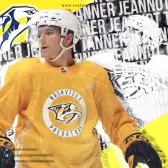 Who is going to win the coveted Calder Trophy this season, Zegras or Raymond? My money is on Zegras who has been given a rapid shot of confidence after his famous assist versus the Buffalo Sabres. 
Lucas Raymond does have 3 more points than him at the moment but one good game and Zegras is above him. Here are the best rookies in the National Hockey League right now before the midway point of the season.
Honorable Mention
Alex Newhook
Team: Colorado Avalanche 
Alex Newhook fell off the path a little when he got sent down to the AHL, but since then has been a great depth player for the Avalanche this season. The Avalanche have possibly the best third line in hockey right now as Newhook centers Logan O'Connor and Nicolas Aube-Kubel. 
So far this regular season he has 7 goals and 4 assists for 11 points in 22 games. While in the AHL he did put up 11 points and if he had played consistent and not been sent down, he would be a top 5 rookie this season.
Top 10 NHL Rookies 
10. Jonathan Dahlén
Team: San Jose Sharks 
This 2016 second round pick has been playing very well for the Sharks this season and has secured himself as a very competent and reliable middle six forward. He currently sits at 10th in the NHL for rookie scoring with 8 goals and 6 assists for 14 points in 31 games. 
He has seen some time on the second line, but the Sharks do not have the forward core they used to. Dahlen is a testament of the Sharks pro-scouting abilities. 
9. Seth Jarvis
Team: Carolina Hurricanes 
Seth Jarvis continues to look like a solid pick up for the Hurricanes and one of the few players from the NHL Draft class in 2020 to be a regular in the NHL this season. He had three really good seasons for Portland in the WHL and last season had an outstanding 11 points in 9 games for the Wolves after the WHL season ended, 9 of which were goals. 
So far this season he has 6 goals and 9 assists for 15 points in 24 games, not bad at all for just 19 years old. Recently, Jarvis' play has earned him looks on the Canes top line as the look to pass the Cats in Florida for #1 in the NHL. 
8. Jamie Drysdale
Team: Anaheim Ducks 
We will never know how great the 2020-21 Erie Otters could have been with Drysdale in his last year, but for a Ducks fan it might be the best thing that could have happened for the franchise. 
Drysdale is looking like a steal at just 6th overall, which is always weird to say. He currently has 3 goals and a more than impressive 13 assists. Very quickly Drysdale as established himself as a #1 defenseman for the Ducks. He is only out-shined by the Zegras. 
7. Anton Lundell
Team: Florida Panthers 
Lundell is like Jarvis in being one of the few 2020 players to be a regular in the NHL, and Lundell is more than a regular. 
He has done some time on the second line as a center, but it is hard for the rookie to compete with the comeback story of Sam Bennett. In just 31 games this season, Lundell has 7 goals and 11 assists for 18 points. 
6. Michael Bunting
Team: Toronto Maple Leafs 
We've sung the praise of Michael Bunting finding a home in Toronto after not being given a proper shake in Arizona. His play has been so good for the Leafs as of late, he has found himself on the top line with Auston Matthews and Ondřej Kaše. 
In 33 games, Bunting has 7 goals and 13 assists for 20 points on a Leafs team whose offense can just explode at a whim. Bunting was initially brought in to be bottom six scoring but has bloomed into a great first line winger who has an elite ability to line up his teammates. 
5. Dawson Mercer
Team: New Jersey Devils 
The Devils aren't expected to make the playoffs this year, but Mercer has been a nice pickup for the Devils in the center position, with Jack Hughes and Nico Hischier the Devils middle could be horrifying in a few years. 
Right now, he is playing on the top line with Hughes and Tatar. In just 36 games he has 9 goals and 11 assists for 20 points. 
4. Moritz Seider
Team: Detroit Red Wings 
Moritz Seider is definitely the best defensive rookie in this year's class, but his points have slipped as more teams put him in their game film. He has been finding himself as the #1 defensemen for the Red Wings this season playing with Jordan Oesterle. In 36 games this season he only has 3 goals but has 20 assists. 
He is only tied with teammate Raymond for assists lead for rookies. With another deep draft on the horizon, the Red Wings are only going to get better.
3. Tanner Jeannot
Team: Nashville Predators 
The Predators are typically known for their uncanny ability to draft defensemen and produce them into high level elite talent. So, it is more than surprising that they were able to pluck such a great offensive talent undrafted from the WHL. 
In his last season with the Warriors, he had 80 points in 72 games that season. So far this season he has 11 goals and 11 assists for 22 points in 36 games playing on a line with Matt Duchene and Mikael Granlund. 
2. Lucas Raymond
Team: Detroit Red Wings 
Lucas Raymond was an early guarantee for winning Calder until Trevor Zegras came out of nowhere and stole the spotlight from him. 
The Red Wings top line has been more than elite for them this season with Raymond seamlessly fitting in next to Dylan Larkin and Tyler Bertuzzi when he is able to play. Raymond leads rookies in points with 10 goals and 20 assists in 36 games this season.  
1. Trevor Zegras
Team: Anaheim Ducks 
Trevor Zegras is exactly what the doctor ordered when it came to what the NHL needed to attract new fans. Despite being from New York, Zegras gives off a major relaxed surfer bro vibe and is a highlight machine. News networks and websites around the world were showing his Sabres assist for a solid week after he pulled "the Zegras". 
Currently he has 9 goals and 18 assists for 27 points in 32 games, 4 games less than Raymond thanks to COVID shutdowns for the Ducks. If it wasn't for Ryan Getzlaf, Zegras would be the #1 center. I am betting heavily on him to win the Calder. 
How would you rank these NHL rookies so far in the 2021-2022 season? Rank below to be added in the Power Rankings and to have a chance to win a gift card to LAZADA, Amazon, Fanatics.com, or more that is specific to you. Join the contest by ranking below.
Related Links:
POPULAR POSTS
Thank you
Your email has been successfully subscribed.
Sorry, there are no polls available at the moment.