Top 10 NHL Rookies – February 2022 Rankings
Ranking the best NHL Rookies deserving of the Calder Trophy so far in the 2021-2022 NHL season. Anton Lundell makes a huge leap up the NHL Rookie Ladder for this month of February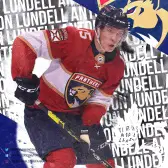 It has been quite the season for NHL rookies, with Trevor Zegras and Lucas Raymond bouncing back and forth between first and second in NHL rookie scoring. In my humble opinion, Zegras is really the rookie of the year and is playing beyond Calder worthy. 
Alex Newhook is also looking like a middle-first round steal for the Avalanche, who have been drafting well as of late. It is really Ducks rookies vs Red Wings rookies this season, but Zegras has everything but the points at the moment. With that being said, here are the top ten rookies in the NHL right now.
Honorable Mention
Alexandre Carrier
Team: Nashville Predators 
Just on the outside looking in, the Predators 2015 4th round pick has been playing incredibly for a very competitive Predators team this season. He is on the second pair for the Preds with Mattias Ekholm but could be a first pair center any time now. 
He is 11th in rookie scoring and so far, has 2 goals and 16 assists in 44 games this season. Whenever a 4th round pick has success like this, you have to be happy in your scouting department.
Top 10 NHL Rookies
10. Seth Jarvis
Team: Carolina Hurricanes
Yet another reason Leafs fans hate trades; the Leafs pick went to the Hurricanes via the Marleau trade and fell to 13th overall in the 2020 Draft. So far, Seth Jarvis has found himself playing in the top six with names like Trocheck and Martinook and has been thriving in this position. 
So far this season, the rookie has 8 goals and 10 assists for 18 points in 35 games and is a +3. Not Elite production but it is his rookie year in a role position.
9. Alex Newhook
Team: Colorado Avalanche 
Despite being 14th in rookie scoring, Newhook is having one hell of a season for the Avalanche who have been stealing players in the first round as of late. In the 2021 Draft, the Avalanche also snagged Oskar Olausson, who is looking like a Mikko 2.0. 
Newhook had to play some games in the AHL to get his rhythm and has either been the third line center or a winger on the second line for the Avalanche. So far this season, Newhook has 10 goals and 6 assists for 16 points in 34 games. I would have liked to see his production higher, but he is in a tough rookie class.
8. Jamie Drysdale
Team: Anaheim Ducks 
Drysdale has really slipped down the rookie scoring this season, but he is a defenseman and goal scoring is a small part of his game. Drysdale has also seen his playing time lessened a little and now finds himself on the second pair with Hampus Lindholm, not a bad thing but you want his skill on the top pair. 
He is still getting first power play time with Zegras though. So far, the former Otter has 3 goals and 16 assists for 19 points in 48 games this season. Pretty good, but not Moritz Seider good.
7. Dawson Mercer
Team: New Jersey Devils 
Another mid round first round pick, Dawson Mercer is playing well for a Devils team on the rise. The former QMJHL Sagueneens has found himself playing in a third line role at center this season but is also centering the second power play unit. So far this season Mercer has 10 goals and 15 assists for 25 points in 47 games. 
Not elite production by any means, but very good production for a third line center who is 7th in NHL rookie scoring. He only has up to go from here.
6. Tanner Jeannot
Team: Nashville Predators
I always love a good story when it comes to professional hockey players and Tanner Jeannot definitely has one. Undrafted after playing four seasons for the Moose Jaw Warriors, 80 points in his last season, he was lucky enough to get an entry level contract from the Preds. 
He spent some time bouncing in the ECHL and AHL for the Preds but since then has been a great player for them. Playing in the middle six, he has 14 goals and 14 assists for 28 points in 47 games. He is 6th in rookie scoring.
5. Moritz Seider
Team: Detroit Red Wings 
Moritz Seider was a steal at 6th overall in the 2019 NHL draft, especially since he won the DEL Championship in his draft year. It is mind blowing that he fell that far. It is still far too early to tell, besides the Devils, any of the other four teams would kill to have him. 
Seider has been playing exceptionally well for the Red Wings all season and right now has 4 goals and 27 assists for 31 points in 47 games. He is still the number one defensemen for the Red Wings this season and has been playing on the top power play with Dylan Larkin.
4. Michael Bunting
Team: Toronto Maple Leafs
The top line winger that got away from the Arizona Coyotes for no good reason. You'd think a team struggling this bad would give their own prospects a shot. Bunting is one of the only non-first round picks on this list and has found himself at home in Toronto. 
He is an Ontario native but that is beside the point. Bunting is 5th in rookie scoring with 13 goals and 16 assists for 29 points in 43 games and has been playing on either the first or second line most of the season. Top six forward on a two-way contract, absolutely insane.
3. Anton Lundell
Team: Florida Panthers 
Recently announced rookie of the month for the month of January, Lundell has been having a very good season for the Florida Panthers as they battle the Avalanche for king of the hill. Lundell is 3rd in rookie scoring with 10 goals and 22 assists for 32 points in 43 games so far this season. 
There are rumors that the Panthers would be interested in moving Lundell and some picks to snag Chychrun from the Coyotes, but I hope that doesn't happen. Lundell is currently playing on the third line and if it wasn't for the revolution of Sam Bennett, he would definitely be the second line center.
2. Trevor Zegras
Team: Anaheim Ducks
Trevor Zegras has been playing so well this season that the NHL had to basically invite him to the All-Star game because it would not be the same without his level of excitement there. He has also been swapping between first- and second-line center with Ryan Getzlaf and has seen significant power play time. 
This living human highlight reel currently has 12 goals and 20 assists for 32 points in 42 games and is only 5 points behind Lucas Raymond. If Zegras keeps his personality going and making the NHL buckets of money, he will definitely win the Calder.
1. Lucas Raymond
Team: Detroit Red Wings 
Lucas Raymond is considered most likely to win the Calder Trophy just off of points scored alone thus far this season. He has found himself playing on the top line for the Red Wings with Larkin and Zadina. 
Despite the Red Wings being in a rebuild, this top line keeps them in games. Raymond has scored 12 goals and stacked up 25 assists thus far this season for an incredible 37 points in 48 games. It is only a matter of time before the Red Wings are hunting for another playoff streak.
How would you rank these National Hockey League rookies so far in the 2021-2022 season? Rank below to be added in the Power Rankings and to have a chance to win a gift card to LAZADA, Amazon, Fanatics.com, or more that is specific to you. Join the contest by ranking below.
Related Links:
POPULAR POSTS
Thank you
Your email has been successfully subscribed.
Sorry, there are no polls available at the moment.