Top 10 NHL Rookies – December 2021 Rankings
Ranking the best NHL Rookies deserving of the Calder Trophy so far in the 2021-2022 NHL season. Trevor Zegras moves up the NHL Rookie Ladder for this month of December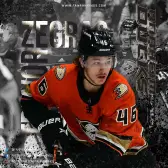 It has been quite the season for NHL rookies as we are a little past the quarter mark of this 2021-2022 season. It looked like Lucas Raymond and Moritz Seider were going to hold the #1 and #2 spots in rookie scoring for the season, but Trevor Zegras has come in hot. 
We did see Bowen Byram fall out of Calder consideration as he battled head injuries this season after an elbow to the face during a game against the Canucks. Here are the Top 10 Best NHL Rookies right now. 
Honorable Mention
Seth Jarvis
Team: Carolina Hurricanes
Honorable mention has to be given to the Hurricanes Seth Jarvis as he broke his way into the top ten while writing this piece. Currently, Jarvis is 9th in rookie scoring with 4 goals and 7 assists for 11 points in 23 games. 
He is currently playing third line wing for the Hurricanes and is thriving in the Hurricanes fantastic play and is also on the second power play unit. Jarvis has been pointed out by head coach Rod Brind'Amour for his fantastic play. 
Top 10 NHL Rookies
10. Alex Newhook
Team: Colorado Avalanche 
Alex Newhook has been tearing it up for the Avalanche since coming back up from a stint on the Eagles. Newhook has 6 goals and 4 assists in 16 games so far this season. 
He is currently slotting into the second line center position with Nazem Kadri and Gabriel Landeskog day to day with injuries. He is in no way in consideration for the Calder, but it is great to see him thriving after getting sent down.
9. Anton Lundell
Team: Florida Panthers 
Lundell is fully taking advantage of the Panthers success this season, as he is the second line center behind Sam Bennett. 
He is absent on the powerplay, as the Panthers are very top heavy. So far this season Lundell has 5 goals and 6 assists for 11 points in 23 games played. He is currently 10th in rookie scoring.
8. Jamie Drysdale
Team: Anaheim Ducks 
Jamie Drysdale and the Ducks group of duckling rookies this season have really been turning some heads. Currently he is on the top defensive pair next to Hampus Lindholm. 
The former Erie Otter has 13 points in 30 games played, 3 goals and 10 assists. It's only a matter of time before he is leading all Ducks defensemen in points. He is second in rookie defensemen scoring behind Moritz Seider.
Watch #34 Jamie Drysdale the entire shift. pic.twitter.com/ItAGTJwmlf

— b su (@b_su27) December 2, 2021
7. Tanner Jeannot
Team: Nashville Predators 
Tanner has been playing extremely well for the Predators with 6 goals and 8 assists for 14 points in 28 games played. He is currently 7th in rookie scoring, behind Dahlen on the Sharks. 
He is currently playing on the third line as the top six for the Predators is pretty set. Duchene and Johansen are currently day to day, so Jeannot could see some top six playing time as things shake out.
6. Jonathan Dahlen
Team: San Jose Sharks 
Dahlen has been quite the find for the Sharks. He was drafted by the Senators in the second round of the 2016 NFL Draft and the Sharks are the third franchise he was a part of. 
He is currently 6th in the NHL for rookie scoring with 8 goals and 6 assists for 14 points in 24 games for the Sharks. He has been playing on the top line with Logan Couture so far this season but has been up and down the lineup as the Sharks look to have a bounce back year this year.
Dahl-a bill y'all?
Jonathan Dahlen with the tip to put the #SJSharks on the board. pic.twitter.com/TFxtF3ScSN

— ????? ????  (@SharkCityHockey) December 10, 2021
5. Dawson Mercer
Team: New Jersey Devils
The Devils have been drafting VERY well and Mercer is proof of that. Mercer was drafted 18th overall in the 2020 NHL Entry Draft, dead in the middle of the first round. So far this season he has 7 goals and 8 assists for 15 points in 26 games. 
He has been playing on the second line for the Devils as Nico Hischier and Jack Hughes have been in and out of the lineup. He is also the center for the second power play unit for the Devils. He is 5th in the NHL for rookie scoring.
4. Michael Bunting
Team: Toronto Maple Leafs 
If the two Red Wings on this list took another year to make it to the show, Bunting might have been a sure win for the Calder considering his play. Drafted in the 4th round by the Coyotes in 2014, it seems weird that he is in talks for rookie of the year seven years later. 
So far this season he has 7 goals and 12 assists for 19 points in 29 games for the Leafs this season. Right now, he has the ultimate compliment playing next to Auston Matthews on the top line for the Leafs ahead of players like Nylander and Kerfoot.
3. Moritz Seider
Team: Detroit Red Wings
Cale Makar might have to get used to sharing headlines with these defensemen one day. Moritz Seider sadly has to share the spotlight and compete with teammate Lucas Raymond for the Calder Trophy this season. 
So far, Seider has 3 goals and 16 assists for 19 points in 28 games this season. His scoring has slowed down as the season has progressed, but he is playing very well. Seider, unsurprisingly, is on the top pair for the Red Wings defense and is on the top power play unit with Dylan Larkin.
2. Trevor Zegras
Team: Anaheim Ducks
Zegras is leading the next crop of great American born players getting ready to take the NHL and international hockey by storm. So far this season, Zegras has scored 6 goals and put up 16 assists in 28 games this season for 22 points. 
Sonny Milano and he put up a goal of the year contender this month versus the Buffalo Sabres as well. Zegras could easily take over our #1 at any day now, as he is only two points behind them. Zegras is currently playing second line center for the Ducks with Milano and Rakell.
1. Lucas Raymond
Team: Detroit Red Wings 
Lucas Raymond is leading NHL rookies with 24 points in 28 games. He has been one of the top liners for the Red Wings alongside Dylan Larkin and Tyler Bertuzzi, when they play in the United States. 
At just 19 years old, Raymond is going to be the tip of the spear that allows the Red Wings to start another tradition of success in the motor city. Raymond was recently rookie of the month for the month of November. He was also asked to be an exemption for team Sweden for the 2022 Olympics. 
How would you rank these NHL rookies so far in the 2021-2022 season? Rank below to be added in the Power Rankings and to have a chance to win a gift card to LAZADA, Amazon, Fanatics.com, or more that is specific to you. Join the contest by ranking below.
Related Links:
POPULAR POSTS
Thank you
Your email has been successfully subscribed.
Sorry, there are no polls available at the moment.