Top 10 NHL Rookies – April 2022 Rankings
Ranking the best NHL Rookies deserving of the Calder Trophy so far in the 2021-2022 NHL season. Michael Bunting leads the way again in the NHL Rookie Ladder for this month of April. Also where Trevor Zegras, Lucas Raymond and more rank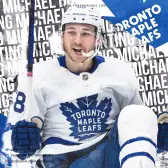 Getting close to the end of the NHL season and sadly for a few of these fantastic players it is the end of their play time as the Red Wings, Ducks and Devils are all poised to not make the postseason. 
Lucas Raymond looked like he was going the distance, but Zegras and Bunting really stepped up and dethroned him from the top spot. That being said it's been one amazing season for rookies and here are the top for the month. 
Honorable Mention
Alex Newhook
Team: Colorado Avalanche 
Alex Newhook has been the icing on the cake for Colorado's scouting as they have been able to pick up solid players in the later picks of the first round. 
Newhook was 16th overall pick in the 2019 NHL Draft and honestly would have gone higher if he had not played college hockey and that stigma wasn't around. 
After a brief retool in the AHL, Newhook has been fantastic depth for the Avalanche. He's recently shifted to wing since the Avs tinker with lines before the postseason but has 13 goals and 18 assists for 31 points in 66 games this season. 
Top 10 NHL Rookies
10. Matt Boldy
Team: Minnesota Wild 
Matt Boldy exploded onto the scene in the second half of the season to give the Minnesota Wild some much needed depth scoring. He has only slotted into 40 games this season but this rookie season he has 14 goals and 20 assists for 34 points in those 40 games. 
The former 2019 first round pick previously played for the Iowa Wild last season after finishing at Boston College. He is not in the race for the Calder, it is awesome to see him come in and make an immediate difference.
9. Seth Jarvis
Team: Carolina Hurricanes 
Seth Jarvis' play this season has been rewarded as he is now on the top line with Sebastian Aho and Teuvo Teravainen. After four successful seasons with the Portland Winterhawks and brief stint with the Chicago Wolves, Jarvis is a full-time NHL regular. 
This season the forward has 14 goals and 21 assists for 35 points in 63 games and is projected to score 38 points. Again, sadly he won't be in the Calder conversation this season, but his play has been outstanding.
8. Cole Caufield
Team: Montreal Canadiens 
After an insane demotion to the AHL for 6 games where he recorded 2 goals and 3 assists. Cole Caufield has picked up right where he left off in last year's playoffs. 
So far in 61 games this season Caufield has 18 goals and 20 assists for 38 points this season. The Canadians tremendously fell off of a cliff, so it was a shock to everyone that Caufield got demoted to the AHL. 
Now for the Canadians its just a matter of finding a third to play with Caufield and Suzuki to make an elite time for seasons to come.
7. Dawson Mercer
Team: New Jersey Devils 
Mercer is in his first year in the NHL (obviously) after an incredible career in the QMJHL where he scored 186 points in 194 games between Drummondville and Chicoutimi. 
In 2021 he won the Guy Carbonneau in the QMJHL for best defensive player in the league. The 18th overall pick in the 2020 NHL Draft has shifted his focus to offense as he has scored 41 points in 76 games, 16 goals and 25 assists. 
The Devils are slowly forming back to their former glory and Dawson Mercer is going to be an integral part of it.
6. Tanner Jeannot
Team: Nashville Predators 
Tanner Jeannot is the perfect example of putting in the work to get where you want to be. Despite his incredibly successful career in Moose Jaw in the WHL, he went undrafted in all of his eligible years. 
Impressing enough in the ECHL and AHL, Jeannot is now a full-time NHL player with the Nashville Predators. He is playing in the bottom six of the Preds now on the third line, but he is still putting up points. 
He is sixth in the NHL for rookie scoring with 24 goals and 17 assists for 41 points in 75 games this season. Sadly because of the names ahead of him he won't be considered for the Calder.
5. Anton Lundell
Team: Florida Panthers 
With the Panthers in fully evident Cup or bust territory, I for a second thought the Panthers might pull a blockbuster move and send Lundell out of the Sunshine State for an elite big-name player. 
Lundell was the 12th overall pick in the 2020 NHL Draft and so far this season has 18 goals and 25 assists in 43 games. 
He is currently playing on the third line for the Panthers but is surely going to be fully used to his maximum potential as his squad looks to make a Cup run.
4. Moritz Seider
Team: Detroit Red Wings 
It really looked like it was going to be a Red Wing that won the Calder this year but sadly both these players have massively slowed down. 
Seider is one of the few players in the NHL right now from Germany and so far this season he has 6 goals and 41 assists in 76 games this season. 
Seider is playing on the first defense pair and on the first power play for the Red Wings and is going to be one of the main reasons this team goes on a run in the next few years.
3. Lucas Raymond
Team: Detroit Red Wings 
It can be debated that Raymond could have gone first or second in his draft class, but the Red Wings are pumped he fell to fourth in the 2020 draft. 
So far for the Red Wings, Raymond has played in every single game for them. In that time, he has put up 22 goals and 33 assists for an outstanding 55 points this season. 
He sadly has been surpassed by Zegras and probably won't win the Calder Trophy, but his play has been outstanding this season.
2. Trevor Zegras
Team: Anaheim Ducks
Even though he is currently second in NHL scoring by rookies, I think Zegras is the winner of the Calder this year. 
At the time of writing this, Zegras is only 6 points behind our first player on this list. Playing for a Ducks team that has nothing to lose, Zegras could immediately catch up. Zegras has been so good for the Ducks he was nominated a special guest at the All-Star Game. 
So far this season, Zegras has 21 goals and 36 assists for 57 points in 70 games this season. A player like Zegras has been desperately needed by the NHL and for that reason I think he will be the Calder winner.
1. Michael Bunting
Team: Toronto Maple Leafs 
It feels like every year, especially last year, there is a little controversy in the Calder race since there is a player who is older than all of the other rookies. This season it's Toronto's Michael Bunting. 
The Coyotes basically gave up on Bunting and Toronto picked him up, and I bet Arizona is wishing they didn't give him up. He's been recently playing on Toronto's third line, but the damage has been done in the points race after playing on a line with Matthews or Tavares. 
Currently Bunting leads rookies in scoring with 63 points on the season with 23 goals and 40 assists.
How would you rank these National Hockey League rookies so far in the 2021-2022 season? Rank below to be added in the Power Rankings and to have a chance to win a gift card to LAZADA, Amazon, Fanatics.com, or more that is specific to you. Join the contest by ranking below.
Related Links:
POPULAR POSTS
Thank you
Your email has been successfully subscribed.
Sorry, there are no polls available at the moment.