Top 10 NHL Players MVP Race – January 2022 Rankings
Ranking the best NHL players of the 2021-2022 NHL season so far in the month of January as Auston Matthews jumps from not ranked all the way into the Top 10 for the Conn Smythe Trophy. Also where Alexander Ovechkin, Leon Draisaitl, and more rank for NHL MVP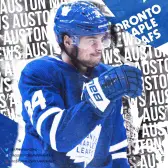 We are getting pretty close to the midway point of the NHL season, and it is time to take the temperature of players once again in the league and count of the top ten. Without much ado here are the top ten players in the NHL MVP Race right now after the winter/ COVID break. 
Honorable Mention
Alexander Ovechkin
Team: Washington Capitals
At 36 years old, Ovechkin is living proof that the Russian Machine never breaks. Right now, he has 24 goals and 28 assists for 52 points in 35 games played. It is surprising that Ovi has more assists than points, a rarity in his career. Ovi has been the cornerstone of the Capitals for almost two decades and is one pace to eclipse Gretzky's goal record, and we all hope he does.
Top 10 NHL Players
10. Timo Meier
Team: San Jose Sharks 
Timo Meier is currently sitting 9th in the NHL for points with 14 goals and 24 assists for 38 points in 31 games. The Swiss native was drafted 9th overall by the Sharks way back in 2015 and is looking to bounce back up in his points after scoring 66 points in 2017-18. 
He then added another 15 in 20 games that postseason. Meier is currently playing on the top line with Tomáš Hertl and Alexander Barabanov. I don't think the Sharks are posed for a playoff run, but he is building his stock up to go to a contender if the Sharks chose to go that way. 
9. Kirill Kaprizov
Team: Minnesota Wild 
Plain and simple, Kaprizov is the elite forward the Minnesota Wild have needed since Marion Gaborik left the team way back in 2009. Kap is 8th in the NHL in scoring with 14 goals and 26 assists for 40 points in just 28 games played. 
The Wild have slid out of the top 3 in the Central Division, but they are going to be active at the deadline. There isn't too much to say about him, he is exciting to watch, and points alone keeps him out of the top 3 of our list. 
8. Steven Stamkos
Team: Tampa Bay Lightning 
Steven Stamkos is the player most modern NHL fans think of when they hear about the Tampa Bay Lightning just because he has been so consistent. For a while there he was out of the top ten, but this season has been an offensive revolution for the Lightning captain. 
Right now, he has 16 goals and 25 assists for 41 points in 36 games. He has played more games than most in the top ten. Victor Hedman is only 5 points behind him, but Stamkos has a 10-point lead on second place forward Alex Killorn. The Tampa Bay Lightning are more than posed to make a third Stanley Cup run. 
7. Nazem Kadri
Team: Colorado Avalanche 
For a while Nazem Kadri was the number one center for the Avalanche playing Rantanen and Landeskog while MacKinnon was out with injury and COVID. During that time, he was briefly the point leader in the NHL and despite MacKinnon being back, he kept up the point pace. 
Right now, he has 12 goals and 32 assists as the Avs climb their way back up to the top of the Central and Western Conference. His 44 points in 28 games is a career best, and he had some great years back in Toronto. His points are only going to go up as the Avalanche keep upping their game. 
6. Mikko Rantanen
Team: Colorado Avalanche 
Another Avalanche and that is to be expected given how great this team has been since bouncing back from their horrific 48-point season where they had more losses than points. Mikko Rantanen is a big factor in that fast rebuild Sakic put in place. The 2015 Draft is gearing up to be the best draft in NHL history as four players from that draft are on this list.
 I don't think the Avalanche quite expected Mikko Rantanen to be as good as he is when they stole him at 9th overall. Since MacKinnon came back into the lineup, Rantanen has flown up the scoring standings and right now has 16 goals and 24 assists for 40 points in just 28 games with 54 games left to go. 
5. Jonathan Huberdeau
Team: Florida Panthers
Jonathan Huberdeau is the #1 points scorer for the best team in hockey as Florida fires are more than all of their cylinders. In just 35 games he has 13 goals and 33 assists. The only thing he has been finding better than the back of the net is his teammates as he is second in the league for assists. 
It is possible that Huberdeau could crack 100 points this season, but the math might be against him. Huberdeau is possibly the second-best player of his 2011 Draft class after Landeskog, but he is more than playing towards his pedigree. 
4. Connor McDavid
Team: Edmonton Oilers 
McDavid is only 4th on the list because he is currently sitting out on COVID and his linemate Draisaitl is picking up all of his slack. The leader of that famous 2015 Draft class, McDavid is tied with Draisaitl in points at 53. McDavid has 19 goals and 24 assists in 33 games played, and again he is out on COVID so he's going to miss a few of Edmonton's games. 
Its not surprising McDavid has been so good this year, but it is surprising they have slipped so far. The amount they produce on offense does not fully make up for their lack of defense.
3. Auston Matthews
Team: Toronto Maple Leafs 
You're probably surprised to see Auston Matthews here and not Ovechkin, Ovi is the honorable mention because you honestly can't say any more about the guy. The Leafs are desperate for some postseason success and that won't happen if Matthews isn't playing the way he is now then. 
He currently has 22 goals and 14 assists for 36 points in 36 games. He's 18th in the league in scoring but his play lately has been so great, he needed to be this high on the list. 
2. Nathan MacKinnon
Team: Colorado Avalanche
The only center better than MacKinnon is Connor McDavid and it's that simple. Mac currently isn't in the top ten in points but when you watch him play you can't help but admire the skill and tenacity he has in the offensive zone. 
Right now, he has a career low 5 goals and 29 assists in just 21 games this season. Again, injury and COVID has left him off the ice a lot this season. The Avalanche are not the same team without him, despite the team's success. 
1. Leon Draisaitl
Team: Edmonton Oilers 
Ken Holland famously said that he would match any offer sheet given to Draisaitl to keep him in Edmonton and that statement alone is paying more than dividends as Draisaitl is the third best player in his division and the best player to ever come out of Germany.
Right now, he is the lone man for the Oilers with Connor McDavid out. Draisaitl is currently leading the team and league with 26 goals and 27 assists in 34 games so far this season. He is more than on pace to eclipse 100 points this season and is currently the best player in the NHL. 
How would you rank these NHL players so far in the 2021-2022 season? Rank below to be added in the Power Rankings and to have a chance to win a gift card to LAZADA, Amazon, Fanatics.com, or more that is specific to you. Join the contest by ranking below.
Related Links:
POPULAR POSTS
Thank you
Your email has been successfully subscribed.
Sorry, there are no polls available at the moment.