Top 10 NHL Players MVP Race – February 2022 Rankings
Ranking the best NHL players of the 2021-2022 NHL season so far in the month of February as Jonathan Huberdeau jumps to the top spot for the Conn Smythe Trophy. Also where Alexander Ovechkin, Leon Draisaitl, and more rank for NHL MVP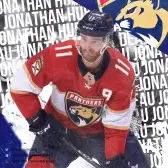 The All-star weekend has come and gone, this is when you find out what teams and players are for real and what teams are not. There are give or take 34 games left in the season so far, and that means there is still plenty of hockey to be played. 
Leon Draisaitl is currently leading the way for points scored in the NHL with 64, tied with Florida's Jonathan Huberdeau. Connor McDavid is still hanging around, three points behind the players in first. With that being said, here are the top ten players in the NHL right now. 
Honorable Mention
Claude Giroux
Team: Philadelphia Flyers
There hasn't been a player in the NHL that has been as consistent as Claude Giroux while the team around him has not been consistent at all. Regarded as one of the greatest Flyers of all time to not have a ring, Giroux has 893 points in 985 career games played. 
Typically referred to as "Captain Clutch", Giroux has the ultimate X-Factor all players wish they had in the game. Giroux was recently named to his 7th All-Star game, and despite the Flyers being one of the worst teams in the Metro, he was awarded the captaincy of the Metro Team; he also won MVP. 
Giroux's days in Philadelphia are sadly numbered and I am hoping wherever they move him to, that they win. 
Top 10 NHL Players
10. Artemi Panarin
Team: New York Rangers
The Bread Man has been the player the Rangers thought they drafted in Lafreniere and Kakko, well they have a really good teacher. Laf has really picked it up and it is not fair to say that. Panarin is doing all this while on the second line for the Rangers most nights. 
Panarin is 10th in the NHL for scoring and has 13 goals and 39 assists for 52 points in 42 games played this season. He is the backbone for the Rangers offense this season and will hopefully keep up the pace. 
9. Kirill Kaprizov
Team: Minnesota Wild
Another very skilled Russian winger, Kaprizov is building off of his Calder winning season last year. He is leading the Wild with 19 goals and 34 assists for 53 points in 41 games. Kaprizov has already won an Olympic Gold Medal and a Gagarin Cup, he is just missing that Stanley Cup for his trophy cabinet. 
Not sure if this year is the Wild's year, but Kap is playing out of his mind and is an absolute treat to watch whenever his skates hit the ice. He is a more than worthy addition to our top ten list.
8. Auston Matthews
Team: Toronto Maple Leafs
I still question sometimes if Auston Matthews is really the guy to take the Leafs to the promised land, but he might be the best goal scorer in the NHL not named Ovechkin. He is currently 8th in the NHL in points scored and is leading his Leafs in points. 
Also rocked some choice earrings at the skills competition, automatic points for that. Matthews is only second in goals scored with 31 this season and 22 assists. He has 53 points in 41 games, and he is just getting started.
7. Johnny Gaudreau
Team: Calgary Flames
Johnny Hockey, Beanpot MVP, and possibly the steal of the 2011 NHL Draft. Johnny Hockey is unsurprisingly playing fantastic hockey right now for the Calgary Flames. It is the final year of his contract, and it is speculated that he doesn't want to return to Cowtown, Canada. 
It is rumored that he wants to return home and play for the Flyers, but we will see this offseason. So far in 42 games this season he has 18 goals and 36 assists, he also has a lead leading +33, not an important stat if you listen to any commentator ever, but it is always important to note a leader. The Flames are good this year, and Gaudreau is a big reason why.
6. Mikko Rantanen
Team: Colorado Avalanche 
Mikko Rantanen is my favorite winger in the NHL, if you have read my lists before you can tell. So far this season, a good part without MacKinnon, he has 54 points. He has 24 goals on the season thus far, adding to it another 30 assists. Not sure if he breaks the 100-point plateau this year, but hopefully without covid interruptions next year he can. I still remember the commentators at the 2015 Draft talking down the Avs pick of Mikko, who got the last laugh?
5. Alex Ovechkin
Team: Washington Capitals
Still chasing the Great One, Ovechkin hasn't slowed down very much thus far this season. He is currently 5th in the NHL for points scored and is really, like always, the heart of the Capitals ability to win. He has 29 goals so far this season, and he has only played 47 games this season. 
He could easily hit 50 with a good run against some weak teams. To add to the 29 goals scored this year, additionally he has 30 assists for 59 points this season. Pretty solid production for a guy over 35.
4. Connor McDavid
Team: Edmonton Oilers 
Despite missing a few games this season because of covid McDavid is still humming for the Oilers, who have not been playing well at all as of late. Despite their great play early this season, the Oilers see themselves almost 6 points out of the playoffs. 
McDavid is 3rd in the NHL in points, just behind Huberdeau and Draisaitl. So far this season he has 23 goals and 37 assists for 61 points. There is still plenty of hockey left to be played, and McDavid could easily go above 100 points again.
3. Leon Draisaitl
Team: Edmonton Oilers
This is an unpopular opinion, and I have suffered for it before. I think that Leon Draisaitl is a way better player than Connor McDavid. I know McDavid lost some time because of covid, but McDavid is the number one center and Leon plays behind him. 
Draisaitl is currently tied with Huberdeau in points at 64 on the season, he has 33 goals and 31 assists this far this season and has only played 44 games. McDavid might get the points, but Draisaitl is a better all-around center when compared to McDavid. Good thing they are teammates, am I right?
2. Nazem Kadri
Team: Colorado Avalanche 
Nazem Kadri is also one of those players who seemingly has been playing out of his mind in a contract year. Crazy how that works. Landeskog and Rantanen have both shown flashes of brilliance at center, but when Mac is out, Kadri normally fills that void. Kadri is at 41 games played this season and has almost tied his career high in points at 31 years of age. 
So far this season in 41 games Kadri has 19 goals and 41 assists for 60 points, not hard when you play with the guys who are on that line. Kadri is 4th in the NHL in scoring and it is not for a lack of talent for sure.
1. Jonathan Huberdeau
Team: Florida Panthers 
The top ten in the 2011 NHL Draft was absolutely incredible with NGK and Landeskog going one and two, while the Panthers got pretty lucky with Huberdeau fell to them at third overall. The Panthers have been playing fantastic this year and Huberdeau has been increasing his points total immensely during this run. 
Tied with Leon Draisaitl, Huberdeau might just knock him off the top of the mountain will the Oilers slide. So far this season he has 17 goals and 47 assists in 47 games played this season for 67 points. He might be able to break his career high of 92points he set two years ago. I am hoping he does it and breaks up the club of winners these past two seasons. Right now, he is the best player in the NHL. 
How would you rank these NHL players so far in the 2021-2022 season? Rank below to be added in the Power Rankings and to have a chance to win a gift card to LAZADA, Amazon, Fanatics.com, or more that is specific to you. Join the contest by ranking below.
Related Links:
POPULAR POSTS
Thank you
Your email has been successfully subscribed.
Sorry, there are no polls available at the moment.