Top 10 NHL Players MVP Race – December 2021 Rankings
Ranking the best NHL players of the 2021-2022 NHL season so far in the month of December as Alex Ovechkin leads the way. Also where Connor McDavid, Leon Draisaitl, and more rank in the race for the Conn Smythe trophy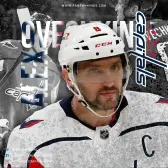 At about the quarter mark of the NHL season, some players have stayed very consistent for their clubs, while others stock is shooting up. We lost Nathan MacKinnon for most of the month of November, but since returning has been a shot of energy for the Avalanche as they look to regain their spot at the top. 
Alex Ovechkin is still hot on the Great One's tail for goals scored and could do it in the next three seasons. These are the top ten NHL players right now at the quarter mark of the season.
Honorable Mention
Claude Giroux
Team: Philadelphia Flyers 
An honorable mention needs to be made to Claude Giroux, one of the best players in the NHL for the last 10 years. Giroux came on to the scene during the Flyers 2010 Stanley Cup run and has been a rock for the Flyers since the 2010-2011 season.
During the 2017-2018 he even scored 102 points. Since then, his points have dropped, but he has been having one of his best starts in his career at 33 years old. Giroux has 23 points in 26 games this season, leading the Flyers. 
The Flyers have recently won two games, but not sure if that's the turnaround people are expecting. If the Flyers aren't going to have the gas to go for it this year, they should send Giroux somewhere where he can win, as he deserves.
Top 10 NHL Players
10. Kyle Connor
Team: Winnipeg Jets 
Despite being 5th in their tough division, the Jets are still very much in the hunt this season. Big reason for that is the play of Kyle Connor. Connor is currently 7th in the NHL for points. He has 18 goals and 14 assists for 32 points in 27 games. 
He is averaging about 1.17 points per game, fantastic for the division he is in. The Jets are 13-9-5 on the season, only 3 points behind red hot Colorado. He is constantly putting up highlight reel goals and is playing more than solid. He will be well over 90 points this season if he and the Jets can keep it up.
9. Nathan MacKinnon
Team: Colorado Avalanche 
The only reason MacKinnon isn't in the top five is because he missed substantial time, basically the month of November. In just 15 games this season he has 21 points. Don't let the 3 goals fool you, he is red hot right now, putting up multiple assists a night. 
He has 7 more assists than Nazem Kadri playing 7 less games. MacKinnon and the Avalanche are back, but it may look like injury will stop him from hitting over 100 points this season.
8. Kirill Kaprizov
Team: Minnesota Wild 
No one is surprised that Kirill Kaprizov is playing this well. He won a Gagarin Cup and multiple scoring titles in the KHL before coming over to play in the greatest league on the planet. Kap finished with 51 points in 55 games last season, and in 28 this season he has 32, so he's going to far surpass his numbers last season. 
He is leading the team leading the division in points and his on-ice awareness has been more than impressive. You would love to see him get some more goals, but his 21 assists so far is incredible. He is currently 9th in the league for scoring.
7. Steven Stamkos
Team: Tampa Bay Lightning 
Steven Stamkos is currently sitting 5th in the NHL in scoring and has 13 goals in 26 games this season. He leads his team in points at 32 in 26 games. The Lightning have taken a step back this season as Florida has taken the crown for best team in the Sunshine State. 
The step back isn't because of Stamkos, that is for certain. Stamkos is always a solid top ten player when healthy, so let us hope he can keep it up for the rest of this season. 
6. Sebastian Aho
Team: Carolina Hurricanes 
Sebastian Aho is currently 6th in the NHL for scoring and leads the Hurricanes thus far this season. In 26 games this season, He has 15 goals and 17 assists for 32 points. Most of the top ten players have 32 points this season, he has them in less games. 
Sadly, Aho is day to day with an injury at the moment, so mathematically he's going to drop a bit. He will hopefully be back soon. 
5. Nazem Kadri
Team: Colorado Avalanche 
Kadri is currently day to day with an injury but was practicing full contact in an optional skate a few days ago. When MacKinnon went down with an injury, Kadri filled his role on the top line for more than a few games. 
Despite missing a few games, he is currently 4th in the NHL for scoring with 34 points so far this season. The best start he has ever had. The Avalanche lost to the Knights in round two last season without him. It is obvious that Kadri is tied to the Avalanches' success, so we hope he is back in the lineup soon.
4. Leon Draisaitl
Team: Edmonton Oilers 
Future team captain of Germany at the 2022 Winter Olympics has not slowed down at all this season and is currently leading the NHL in points, tied with his teammate Connor McDavid at 45 points in 26 games. 
Draisaitl has scored 23 goals and 22 assists for those 45 points, well on pace for another 100-point season. The Oilers are still sliding in the standings, but it's hard to imagine how with the two best players in the show carrying their team. 
3. Connor McDavid
Team: Edmonton Oilers 
As previously said, McDavid is 2nd in scoring in the NHL this season. He has 45 points in 26 games played, leading the Oilers in assists at 29. The reason he is above Draisaitl is because of his unmeasurable ability to change the course of a game or play at will. 
Connor McDavid is currently the best all around player in the show, but the team around him is not quite there yet, hence his spot at number three. The Oilers are currently third in the Pacific and could easily slink into the playoffs, but the Sharks are not far behind from the third spot.
2. Adam Fox
Team: New York Rangers 
Adam Fox is unequivocally the best defensemen in the NHL right now. That is a major factor considering that he shares a position with players such as Cale Makar, Roman Josi and Victor Hedman. Fox is leading 2nd in points on the Rangers and is leading all defensemen in the NHL in points at 29. 
Roman Josi and Hedman are tied for 2nd with 27 and Makar has 25 points thus far. If the Rangers are to pick another captain, I would not be surprised if it was Adam Fox helming the team to the next successful run.
1. Alex Ovechkin
Team: Washington Capitals 
Alexander Ovechkin might be the greatest goal scorer in the NHL right now, he may also be the best goal scorer in the NHL ever, as he chases Wayne Gretzky's record. All of us, including Wayne Gretzky, hope he breaks it. Ovechkin is only one point behind McDavid and Draisaitl at 44 points so far this season. 
In 28 games this season, Ovechkin is second in goals scored this season, only three behind Leon Draisaitl. He has been doing all of this without longtime teammate and friend Nicklas Backstrom, who is without injury. If Ovechkin keeps this pace, which he might not, he should have no problem scoring 60 goals this season. 
How would you rank these NHL rookies so far in the 2021-2022 season? Rank below to be added in the Power Rankings and to have a chance to win a gift card to LAZADA, Amazon, Fanatics.com, or more that is specific to you. Join the contest by ranking below.
Related Links:
POPULAR POSTS
Thank you
Your email has been successfully subscribed.
Sorry, there are no polls available at the moment.