Top 10 NHL Free Agents 2022 Rankings
Ranking the best NHL Free Agents for the 2022-2023 NHL Season as we keep track of the next steps for Johnny Gaudreau, Andrew Copp, Nazem Kadri, and more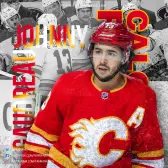 The 2021-22 NHL season has officially closed with the passing of the NHL Draft and the Colorado Avalanche raising the most coveted trophy in sports over their heads. Naturally, this list comprises mostly Avalanche players, as is tradition when a team wins.
This year's free agent class is not nearly as exciting as years past, but there are definitely some interesting players on here that will certainly reshape an entire team. Here are the top ten NHL free agents that will be looking for a new home on Wednesday.
Honorable Mention
Dylan Strome
2021 Team: Chicago Blackhawks
The Blackhawks are going full scorched Earth this postseason as they are absolutely tanking for the 2023 Draft, which is sure to be one of the deepest drafts since 2015.
Strome became an unrestricted free agent this week and will hit the market on Wednesday. Strome was traded to Chicago for Nick Schmaltz, so kind of a steal.
This season, he put up 22 goals and 26 assists for 48 points in 69 games this season. At just 25, he was deemed expendable for a rebuild.
Free Agency Tracker: The Washington Capitals signed Dylan Strome to a one-year contract worth $3.5 million
Top 10 NHL Free Agents
10. Ondrej Palat
2021 Team: Tampa Bay Lightning
Ondrej Palat was drafted 208th overall by the Lightning during the 2011 NHL Entry Draft and is a testament to the Lightning ability to pick gems in the later rounds of the draft.
He has played for the Lightning since 2012, he even won a Calder Cup with coach Jon Cooper in Norfolk. This season, he had 18 goals and 31 assists for 53 points.
He is well due for a raise and while I am sure the Bolts want to keep him, I don't think the money is there. Some teams will love to have his experience.
Free Agency Tracker: Ondrej Palat signs 5-year, $30 Million NHL deal with New Jersey Devils
9. David Perron
2021 Team: St. Louis Blues
David Perron is a long-time Blue who spent a lot of time away from the Blues in luxurious places such as Edmonton, Vegas, and Anaheim.
Despite spending so much time away from home, he did come back in the 2018-19 season to win the Stanley Cup. This season, he put up 27 goals and 30 assists for 57 points in 67 games.
His 13 points in 12 playoff games were not enough to get back to the Cup, as the Blues lost to the Avalanche in 6 games. His previous cap hit was $4 million, and the Blues will surely look to keep him, but at 34 who is to say. 
Free Agency Tracker: Detroit Red Wings signed David Perron to a two-year contract with an average annual value of $4.75 million
8. Andrew Copp
2021 Team: New York Rangers
Andrew Copp was a bargain deal for the Rangers and Winnipeg Jets at $3.64 million. He is another example of holding on to your draft picks, as he was snagged 104th overall in 2013.
The Jets did get two second round picks from the trade to New York. He had 14 points in 20 playoff games and had a pretty productive season with 21 goals and 32 assists for 53 points in 72 games.
Free Agency Tracker: Andrew Copp signed a five-year contract with the Detroit Red Wings reportedly worth $28.125 million with an annual average value of $5.625 million.
7. Andre Burakovsky
2021 Team: Colorado Avalanche
Andre Burakovsky was more than serviceable in his three seasons in Colorado. During the 2021-22 season, he scored 20 goals and 39 assists for 61 points in 80 games.
He was fantastic in the playoffs when healthy, with 3 goals and 5 assists for 8 points in 12 games. He has played for two NHL teams and they both have won the Cup, invaluable experience for any NHL team.
His cap hit is right around $5 million, and he will surely look for a raise as he is pretty consistent. Sadly, he won't find that pot of gold in the Rockies.
Free Agency Tracker: Andre Burakovsky is joining the Seattle Kraken on a five-year contract worth $27.5 million
6. Darcy Kuemper
2021 Team: Colorado Avalanche
Now this was quite a shocker given everything that happened. The Avalanche paid a heavy price for the services of Kuemper when Grubauer left for Seattle, giving the Yotes a first-round pick and a blue-chip defensemen in Conor Timmins.
Despite literally almost losing his eye and getting fuzzy vision mid-game, Darcy got it done and led the Avalanche to a Cup. He will enter NHL free agency as a Stanley Cup Champion after one season in Mile High.
Free Agency Tracker: Darcy Kuemper signed a five-year free agent contract with the Washington Capitals worth $26.25 million deal that carries an average annual value of $5.25 million
5. Claude Giroux
2021 Team: Philadelphia Flyers
How bad do you feel for Claude Giroux right now? Giroux was drafted in 2006 by the Flyers and he played 1000 games for the Flyers before they traded him to Florida for arguably nothing.
So, why do you feel bad? He had a choice between Colorado and Florida, he chose Florida. In 75 games this season, Giroux scored 21 goals and 44 assists for 61 points.
He also put up 8 points in 10 games this postseason. He probably won't make the same salary on his next team, but he would be a great replacement for Colorado if they do not get the next player signed.
Free Agency Tracker: Ottawa Senators signed Claude Giroux to a three-year deal worth $6.5 million per season
4. Nazem Kadri
2021 Team: Colorado Avalanche
Nazem Kadri, love him or hate him (no idea why), you'd kill to have him on your team. Despite being injured a few times this year, Kadri put up28 goals and 59 assists for 87 points in 71 games.
In 16 games during the playoffs, he scored 7 goals and 8 assists for 15 points, including the kill shot in Game 4.
Considering he scored almost 90 points at a cap hit of $4.5 million, the Avalanche will definitely not be able to keep him with MacKinnon's contract running up. Early rumors were the Flyers, but who knows, Colorado will certainly miss him.
Free Agency Tracker:
3. P.K. Subban
2021 Team: New Jersey Devils
Subban is probably one of the more exciting and wholesome players in all of hockey. Subban was loved in Montreal until they traded him for some reason to Nashville. Then after three seasons in Music City, the Devils got him for almost nothing.
He had three great seasons for the Devils where he played 77 games with 5 goals and 17 assists. He is set to become a free agent on Wednesday and teams will surely be lining up for his services.
Free Agency Tracker:
2. Evgeni Malkin
2021 Team: Pittsburgh Penguins
After the Penguins got Letang done, it really looked like they were going to be able to keep the band together.
But it is looking like that after a decade the three of Crosby, Letang and Malkin will finally be broken up. After almost two decades in Pittsburgh, Malkin is set to hit the free agent market on Wednesday.
There is still a chance for him to stay in Pittsburgh, but it looks like he and his 41 points in 44 games this season will be on the move.
Free Agency Tracker: Pittsburgh Penguins Re-Sign Evgeni Malkin to 4-Year Deal with an average annual value of $6.1 million
1. Johnny Gaudreau
2021 Team: Calgary Flames
Johnny G was drafted in the 2011 NHL Entry Draft 104th overall in the fourth round. The player the Flames took in the first round of this draft isn't even playing in North America anymore, and 91 picks later the Flames got a star.
With just a $6 million cap hit, Johnny Hockey's 40 goals and 75 assists for 115 points in 82 games. Johnny G is looking for a serious raise.
Johnny Gaudreau grew up not far from the Flyers in New Jersey, and early looks are him returning home.
Free Agency Tracker: Columbus Blue Jackets Sign Johnny Gaudreau to 7-Year Deal worth $9.75M annually
How would you rank these NHL teams after the draft? Rank below to be added in the Power Rankings.
Related Links:
POPULAR POSTS
Thank you
Your email has been successfully subscribed.
Sorry, there are no polls available at the moment.