Top 10 Running Backs in NFL 2022 Rankings
Jonathan Taylor stands above the rest as we rank the Top 10 NFL Running Backs of the 2021-2022 season going into the 2023 NFL season. Also where Derrick Henry, Dalvin Cook, Ezekiel Elliott, and more rank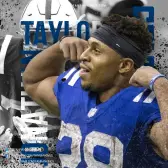 The NFL continues to see evolution among the offenses around the NFL with teams continuing to focus on the passing game as their number one priority.
However, despite the higher number of passing yards and passing attempts per game, top tier NFL running backs continue to put in the work. This can be seen with the Top 10 NFL Running Backs 2021-22 rankings list that features the likes of Jonathan Taylor, Derrick Henry and Najee Harris to name a few.
While the NFL is loaded at the running back position, a few of the other top tier running backs who were expected to contribute were knocked out of action including J.K. Dobbins of the Baltimore Ravens who was expected to be a top 5 to 10 running back during the 2021-22 NFL season.
Over the Top 10 Runnings Backs from 2021 all put together stellar seasons all in a passing landscape that is taking place in the NFL.
With that said, here is our list of the Top 10 NFL Running Backs 2021-2022
Honorable Mention
Damien Harris
Team: New England Patriots
2021 Stats: 202 ATT, 929 YDS, 15 TD, 4.6 AVG
Coming in just outside of the Top 10 NFL Running Backs 2021-2022 rankings list is the New England Patriots running back Damien Harris.
Harris, who played his college football with the Alabama Crimson Tide, rushed for 929 yards to go along with 15 rushing touchdowns last season while ranking second in total touchdowns. 
Despite the Patriots electing to use multiple running backs, Harris was dominant on the field averaging 4.6 rushing yards per attempt while also adding 132 receiving yards.
Melvin Gordon III
Team: Denver Broncos
2021 Stats: 203 ATT, 918 YDS, 8 TD, 4.5 AVG
The former first round pick of the 2015 NFL Draft class, Melvin Gordon posted 918 yards last season on a Denver Broncos team that struggled to find consistency while lacking solid play at the quarterback position.
However, despite those struggles, Gordon managed to rush for 918 yards on 203 carries to go along with eight rushing touchdowns. The eight rushing touchdowns was the six straight seasons Gordon has rushed for at least eight rushing touchdowns. 
Top 10 NFL Running Backs
10. Antonio Gibson
Team: Washington Commanders
2021 Stats: 258 ATT, 1,037 YDS, 7 TD, 4.0 AVG
Landing at number ten on the Top 10 NFL Running Backs 2021-2022 rankings list is the Washington Commanders star Antonio Gibson.
While Gibson lands at number 10, the Commanders running back struggled to hold onto the ball helping him to drop down on the list after fumbling five times last season and losing three fumbles.
Despite those struggles, Gibson rushed for 1,037 yards in 16 games to go along with seven rushing touchdowns. Gibson also showed good hands catching 42 passes for 294 yards to go along with three touchdown receptions.
9. Ezekiel Elliott
Team: Dallas Cowboys
2021 Stats: 237 ATT, 1,002 YDS, 10 TD, 4.2 AVG
Ezekiel Elliott might not be the dominant top tier running back he was just a few short seasons ago, but he still ranks among the top 10 running backs in the NFL.
This comes as the Dallas Cowboys have gone to a two running back system that includes Elliott along with Tony Pollard.
The Cowboys running back finished the season ranked 7th in rushing yards with 1,002 total while topping the 1,000 yard mark for the fourth time over his first six NFL seasons.
8. Elijah Mitchell
Team: San Francisco 49ers
2021 Stats: 207 ATT, 963 YDS, 5 TD, 4.7 AVG
Possibly one of the biggest surprises of the 2021-22 NFL season was the emergence of the San Francisco 49ers rookie running back Elijah Mitchell.
Mitchell, who the 49ers drafted during the sixth round of the 2021 NFL draft, was able to jump into the running back rotation after injuries and didn't disappoint.
Mitchell posted 963 yards over 11 games while also adding 137 yards receiving. This success came with the team also using Deebo Samuel as a prime running back throughout the season.
7. Joe Mixon
Team: Cincinnati Bengals
2021 Stats: 292 ATT, 1,205 YDS, 13 TD, 4.1 AVG
The Cincinnati Bengals veteran running back continues to put up big seasons for the team and during the 2021 NFL schedule it was no different.
Mixon, who played his college football at Oklahoma has been a workhorse for the Bengals since being drafted during the 2017 NFL draft.
Overall Mixon finished the season with 1,205 rushing yards to go along with 13 rushing touchdowns in one of the top tier offenses in the entire NFL.
Only thing lowering Mixon's ranking is the 4.1 yards per carry mark that dropped him to the middle of the top 10-15 running backs in the NFL.
6. Dalvin Cook
Team: Minnesota Vikings
2021 Stats: 249 ATT, 1,159 YDS, 6 TD, 4.7 AVG
When you are looking for playmakers, Dalvin Cook has the ability to check off each category as he has the speed and agility to make a big play happen on any carry.
Despite missing four games last season, Cook finished fifth in the NFL in rushing yards with 1,159 yards while also adding six rushing touchdowns.
Overall Cook averaged 4.7 yards per carry while being a prime factor within the Minnesota Vikings offense. In addition, Cook added 34 catches for 224 yards out of the back field for the Vikings.
5. Derrick Henry
Team: Tennessee Titans
2021 Stats: 219 ATT, 937 YDS, 10 TD, 4.3 AVG
When healthy the Tennessee Titans running back would be slotted in at number one on the list based on his ability to carry the team's offense.
During 2021, Henry appeared in just eight games during the regular season while rushing for 937 yards and 10 rushing touchdowns. His production over that stretch ranked first in the NFL in total yards, and touchdowns while also averaging a whopping 117.1 rushing yards per game. 
Henry also threw one passing touchdown, caught 18 passes and posted 154 receiving yards all in an offense that opposing defenses knew was built to run the football.
4. Najee Harris
Team: Pittsburgh Steelers
2021 Stats: 307 ATT, 1,200 YDS, 7 TD, 3.9 AVG
Coming in at number four on the Top 10 NFL Running Backs 2021-22 rankings list is the Pittsburgh Steelers 2021 NFL Draft Pick Najee Harris.
Harris stepped in as the teams top running back while carrying the ball 307 times on the year. The former Alabama Crimson Tide star would rush for 1,200 yards to go along with seven rushing touchdowns for a Steelers team that struggled to find consistency in the passing game.
In addition, Harris was a threat out of the backfield hauling in 74 catches for 467 total yards and three touchdown receptions.
3. Austin Ekeler
Team: Los Angeles Chargers
2021 Stats: 206 ATT, 911 YDS, 12 TD, 4.4 AVG
Like Najee Harris, the Los Angeles Chargers running back Austin Ekeler is a dual threat running back who can make a play out of the back field or out wide at the receiver position.
Despite playing in a passing attack that saw Justin Herbert throw for 5,000 plus yards, Ekeler managed to finish the season with 911 rushing yards and 12 rushing touchdowns.
In addition, Ekeler was a key weapon for Herbert pulling in 70 passes for 647 yards while also adding eight touchdown receptions bringing his season total to 20 total touchdowns.
Austin Ekeler was the biggest pro bowl snub last year smh pic.twitter.com/v8iWl7DUZ2 https://t.co/cOsMXBjWD7

— DotsNCuts (@DotsNCuts) June 16, 2022
2. Nick Chubb
Team: Cleveland Browns
2021 Stats: 228 ATT, 1,259 YDS, 8 TD, 5.5 AVG
If only Nick Chubb could stay healthy all season. The Cleveland Browns Pro Bowl running back finished second in the NFL in total rushing yards finishing the season with 1,259 rushing yards on 228 carries while averaging 5.5 yards per carry.
Chubb also added 174 receiving yards and one touchdown reception while pulling in 20 catches. Chubb has failed to play a full season in back-to-back years but still has managed at least 1,000 plus yards in each of those seasons.
1. Jonathan Taylor
Team: Indianapolis Colts
2021 Stats: 332 ATT, 1,811 YDS, 18 TD, 5.5 AVG
In the end, it was a clear-cut winner as the top overall running back on the Top 10 NFL Running Backs 2021-2022 rankings list as Jonathan Taylor put together a brilliant season.
Taylor, who lacked a top tier quarterback as some on the list, was a workhorse while carrying the Colts offense. Taylor averaged 5.5 yards per carry on 332 total attempts while finishing with 1,811 total rushing yards.
In addition, Taylor led all running backs with 18 rushing touchdowns while also adding 360 receiving yards and two touchdown receptions.
How would you rank these Running Backs going into the 2022-2023 NFL season? Rank below to be added in the Power Rankings.
Related Links:
POPULAR POSTS
Thank you
Your email has been successfully subscribed.
Sorry, there are no polls available at the moment.