Top 10 Punters in NFL 2022 Rankings
Michael Dickson leads the way as we rank the Top 10 NFL Punters of the 2021-2022 season going into the 2023 NFL season. Also where Sam Martin, Johnny Hekker, and more rank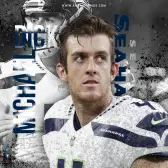 The NFL is loaded with talented players, talented coaches, and even talented data analysts. However, each of the 30 NFL teams around the league have these talented individuals on their roster and each have the ability to play football at the highest level.
This is where NFL teams look to play strengths, matchups and find competitive advantages. This is where having a great NFL punter comes into play as they could change field position with just one kick. 
As you look around at the Top 10 NFL Punters 2021-2022 rankings, many of these punters have the skills to punt the ball 50 plus yards while also controlling the direction of the punt, the spin placed on the ball and even where they want the ball to land.
In addition, even some of these kickers have the ability to pull off a trick play or trick pass when needed. A group of punters that includes the likes of Johnny Hekker of the Los Angeles Rams and Michael Dickson of the Seattle Seahawks.
With that said, here is our list of the Top 10 NFL Punters 2022 Rankings.
Honorable Mention
Sam Koch
Team(s): Baltimore Ravens
2021 Stats: 71 Punts, 44.4 AVG, 61 Long, 26 IN20
Landing just outside of the Top 10 NFL Punters 2021-22 rankings is the former Baltimore Ravens long time punter Sam Koch.
Koch, who elected to retire after the 2021 NFL season, put together a brilliant punting career with 2021 being no different.
Koch finished the 2021 NFL schedule tied for eighth with 26 total punts inside the 20, seventh in yards allowed per return with 7.4 and 18th in net average punt yards per punt.
However, Koch lost some distance on his punts averaging just 44.4 yards per kick with his long reaching 61. 
Bradley Pinion
Team(s): Tampa Bay Buccaneers
2021 Stats: 56 Punts, 42.5 AVG, 65 Long, 23 IN20
The current NFL free agent and former Tampa Bay Buccaneers punter was one of the best punters in the NFL in 2021. While he didn't land inside of the Top 10 punter rankings list, he still put together a solid season.
Pinion finished the season averaging 38.9 net punt yard average and just 7.7 punt return yards per punt return. In addition, Pinion posted 23 punts inside of the 20-yard line, 17 fair catches and a long of 65 yards.
Top 10 NFL Punters
10. Jordan Berry
Team(s): Minnesota Vikings 
2021 Stats: 78 Punts, 46.5 AVG, 64 Long, 26 IN20
Just making the cut on Top 10 NFL Punters 2022 rankings list is the Minnesota Vikings punter Jordan Berry.
Berry ranked 8th in the NFL in punts inside of the 20-yard marker while also holding punt returners to an 8.7 average yard per return mark.
Over the course of the season, Berry recorded the 4th most punts with 78 total punts. To go along with those strong numbers, Berry only recorded three touchbacks compared to 15 fair catches.
HERE COMES JORDAN BERRY pic.twitter.com/7Vb4zE2xzr

— ?sports tweeter Matthias? (tone setter) (@KryzivenTake2) January 3, 2022
9. Blake Gillikin
Team(s): New Orleans Saints
2021 Stats: 83 Punts, 47.7 AVG, 63 Long, 29 IN20
The metrics and statistics recorded for punters make it difficult to exactly rank how good a punter is compared to another punter.
This can be said for Blake Gillikin who put together a brilliant rookie season after punting during his playing days at Penn State.
In 17 games in 2021, Gillikin posted 83 total punts and a 47.7 yards per punt average. While the yardage was there, Gillikin was also exceptional at positioning the ball inside of the 20 record 29 total punts over the season and 34.94 percent of all punts.
Blake Gillikin is THRIVING pic.twitter.com/7kw9Z0yrZG

— Roar Lions Roar (@RLRblog) October 10, 2021
8. Logan Cooke
Team(s): Jacksonville Jaguars
2021 Stats: 64 Punts, 47.3 AVG, 68 Long, 28 IN20
Anytime a punter is drafted within the NFL draft, expectations are set high as many find ways to league without being drafted.
For Logan Cooke, this is the case as the Jacksonville Jaguars selected Cooke during the seventh round of the 2018 NFL draft.
Since then, Cooke has been a solid punter in the NFL finishing 2021 ranked 7th in punt yards per punt (47.3), 5th in punts inside the 20-yard line (28), and 2nd in net punt yards per punt (43.6). 
I just know @PatMcAfeeShow loved that beautiful punt Logan Cooke just booted…. #PatMcAfeeShowLive pic.twitter.com/OcAgczUWwD

— Mario Matthews (@TheBatman313) August 15, 2021
7. Michael Palardy
Team(s): Miami Dolphins
2021 Stats: 78 Punts, 44.7 AVG, 65 Long, 31 IN20
One of the biggest responsibilities of a punter is to help change the field position and possibly the momentum of the game when called upon to punt.
That is exactly what the former Miami Dolphins punter did during the 2021 NFL schedule. The Dolphins' Michael Palardy recorded 78 total punts while averaging 44.7 yards per punt and a net average of 40.1 yards.
In addition, Palardy finished the season ranked 3rd in punts inside of the 20 with 31 total punts while setting a career high mark of 39.74 percent of all his punts inside the 20. In addition, Palardy forced punt returners to fair catch 26 punts of his 78 total punts.
Mack Hollins (MY Captain.) & Michael Palardy put on a master class in punting and down the ball at the 1. pic.twitter.com/rbkmc0f6yD

— FinCuts (@FinCuts) November 12, 2021
6. Sam Martin
Team(s): Denver Broncos
2021 Stats: 67 Punts, 46.0 AVG, 68 Long, 28 IN20
Coming in at number 6 on the Top 10 NFL Punters 2021-22 rankings list is the Denver Broncos punter Sam Martin.
Martin, who has been around the NFL since 2013, finished last season with 67 total punts to go along with an average punt of 46 yards and a long of 68.
His performance on the field included pinning opponents inside the 20-yard mark on 28 of his 67 total punts. Martin finished ranked in punts inside the 20 and 2nd among punters in punt return yards allowed per punt.
Happy Birthday to current Denver Broncos' punter, Sam Martin! Since signing with the Broncos in March 2020, no. 6⃣ has provided some booming—and perfectly placed—punts worthy of celebration! pic.twitter.com/C9lTRPOK3o

— Mile High Moments (@MileHighMoments) February 28, 2022
5. Cameron Johnston
Team(s): Houston Texans
2021 Stats: 88 Punts, 46.7 AVG, 69 Long, 37 IN20
The former Ohio State Buckeyes punter and four-year NFL punter, Cameron Johnston led all punters in 2021 in punts (88) and total punt yards (4,108).
In addition, Johnston was brilliant holding punt returners to just 7.9 yards per return and forcing 22 fair catches on his 88 punts.
In addition, Johnston finished second with 37 punts inside of the 20 yard forcing opponents to have long NFL fields to work with. Those statistics helped land the Houston Texans punter at number five on the Top 5 punters 2021-22 rankings list. 
4. Bryan Anger
Team(s): Dallas Cowboys
2021 Stats: 65 Punts, 48.4 AVG, 63 Long, 24 IN20
Bryan Anger is another veteran punter who has been punting in the NFL for a long time after getting the call in 2012 for the Jacksonville Jaguars.
In 2021, Anger landed on with the Dallas Cowboys and didn't disappoint, ranking as one of the best punters in the NFL.
The Cowboys punter ranked 11th in the NFL in total punts (65), 4th in the NFL in average punt (48.4), tied for 11th in punts inside 20 yards (24) and led the NFL in net average punt yards (44.6). In addition, punt returners averaged just 6.5 yards per return 
3. Johnny Hekker
Team(s): Los Angeles Rams, Carolina Panthers
2021 Stats: 51 Punts, 44.2 AVG, 59 Long, 23 IN20
The long time Los Angeles Rams punter moves on to the Carolina Panthers in 2022 after another strong season for the organization that gave him a chance back in 2012.
Hekker averaged 45.1 percent of all his punts inside the 20-yard line, while also posting a net punt average of 42.6.
In addition, the Rams punter is a dangerous weapon who has shown over his career his ability to pull off a fake punt making defenses change their alignment during punts.
2. Matt Haack
Team(s): Buffalo Bills
2021 Stats: 52 Punts, 42.9 AVG, 63 Long, 18 IN20
When you are looking for a good punter, you look for a punter who doesn't allow the opposing team a chance to return the ball while also pinning them deep into their zone.
This was the case with Matt Haack of the Buffalo Bills. Haack led all punters with at least 50 punts in 2021 in fewest return yards allowed with 5.6 yards per return. In addition, the Bills punter posted 18 punts inside of the 20 and one on 34% of all his punts.
Matt Haack's first career postseason punt is downed at the 1

Beautiful#NFL #BillsMafia pic.twitter.com/0k8GBctsc4

— 4th And Long Media (@4thandlongmedia) January 24, 2022
1. Michael Dickson
Team(s): Seattle Seahawks
2021 Stats: 83 Punts, 46.9 AVG, 68 Long, 40 IN20
While ranking NFL players can be difficult including specific positions such as at the punter position, Michael Dickson made it easy to slot him in as the NFL best punter.
Dickson who plays for the Seattle Seahawks was called on second most in the NFL to punt while recording 83 total punts on the season.
Over that mark, Dickson was brilliant in dropping punts inside of the 20, recording an NFL high 40 total punts inside of the 10-yard line ranking atop all punters in the NFL.
In addition, Dickson averaged 41.7 net punt yards per upunt and held punt returners to just 7.3 yards per return.
How would you rank these Punters going into the 2022-2023 NFL season? Rank below to be added in the Power Rankings.
Related Links:
POPULAR POSTS
Thank you
Your email has been successfully subscribed.
Sorry, there are no polls available at the moment.