Top 10 NFL Wide Receivers of All Time Rankings
Ranking the best Wide Receivers in the history of the NFL such as Jerry Rice, Randy Moss, and many more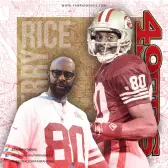 The evolution of the passing game over the years of the NFL has seen the wide receiver position evolve into one of the biggest weapons on the football field. A position that was once used lightly during an era of football that was dominated by running the football is now a position that is used as much or more than any other position on the football field. 
Over the years, the list of talented wide receivers has produced some of the greatest football players of All-Time. These great wide receivers all possessed the ability to catch the football but each player featured their own set of assets to compliment that ability. From extreme route running to fast acceleration to great jumping to all around gifted talent. The NFL Top WR of All-Time features the likes of the great Jerry Rice to Raymond Berry to Steve Largent to Randy Moss to Calvin Johnson.
With that said, here is our list of the Top 10 Wide Receivers All-Time.
Honorable Mention
Michael Irvin
Team(s): Dallas Cowboys
One name that is often looked over as one of the top NFL wide receivers is the former Dallas Cowboys great Michael Irvin. Irvin finished his career with 750 catches for 11,904 yards with 65 touchdown grabs while winning three Super Bowl championships. 
In addition to his play making talents during the regular season, Irvin put together a solid postseason career racking up 134 catches for 1,315 yards with eight touchdowns in 16 playoff games.
James Lofton
Team(s): Green Bay Packers, Los Angeles Raiders, Buffalo Bills, Los Angeles Rams & Philadelphia Eagles
A second player that just missed the Top 10 Wide Receivers All-Time is James Lofton who put together a solid NFL career in route to making it into the NFL Hall of Fame. 
Lofton was an eight time NFL Pro Bowler and was the first player to pass the 14,000 yards receiving mark. Lofton finished his career with 764 career catches to go along with 14,004 receiving yards and 75 touchdown catches.
View this post on Instagram
Top 10 Wide Receivers
Marvin Harrison
Team(s): Indianapolis Colts
The former Indianapolis Colts wide receiver was as good as any wide receiver during his playing days and one that dominated the position during his time in the NFL. From 1999 to 2006, Harrison put together eight straight seasons of at least 1,100 yards while leading the league with a career high 1,722 during the 2002 NFL season. 
During that time, Harrison caught at least 10 touchdowns in each season including two seasons with 15. His production and the success of Peyton Manning make them one of the greatest quarterback/wide receiver duos of All-Time. Harrison was a three time First Team All-Pro, eight time NFL Pro Bowler, led the league in receiving yards twice and receptions twice while winning Super Bowl XLI.
View this post on Instagram
Lance Alworth
Team(s): San Diego Chargers & Dallas Cowboys
One name that was much higher on this list when his playing days were over is the San Diego Chargers great Lance Alworth. Alworth put together a stellar career in an ERA that didn't feature the passing attacks of the current NFL offenses. 
However, the Chargers receiver managed to lead the league in receptions in three seasons, touchdowns twice, receiving yards three times and receiving yards per game twice. When his career was over, Alworth had won a Super Bowl title, an AFL championship and dominated the AFL before joining the Dallas Cowboys. Alworth's final career numbers included 542 catches for 10,266 yards to go along with 85 touchdown receptions. 
Raymond Berry
Team(s): Baltimore Colts
Despite falling on this list due to the great receivers that have come since his time, Raymond Berry is still considered by many to be a top 1-2 receiver of All-Time. Berry, who was a favorite target of Johnny Unitas, helped evolve the game of football while possibly having some of the best hands to play the game. 
Over his career, Berry pulled in 631 catches for 9,275 yards with 68 touchdowns. During his playing career, Berry led the NFL in yards and receptions in three different seasons while also leading the NFL in touchdowns in two different seasons. Berry racked up three First Team All-Pro honors, six Pro Bowl trips and won two NFL championships. 
Steve Largent
Team(s): Seattle Seahawks
After being selected during the fourth round of the 1976 NFL draft by the Houston Oilers, the team elected to trade him to the Seattle Seahawks before the start of the 1976 season. A decision that the Oilers learned to regret after the former Tulsa standout racked up 819 career receptions for 13,089 yards with 100 career touchdowns over his career with the Seahawks. 
During his playing days, Largent was known for his ability to catch anything in his direction while helping get open by his ability to run routes. Largent finished his career as a seven time Pro Bowler and a first Team All-Pro while leading the NFL in receiving yards in two different seasons. 
View this post on Instagram
Terrell Owens
Team(s): San Francisco 49ers, Philadelphia Eagles, Dallas Cowboys, Buffalo Bills & Cincinnati Bengals
One of the most gifted and physically talented receivers the NFL has seen, Terrell Owens put together a Hall of Fame resume during his playing despite the off-field drama that surrounded him for most of his career. 
However, none of that drama can take away how good Owens was over his career which saw him pull in 1,078 receptions for 15,934 yards to go along with 153 touchdowns. In addition to the numbers, Owens led the NFL in touchdown receptions three times over his career while making six NFL Pro Bowl teams and taking home five First Team All-Pro honors. 
View this post on Instagram
Larry Fitzgerald
Team(s): Arizona Cardinals
While his career hasn't officially ended, the Arizona Cardinals great Larry Fitzgerald is still regarded as a weapon that could help most teams around the NFL. While we wait to see if he officially retires, his career stat line is like a career in dynasty mode on Madden Football. 
Fitzgerald currently ranks second all-time in receiving yards, receptions and sixth in touchdown receptions while being named to 11 Pro Bowl teams. Over his career, Fitzgerald racked up 1,432 career catches for 17,492 receiving yards to go along with 121 touchdowns while leading the NFL in receptions and touchdowns twice. 
Don Hutson
Team(s): Green Bay Packers
A man that came along well before many if not all of these guys on the Top 10 Wide Receivers All-Time list is the great Don Hutson. Hutson who played for the Green Bay Packers from 1935 to 1945 was one if not the best receiver of his generation. Hutson led the NFL in receiving yards in seven different seasons, receptions in eight seasons and touchdown catches in nine different seasons while helping the Packers to three championships. 
His production on the field earned Hutson three NFL MVP awards and earned him eight First Team All-Pro honors. His final numbers included 488 catches for 7,991 yards to go along with 99 touchdown catches. 
Calvin Johnson
Team(s): Detroit Lions
All you can say is "MegaTron". During his NFL career Calvin Johnson was a freak athlete and one that possessed size, speed and all the physical tools to dominate the position despite seeing double and triple teams for most of his career. Johnson, who walked away from the game after just nine seasons, put together a Hall of Fame career that included him breaking the NFL record during the 2012 NFL season with 1,964 yards receiving on 122 catches. Johnson's final numbers included 731 catches for 11,619 receiving yards and 83 touchdown catches. 
MegaTron also shares the NFL record for most seasons with at least 1,600 yards, most consecutive games with at least 100 yards, most consecutive games with at least 10 receptions and most 100 yard receiving games in an NFL season. 
View this post on Instagram
Randy Moss
Team(s): Minnesota Vikings, Oakland Raiders, New England Patriots, Tennessee Titans & San Francisco 49ers
The real life human cheat code, Randy Moss was as stoppable as any player that has touched the football field over his NFL career. From the day he stepped on the NFL field as a rookie in the NFL in 1998 to his final playing game in 2012. Moss won the 1998 NFL Offensive Rookie of the Year award, was selected to six Pro Bowl teams, honored as a First Team All-Pro four different times and led the NFL in touchdown receptions in five different seasons. 
Moss, who was known for his size and straight line speed, could beat both single and double coverage while still finding ways to beat a safety deep. Moss finished his career with 982 catches for 15,292 receiving yards to go along with 156 touchdown catches. Moss also holds the NFL record with 23 touchdown catches and 17 touchdown receptions as a rookie.
View this post on Instagram
Jerry Rice
Team(s): San Francisco 49ers, Oakland Raiders & Seattle Seahawks
At the top of the Top 10 Wide Receivers All-Time is the GOAT Jerry Rice. Rice, who was selected out of Mississippi Valley State went on to put together the greatest receiving career of any to play the game. Known for his work ethic and dedication, Rice became one of the greatest route runners to play the game. Over his career, Rice scored more points than any other player outside of a kicker with 1,256 points scored. 
His Hall of Fame resume includes 13 Pro Bowl trips, Super Bowl MVP, NFL MVP, two Offensive Player of the Year awards while leading the league in receiving yards six times, touchdown receptions six times and receptions twice. Rice currently holds the records for career receptions, touchdown receptions and receiving. His career totals include 1,549 receptions, 22,895 receiving yards and 197 touchdown receptions. 
View this post on Instagram
How would you rank the greatest Wide Receivers in history? Rank below to be added in the Power Rankings and to have a chance to win a gift card to LAZADA, Amazon, Fanatics.com, or more that is specific to you. Join the contest by ranking below. 
Related Links:
POPULAR POSTS
Thank you
Your email has been successfully subscribed.
Sorry, there are no polls available at the moment.