Top 10 NFL Tight Ends of All Time Rankings
Ranking the best Tight Ends in the history of the NFL such as Tony Gonzalez, Ozzie Newsome, and many more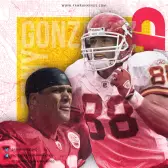 The game of football has many different positions on both sides of the football. One of those positions is the tight end position on the offensive side of the game. For the NFL, this position is one that continues to see change from the early days of the game to the current up pace style of football that is being played in today's NFL.
Once a position that was used in most offenses as a sixth offensive lineman or an additional blocker, is now a vital aspect of the teams passing attacks that has helped evolve from a running league to a passing league. Over the years, the tight end position has opened the door for many great players to play the game from the likes of John Mackey who many considered helped evolve the position to Kellen Winslow Sr to Tony Gonzalez to Rob Gronkowski.
With that said, here is our list of the Top 10 Tight Ends All-Time
View this post on Instagram
Honorable Mention
Jimmy Graham
Team(s): New Orleans Saints, Seattle Seahawks, Green Bay Packers & Chicago Bears
As his NFL career continues on, Jimmy Graham continues to add to his career resume that has made him one of the best NFL tight ends over the past 20 years. 
Graham has been named to five Pro Bowl teams, led the NFL in touchdowns and was named First Team All-Pro in 2013. Entering 2021, Graham has racked up 700 career receptions for 8,350 yards to go with 82 touchdown receptions. 
Dave Casper
Team(s): Oakland Raiders, Houston Oilers, Minnesota Vikings & Los Angeles Raiders
Despite not racking up the yards NFL fans have grown accustomed to over the years, Casper was still one of the best tight ends to play the game in an era when the position was not used like it is in modern football. 
Over his career, Casper was a five time Pro Bowler, four time First Team All-Pro and was a key member of the Super Bowl XI championship run. Casper finished his career with 378 receptions to go with 5,216 yards and 52 touchdowns. 
Top 10 Tight Ends
Travis Kelce
Team(s): Kansas City Chiefs
Just making his entrance into the Top 10 Tight Ends of All-Time is the Kansas City Chiefs All-Pro tight end Travis Kelce. Kelce, who is still in the prime of his NFL career continues to dominate the position and put up unbelievable statistics at the tight end position. Kelce, who is a key part of the Chiefs offensive attack, has been named to six Pro Bowl teams and selected as a First Team All-Pro in three different seasons. 
Through the 2020 NFL season, Kelce has racked up 7,881 yards receiving to go with 48 touchdown receptions. In 2020, Kelce set the single season receiving yards total for a tight end finishing with 1,416 yards. 
View this post on Instagram
Mike Ditka
Team(s): Chicago Bears, Philadelphia Eagles & Dallas Cowboys
As Mike Ditka has grown to be known by so many after his playing days as a head coach as well as a commentary/analyst for the NFL, the former Chicago Bears great once played the game. During his playing days, Ditka was a key member of the Bears passing attack as well as helping set up the run game the Bears were able to produce during his time with the team. 
Ditka racked up two First Team All-Pro honors, the NFL Offensive Rookie of the Year award, was a five time Pro Bowler while winning both an NFL Championship and a Super Bowl. Ditka finished his career with 427 receptions for 5,812 yards with 42 receiving touchdowns. 
Ozzie Newsome
Team(s): Cleveland Browns
After being drafted by the Cleveland Browns, Ozzie Newsome went on to put together a solid NFL career and one that earned him a nod into the NFL Hall of Fame. His talent including his speed and pass catching abilities opened the door for his productivity at the NFL level. 
Newsome would help lead the Browns to the playoffs in seven different seasons including three different trips to the AFC Championship game. Over his career, Newsome racked up 662 catches for 7,980 yards with 47 touchdown receptions. After his playing days, Newsome moved to the front office building another Hall of Fame resume.
Jason Witten
Team(s): Dallas Cowboys & Las Vegas Raiders
Mr. Consistency was as good as any tight end during his prime with the Dallas Cowboys as Jason Witten topped the 1,000 yard mark in four different seasons from 2007 to 2012. 
Witten ranks second all-time with 13,046 receiving yards, second all-time in receptions with 1,228 and fifth all-time with 74 touchdowns among the tight end position. During his career, Witten was named to 11 NFL Pro Bowl teams and earned two spots as a First Team All-Pro. 
Rob Gronkowski
Team(s): New England Patriots & Tampa Bay Buccaneers
One of the faces of the New England Patriots organization and now the Tampa Bay Buccaneers organization, Rob Gronkowski is clearly a Top 10 Tight End of All-Time. While the debate could be made that he should be higher on this list, his success playing along Tom Brady and in an era of the day's passing attack has helped him become the player he is today. 
Nonetheless, when you rack up 8,484 yards and 86 touchdowns through 10 seasons, it is well worthy to consider you as one of the best to play the game. In addition to his regular season numbers, Gronk has racked up 1,273 yards in the post season to go along with 14 postseason touchdowns. Along with those accolades, Gronk was the first tight end to lead the NFL in touchdown receptions, holds the most touchdown receptions in a single season by a tight end with 17 and was the youngest player to ever record three touchdown receptions in a game. 
View this post on Instagram
Shannon Sharpe
Team(s): Denver Broncos & Baltimore Ravens
The three time Super Bowl Champion went on to put together a brilliant NFL career between the Denver Broncos and Baltimore Ravens as a key member of their offensive units. After selecting Shannon Sharpe in the seventh round of the 1990 NFL draft, not many fans and experts around the NFL expected much from the former Savannah State tight end. 
However, Sharpe would go on to rack up 815 career receptions to go with 10,060 yards receiving and 62 touchdowns while setting the NFL receiving yards record by a tight end with 214 yards. Sharpe was named to eight Pro Bowl teams and was selected as a First Team All-Pro in four different seasons. 
View this post on Instagram
Antonio Gates
Team(s): San Diego Chargers
Of all the tight ends to play the game, the biggest story book surprise is the one of the great Antonio Gates of the San Diego Chargers. Gates, who played college basketball went undrafted during the 2003 NFL draft before signing with the San Diego Chargers. 
Gates finished his career ranked 3rd in receiving yards with 11,841, third in career receptions and first in touchdown receptions with 116 among all tight ends. Gates was a three time First Team All-Pro and made eight straight Pro Bowl teams. All of this production came after going undrafted by any team in the NFL.
Kellen Winslow Sr.
Team(s): San Diego Chargers
The former San Diego Chargers star tight end was well before his time and one that could easily have transitioned his talents to today's game with both size and speed at the position. After being selected number 13th overall by the Chargers, Kellen Winslow Sr helped transform the Chargers passing attack to one of the best in the NFL during his time with the team. 
Winslow finished his career as a five time Pro Bowler while leading the NFL in receptions in two different seasons and being named as a First Team All-Pro in three different seasons. When his career was over, Winslow Sr finished with 541 career receptions to go along with 6,741 yards receiving and 45 touchdowns. 
John Mackey
Team(s): Baltimore Colts & San Diego Chargers
One man that might have meant the most to the tight end position is the former Baltimore Colts great John Mackey. Mackey, who played in an ERA that was geared to running the football, still found a way to be a threat on the offensive side of the ball as a key pass catcher as well as a blocker. 
The former Colts tight end pulled in 331 career catches to go with 5,236 receiving yards and 38 touchdown receptions. Mackey was a key part of the Colts championship team during the 1968 team and during Super Bowl V.
Tony Gonzalez
Team(s): Kansas City Chiefs & Atlanta Falcons
The overall top choice as the Top Tight End All-Time is the former Kansas City Chiefs and Atlanta Falcons tight end Tony Gonzalez. Gonzalez ranks near the top of every offensive category among tight ends including ranking first in receiving yards, receptions, targets and second in touchdown receptions. 
Through his entire NFL career, Gonzalez topped the 70 reception mark in 15 of his 17 NFL seasons including a career high and NFL in 2004 with 102 receptions. Gonzalez was named to 14 Pro Bowl teams, earned six First Team All-Pro selections and led the NFL in receptions in 2004. His career totals include 1,325 receptions, 15,127 yards and 111 touchdown receptions all while holding a long list of NFL records.
How would you rank the greatest Tight Ends in history? Rank below to be added in the Power Rankings and to have a chance to win a gift card to LAZADA, Amazon, Fanatics.com, or more that is specific to you. Join the contest by ranking below. 
Related Links:
POPULAR POSTS
Thank you
Your email has been successfully subscribed.
Sorry, there are no polls available at the moment.