Top 10 NFL Rookies – January 2022 Rankings
Ranking the best NFL Rookies of the 2021-2022 NFL season with names such as Ja'Marr Chase, Micah Parsons, Kyle Pitts and more as they battle for NFL Rookie of the Year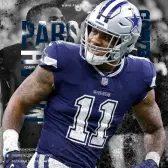 The 2021 NFL schedule is slowly coming to a close as week 17 of the NFL regular season is nearly in the books. Through the first 17 weeks, the 2021 NFL Draft Class has put on a show for fans around the NFL as some of the top NFL rookies in 2021 continue to put together impressive beginnings to their young careers. 
This includes the NFL's top defensive rookie Micah Parsons as well as the NFL's top offensive rookie Jamar Chase. 
For these two rookie studs, the production continues to show up week in and week out as they have taken the NFL by storm. Meanwhile these two are just two of the top rookies around the NFL in 2021. The list of the Top 10 NFL Rookie Rankings in 2021 include quarterback Mac Jones, Najee Harris, Kyle Pitts, Elijah Mitchell and Odafe Oweh. 
With that said, here is our power rankings of the Top 10 NFL Rookies in the 2021 -2022 season.
Honorable Mention
Jeremiah Owusu-Koramoah
Team: Cleveland Browns
The Cleveland Browns young linebacker just missed the cut within the Top 10 NFL Rookies in 2021 list. The former Notre Dame star has put together a solid season on paper and even better resume on film. 
While his statistics have not lived up to what many expected, his play has excelled as he becomes a key contributor for a very talented Browns defense. On the year Jeremiah Owusu-Koramoah has recorded 45 tackles to go along with 1.5 sacks and two forced fumbles.
Javonte Williams
Team: Denver Broncos
One name that has emerged as a top threat out of the 2021 NFL rookie class is the Denver Broncos rookie running back Javonte Williams. Williams who has split time with Melvin Gordon this year has rushed for 857 yards to go along with four rushing touchdowns. 
When you add this to the 808 yards Gordon has accumulated, it is hard not to look at Williams as one of the top offensive rookies this season. If it wasn't for Gordon, Williams could be looking at a 1,000 yard season and possible double digit touchdown performance.
View this post on Instagram
Top 10 NFL Rookies
10. DeVonta Smith
Team: Philadelphia Eagles
The Philadelphia Eagles were able to land a stud wide receiver with the teams 10th pick during the 2021 NFL Draft. That wide receiver is the former Alabama Devonta Smith who has meshed well in his rookie campaign with quarterback 
Jalen Hurts. Smith has pulled in 61 catches this season for 875 yards to go along with five touchdowns and a 14.3 average per catch. He currently ranks 43rd in receptions, 30th in yards, 37th in touchdown receptions and 23rd in average per catch.
9. Pat Surtain II
Team: Denver Broncos
Another top rookie and another star from the Alabama Crimson Tide. This time the star is Pa Surtain II who has quietly become one of the top young cornerbacks around the NFL through the first 17 weeks of the regular season. 
Much like his father, Surtain has a knack for the ball and has shown his playmaking abilities on the defensive side of the ball. Upon the conclusion of week 17, Surtain II ranks 11th in interceptions with four and 11th in passes deflected with 14 while also recording 45 tackles on the year. 
8. Jaylen Waddle
Team: Miami Dolphins
Much like his former teammate Smith, Jaylen Waddle is making a case during his rookie season as he is slowly becoming one of the top young receivers in the NFL. 
Waddle who enters week 18 needing just two catches to tie Anquan Bolden rookie reception mark with 101 is as good as advertised. Waddle has pulled in 99 catches this season for 988 yards to go along with five touchdown receptions and one touchdown run.
7. Odafe Oweh
Team: Baltimore Ravens
The Baltimore Ravens rookie linebacker has played at a high level all season long while being in contention for the NFL Defensive Rookie of the Year award. Oweh has been a thorn in the side of opposing quarterbacks all season while finding a frequent way to get to them nearly on any passing play. 
Oweh has recorded 23 tackles on the year to go along with five sacks and three forced fumbles. Despite missing the team's last contest against the Los Angeles Rams, Oweh still ranks among the top defensive rookies in 2021. 
Didn't even realize, happy birthday to that boy Odafe Oweh ? pic.twitter.com/h1KcD0nvY9

— Ramey (@HoodieRamey) December 16, 2021
6. Kyle Pitts
Team: Atlanta Falcons
Kyle Pitts has emerged as the top passing threat for quarterback Matt Ryan this season and the production has shown up on paper. Pitts, who was drafted by the Atlanta Falcons this season out of Florida has pulled in 66 catches this season while topping the 1,018 yard mark. 
In addition, Pitts has one touchdown reception while he has averaged 15.4 yards per catch. Pitts ranks 10th in yards per catch, 19th in receiving yards and 38th in receptions this season. 
5. Elijah Mitchell
Team: San Francisco 49ers
The San Francisco 49ers rookie running back might have been one of the most underrated players entering the NFL after being drafted by the team with the 194th overall pick during the sixth round of the 2021 NFL draft out of Louisiana. 
Despite his draft selection, Mitchell has stepped into the backfield for the 49ers after injuries sidelined both Raheem Mostert and Trey Sermon and has shined. Mitchel has rushed for 878 yards on the year to go along with five touchdown rushing while adding 137 receiving yards and one touchdown reception.
Elijah Mitchell, the all-time single-season 49ers rookie rushing leader ?#49ers || #FTTB pic.twitter.com/9g9k04Aias

— OurSF49ers (@OurSf49ers_) January 3, 2022
4. Najee Harris
Team: Pittsburgh Steelers
Coming in at number four on the Top 10 NFL Rookies in 2021 list, is the Pittsburgh Steelers stud running back Najee Harris. Harris, who the Steelers selected with the 24th overall pick has rushed for 984 yards to go along with six touchdown receptions. 
The Steelers running back is slated for a Monday Night showdown with the Cleveland Browns in week 17 before facing off against the Cincinnati Bengals in week 18 having two opportunities to pass the 1,000 yard mark. Harris currently ranks 3rd in the NFL in rushing attempts, fifth in rushing yards and 15th in rushing touchdowns. 
In addition Harris has been a key weapon in the Steelers passing attack as well pulling in 67 catches for 422 yards and three rushing touchdowns.
3. Mac Jones
Team: New England Patriots
If it wasn't for Ja'Marr Chase, the New England Patriots rookie quarterback Mac Jones would be the hands down 2021 NFL Offensive Rookie of the Year. Jones, who won the quarterback competition during the preseason has passed for 3,540 yards on the year to go along with 21 touchdown passes to just 12 interceptions. 
Jones, who is just one of many top stars from Alabama, has impressed many with his ability to carry the Patriots offense this season. On the year Jones has seven different games with at least two touchdown passes.
2. Micah Parsons
Team: Dallas Cowboys 
In a runaway, Micah Parsons has put together the best performance of any rookie on the defensive side of the football during the 2021 NFL schedule. Through Week 17, Parsons has posted 64 tackles on the year to go along with 13 sacks and three forced fumbles. 
His 13 sacks rank sixth in the NFL this season while also giving him an opportunity to break the rookie record of 14.5 sacks with one game remaining during the 2021 NFL season. On the year Parsons has recorded at least two sacks in three of the team's first 16 games. 
This play by Micah Parsons. Wow pic.twitter.com/mpPNO5TjiL

— Dallas Cowboys Collaboration (@mailman_phil) January 2, 2022
1. Ja'Marr Chase
Team: Cincinnati Bengals
Coming in at number one on the Top 10 NFL Rookies in 2021 is the Cincinnati Bengals stud wide receiver Ja'Marr Chase. Chase continues to dominate the NFL as one of the NFL's top wide receivers as he pursues setting the All-Time rookie receiving yard mark with one game remaining. 
His latest prime time performance came in the team's Week 17 win over the Kansas City Chiefs as Chase set the rookie receiving yard mark for yards in a game with 266 yards while also catching three touchdown passes. The production pushed his yardage to 1,429 on the year and his touchdown total to 13. 
Chase ranks 18th in receptions (79), 4th in receiving yards, 2nd in touchdown receptions and 1st in yards per catch.
How would you rank these NFL Rookies this 2021-2022 NFL season? Rank below to be added in the Power Rankings and to have a chance to win a gift card to LAZADA, Amazon, Fanatics.com, or more that is specific to you. Join the contest by ranking below. 
Related Links:
POPULAR POSTS
Thank you
Your email has been successfully subscribed.
Sorry, there are no polls available at the moment.