Top 10 NFL Quarterbacks of All Time Rankings
Ranking the best Quarterbacks in the history of the NFL such as Tom Brady, Peyton Manning, and many more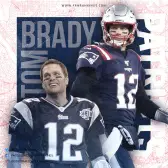 The NFL is led by some of the top stars over the history of the league. This includes some of the best quarterbacks to play the game and some of the smartest players to play the game. From the Likes of Bart Starr to Roger Staubach to Johnny Units to Peyton Manning to Tom Brady. The quarterback position has been a position that has produced a ton of stars over the years.

When debated, it is hard to put together an exact Top 10 list of the quarterback position because of how each individual person values the position. Nonetheless, here is our list of the Top 10 Greatest Quarterbacks of All-Time. 
Honorable Mention
Brett Favre
Team(s): Green Bay Packers, Minnesota Vikings, Atlanta Falcon & New York Jets
When looking at the Greatest Quarterbacks of All-Time it is hard to not mention Brett Favre in the conversation. However, with the addition of some of the greats that are still playing or have just hung up their cleats, Favre has fallen out of the Top 10.
When his career was over, Favre was the NFL All-Time passing leader in passing yards, passing touchdowns and quarterback wins all of which have been surpassed. Favre finished his career with 71,838 yards to go with 508 touchdowns while winning three straight NFL MVP awards.
Bart Starr
Team(s): Green Bay Packers
Once a Packer, always a Packer, fits Bart Starr who played his entire NFL career from 1956 to 1971 with the Green Bay Packers. Starr finished his career as a two time Super Bowl Champion and two time Super Bowl MVP while also winning five NFL championships.
Over his career, Starr passed for 24,718 yards to go with 152 touchdowns in an ERA that was built on running the football and defense. In addition, Starr was a four time Pro Bowler, NFL MVP and led the league in passing rating in five different seasons.
Troy Aikman
Team(s): Dallas Cowboys
One name that is well deserving as a top 10-15 NFL Quarterback is the Dallas Cowboys Hall of Famer, Troy Aikman. After being selected number one overall by the Dallas Cowboys, Aikman put together a solid career leading the team to three Super Bowl titles while taking home Super Bowl XXVII MVP.
In addition, Aikman was a six time NFL Pro Bowler. While he put together a solid career, concussions ended his career which may have limited his total production. Aikman finished his career with a 61.5 passing percentage with 32,942 passing yards and 165 touchdowns.
View this post on Instagram
Swipe for best Quarterback Fan Rankings and follow @fanrankings to stay up to date
---
Top 10 Quarterbacks
Roger Staubach
Team(s): Dallas Cowboys
Coming in at number 10 is another Dallas Cowboys great quarterback Roger Staubach. Staubach who played his college career at Navy, put together a stellar NFL career finishing his career with 22,700 passing yards and 153 touchdowns in a run first ERA of football.
During his time with the Cowboys Staubach led the Cowboys to back to back Super Bowl titles while winning the MVP during Super Bowl VI. However, despite his success Staubach missed out of his first four years of the NFL to serve his four year commitment to the Navy. 
#Week1MemoriesThread
Roger Staubach tried his first career touchdown pass #DallasCowboys pic.twitter.com/bn1AwrxcOk

— Old Time Football ? (@Ol_TimeFootball) September 12, 2021
Aaron Rodgers
Team(s): Green Bay Packers
One quarterback that could easily see his name move into the Top 5 is the Green Bay Packers Aaron Rodgers. Rodgers who has put together a stellar career all with the Packers continues to put together big numbers year in and year out despite being one of the older veterans playing the position within the NFL.
Since taking over the starting duties in 2008, Rodgers has passed for at least 4,000 yards in nine different seasons and at least 30 touchdowns in seven seasons. His success on the field has helped guide the Packers to one Super Bowl championship while helping him win Super Bowl MVP as well as three league NFL MVP awards.
Rodgers has led the league in touchdowns twice, passer rating three times while setting multiple NFL records including fastest quarterback to 400 career passing touchdowns, most seasons with at least 40 and 45 touchdown passes and the highest season passing rating. 
View this post on Instagram
John Elway
Team(s): Denver Broncos
After a little drama to start his NFL career, John Elway got his career on track after being traded to the Denver Broncos. Elway who was known for his late game heroics was as good of a quarterback as any in the NFL.
Elway led the Broncos to five different Super Bowls winning two while taking home the Super Bowl XXXII MVP award. Over his career, Elway passed for 51,475 yards to go along with 300 passing touchdowns. Elway won the 1987 NFL MVP award and led the NFL in passing yards once.
In addition to his regular season numbers, Elway passed for 4,964 yards with 27 touchdowns during the postseason while adding 461 rushing yards and six rushing touchdowns. The Broncos quarterback is one of only two players to rush for a touchdown in four different Super Bowls.
January 31, 1999: In his last NFL game, John Elway leads the Broncos to the championship for the second straight season, as Denver beat Atlanta 34-19 at Super Bowl XXXIII in Miami. pic.twitter.com/2XGh4zldmj

— This Day In Sports Clips (@TDISportsClips) January 31, 2021
Otto Graham
Team(s): Cleveland Browns
When trying to compare and rank players with different ERA it can be tricky and the same is said about the quarterback position with the evolution of the game. That said, it is very hard to not talk about Otto Graham as one of the best quarterbacks to play the game.
Graham, who played for the Cleveland Browns in the All-America Football Conference and then the NFL, helped the Browns become a powerhouse while leading them to 10 straight Championships between the two leagues.
In those ten contests, the Browns won seven of them including the 1950, 1954 and 1955 NFL Championship. Graham finished his career with 13,499 yards passing, 682 yards rushing, 174 passing touchdowns and 33 rushing touchdowns.
His performance on the field earned him three NFL MVP awards and four first team All-Pro honors while leading the NFL in passing yards twice, passing touchdowns once and passing rater twice. 
fake draw to Motely then nice touch by Otto Graham pic.twitter.com/8kpaDPzTvx

— ᑭᖇO ᖴOOTᗷᗩᒪᒪ ᒍOᑌᖇᑎᗩᒪ ? (@NFL_Journal) June 10, 2021
Dan Marino
Team(s): Miami Dolphins
The question when comparing quarterbacks is how important is the weight of winning a Super Bowl during the debate? That is the question with Dan Marino as he was as good of a passing quarterback on this list. However, the former Miami Dolphins All-Pro failed to deliver the Dolphins a Super Bowl during his tenure at quarterback.
Nonetheless, Marino put together a brilliant career winning both the NFL MVP award and Offensive Player of the Year award. In addition, Marino led the league in passing yards in five different seasons and passing touchdowns in three straight seasons.
When his career was over, Marino led the NFL all time in completions, passing yards and passing touchdowns. Marino helped set the standards for some of the game's top passing stars. 
Dan Marino's HOF resume:
– 9x Pro Bowl
– 3x 1st Team All-Pro, 3x 2nd Team
– 1984 NFL MVP, OPOY, & CPOY
– 5x NFL PASS YDS Leader
– 3x NFL PASS TD Leader
– Retired as NFL's career PASS YDS (61,362) & PASS TD (420) leader
– #13 retired by #Dolphins
pic.twitter.com/hfhCqjcjET

— Pro Sports Outlook (@PSO_Sports) September 29, 2021
Drew Brees
Team(s): San Diego Chargers & New Orleans Saints
The face of the New Orleans Saints, Drew Brees helped turn around a struggling organization into one of the best teams in the NFC year in and year out. This included three straight NFC Championship appearances while leading the team to the Super Bowl XLIV championship while taking home the Super Bowl MVP award.
Brees passed for at least 5,000 yards in four different seasons and over 4,000 yards in seven different seasons. Brees is currently the leader in pass completions and formerly held the record for most passing yards All-Time and passing touchdowns All-Time.
Along with those numbers, Brees became the first quarterback in the history of the NFL to pass for over 80,000 yards. 
On this day in 2015, CJ Spiller (@CJSPILLER) had the longest touchdown of his NFL career, hauling in an 80-yard walk-off winner for the #Saints in overtime.

It was 400th passing TD of Drew Brees' career.pic.twitter.com/JsVOEUsluk

— Austin Pendergist (@apthirteen) October 4, 2021
Johnny Unitas
Team(s): Baltimore Colts & San Diego Chargers
When thinking of NFL greats that would have been great in today's game, Johnny Unitas is one of the names that comes up on the top of that list.
Unitas, who was known for his ability to call plays at the line of scrimmage, ran a style of offense that was before it's time and one that many considered changed the style of play of the quarterback position.
The former Baltimore Colts star helped lead the Colts to three NFL championships and a 16-13 win over the Dallas Cowboys in Super Bowl V. Unitas finished his career with three NFL MVP awards, five first team All-Pro honors while leading the NFL in passing yards and passing touchdowns in four different seasons.
Over his career, Unitas threw for 40,239 yards to go along with 290 touchdown passes. 
Johnny Unitas changed the game. One of the greatest of all time ?#CardsGoneProVault pic.twitter.com/2evyUHriHX

— CardsGonePro (@CardsGonePro) April 3, 2020
Joe Montana
Team(s): San Francisco 49ers & Kansas City Chiefs
This is where the list starts to get a little tricky as the top three quarterbacks are debated by many with Joe Montana, Peyton Manning and Tom Brady in the discussion.
While Montana could easily be the number two on the list, he lands at number three based on the success of the top two. Montana helped lead the San Francisco 49ers to four Super Bowl titles while winning three Super Bowl MVP awards in those four games.
Over his career, the 49ers great won two NFL MVP awards, the NFL Offensive Player of the Year award while leading the NFL in passing touchdowns and passer rating in two different seasons. 
View this post on Instagram
Peyton Manning
Team(s): Indianapolis Colts & Denver Broncos 
The debate on where Peyton Manning should land will always be debated but nonetheless, the NFL Hall of Famer is one of the great passing quarterbacks of All-Time and possibly the best passer the NFL has produced.
While he falls to number two based on the Super Bowl success of Tom Brady, it is hard to look past what Manning could do on the field and his ability to change a play at the line of scrimmage. Manning passed for 71,940 yards over his NFL career between the Indianapolis Colts and Denver Broncos while throwing for 539 touchdown passes.
When his career was over, Manning held the record for passing yards, passing touchdowns, NFL MVP awards, 4,000 plus yard passing seasons and single season passing yards. After winning his Super Bowl XLI with the Colts, Manning added a second Super Bowl title leading the Broncos to Super Bowl 50. 
Peyton Manning is the best quarterback of his era. #Colts pic.twitter.com/JHcp9BCCkZ

— Setting The Pace?? (@SettingThePace3) March 24, 2020
Tom Brady
Team(s): New England Patriots & Tampa Bay Buccaneers
Seven and counting. That is all you need to know when it comes to the future Hall of Fame quarterback Tom Brady. While his playing days are still ongoing, Brady has won seven Super Bowl titles, five Super Bowl MVP awards and three NFL MVP awards.
Brady, who spent his first portion of his career with the New England Patriots, has now helped return a Super Bowl title to Tampa Bay by becoming the first team in the NFL to win a title in their home stadium after the Tampa Bay Buccaneers knocked off the Kansas City Chiefs during Super Bowl LV.
Brady currently holds the record for most passing yards and most passing touchdowns by a quarterback. Over his career, Brady has passed for 80,359 yards to go along with 591 passing touchdowns.
As his career dwindles down, the NFL great continues to put together big numbers year in and year out to help solidify his stance as the Great NFL Quarterback of All-Time.
View this post on Instagram
How would you rank the greatest Quarterbacks in history? Rank below to be added in the Power Rankings and to have a chance to win a gift card to LAZADA, Amazon, Fanatics.com, or more that is specific to you. Join the contest by ranking below. 
POPULAR POSTS
Thank you
Your email has been successfully subscribed.
Sorry, there are no polls available at the moment.