Top 10 NFL Players MVP Race – January 2022 Rankings
Ranking the best NFL Players in the 2021 - 2022 MVP Race with players such as Tom Brady, Aaron Rodgers, Cooper Kupp, and Jonathan Taylor in the mix for the month of January 2022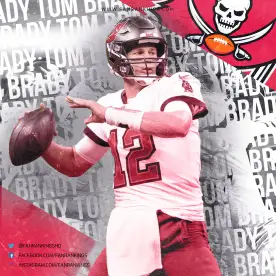 The 2021 NFL season is coming to an end as teams around the NFL gear up for their final regular season game of the week as week 18 approaches. While some players may get the final game off, the final week may have a huge impact on the 2021 NFL MVP race as well as which players should land on the Top 10 NFL Players MVP race list to finish the NFL season.

Currently the list of top performers in 2021 include the Green Bay Packers quarterback Aaron Rodgers who is quietly putting together another MVP caliber performance. Other MVP candidates include the Los Angeles Rams star wide receiver Cooper Kupp who currently leads the NFL in receiving yards, catches and touchdown receptions. 
Meanwhile Jonathan Taylor has put together the overall best performance on the ground as he attempts to land his Indianapolis Colts into the 2021 NFL playoffs. Other 2021 NFL MVP candidates for the MVP award include Tom Brady, Joe Burrow, T.J. Watt, Patrick Mahomes and Matthew Stafford.
With that said, here is our list of the Top 10 NFL Players MVP Race.
Honorable Mention
Deebo Samuel 
Team: San Francisco 49ers
One player who has a major impact on his team's performance this season is the former South Carolina Gamecocks wide receiver Deebo Samuel. Samuel is much like a Swiss army knife for the San Francisco 49ers offense finding ways to contribute both in the passing game as well as running the ball. 
Samuel, who is the team's top wide receiver has racked up 73 catches on the year for 1,310 yards to go along with six touchdown receptions. In addition, Samuel has rushed for 320 yards on 51 carries to go along with seven rushing touchdowns.
Ja'Marr Chase
Team: Cincinnati Bengals
The Cincinnati Bengals wide receiver has not only played himself into consideration for the 2021 NFL Offensive Rookie of the Year award, but he has also positioned himself into play for the NFL MVP award. The former LSU star wide receiver has not let down this season as he ranks near to top among all rookies in receptions, receiving yards and touchdown receptions. 
Chase has racked up 79 receptions for 1,429 yards, 13 touchdowns while posting an average reception mark of 18.1 yards per catch. In addition, Chase leads all receivers with plays of at least 50 yards on the season.
Justin Herbert
Team: Los Angeles Chargers
The future of the Los Angeles Chargers is in the arm of the former Oregon Duck star quarterback Justin Herbert. Herbert, who the Chargers selected with 6th overall pick during the 2020 NFL Draft has built on a solid rookie season. 
Currently Herbert ranks 3rd in passing yards with 4,631, 3rd in passing touchdowns with 35 and 3rd in total QBR with a 66.3 mark. In addition, The Chargers star has added 301 rushing yards to go along with three rushing touchdowns while helping the Chargers stay alive in the playoff picture.
Top 10 NFL Players
10. T.J. Watt
Team: Pittsburgh Steelers
One player on the defensive side of the ball that has the ability to change the outcome of the game is the Pittsburgh Steelers linebacker T.J. Watt. Watt, who is in line to take home the 2021 NFL Defensive Player of the Year award has put together an incredible performance during the 2021 NFL season. 
Through the 15 games he has appeared in, Watt has posted 17.5 sacks on the year to go along with four forced fumbles and three fumble recoveries. Watt has two additional games this year to add to his current season totals.
4 sacks this game, 21.5 on the year.

I'm saying forget Aaron Rodgers, TJ Watt for #NFL MVP #Steelers #HereWeGo pic.twitter.com/i5aYx7uJX6

— Obviously (Not) Tomlin (@Tomlin_Sense) January 4, 2022
9. Davante Adams
Team: Green Bay Packers
The Green Bay Packers wide receiver is the star of the Packers offense while delivering Aaron Rodgers one of the top receiving options in all of the NFL. Adams currently ranks 2nd in the NFL in receptions with 117, 3rd in receiving yards with 1,498 and 5th in touchdown receptions with 11 while missing one game due to COVID-19. 
On the year, Adams has posted at least 10 receptions in five different games while also being targeted at least 10 times in eight total games. In addition, Adams has eight games with at least 100 yards and three games with two touchdown receptions.
Aaron Rodgers and Davante Adams are the most lethal QB-WR duo on back shoulder passes that I have ever seen. pic.twitter.com/UeBMJHXQGb

— Eli Berkovits (@BookOfEli_NFL) January 3, 2022
8. Patrick Mahomes
Team: Kansas City Chiefs
While the Kansas City Chiefs star is in a down season from the fans perspective, his total production on the field is still among the top of all quarterbacks in the NFL. On the year, Mahomes has thrown for 4,569 total yards to go along with 35 passing touchdowns and a 61.3 QBR. 
His production has him ranked 6th among quarterbacks in passing yards, 3rd in passing touchdowns and 5th in QBR rating. Mahomes has also added 327 yards on the ground to go along with two rushing touchdowns.
7. Josh Allen
Team: Buffalo Bills
The Buffalo Bills are in the driver's seat in the AFC South division with much of the team's success coming from the arm as well as the legs of quarterback Josh Allen. Allen has passed for 4,168 yards on the season to go along with 34 touchdown passes. 
In addition to his ability to make plays with his arm, Allen is a threat to make a play with his feet on every drop back. Through 16 games this season, Allen has set a career high with 117 rushing attempts to go along with 700 rushing yards and six rushing touchdowns. 
Josh Allen & Stefon Diggs are actually absurd pic.twitter.com/TPI5CiRMbi

— MereKat (@MereKatKat) December 26, 2021
6. Joe Burrow
Team: Cincinnati Bengals
After missing the remaining portion of his rookie season and having to deal with his leg health during the offseason, Joe Burrow has bounced back as one of the game's brightest stars and one that has the potential to carry the Cincinnati Bengals for years to come. Burrow has seen his production increase as the season has moved along. 
On the year, Burrow has thrown for at least 300 yards in six different games, at least 400 yards in three games and over 500 yards in one game. In total, Burrow has thrown for 4,611 yards to go along with 34 touchdown passes and 14 interceptions.
Joe Burrow puts the moves on Tyrann Mathieu to escape a sack. Then keeps the play alive and hits Chase. Inches short of a first down. pic.twitter.com/ohC2vqlW9h

— Mike (Sans) (@bengals_sans) January 3, 2022
5. Matthew Stafford
Team: Los Angeles Rams
Matthew Stafford is performing at the level the Los Angeles Rams expected after dishing out multiple first round draft picks to acquire him from the Detroit Lions. Stafford has completed 383 of his 569 passing attempts this season for 4,648 passing yards and 38 touchdown passes. 
Stafford currently ranks 2nd in passing yards, 3rd in quarterback rating (103.5), 3rd in passing yard per attempt (8.2) and 2nd in passing touchdowns on the year.
4. Tom Brady
Team: Tampa Bay Buccaneers
It is hard to look past the GOAT as an NFL MVP candidate year in and year out with the 2021 NFL season being no different. As the season approaches the end, Tom Brady ranks near the top of every passing category on record while positioning the Tampa Bay Buccaneers to make a deep postseason run. 
Brady ranks 1st in the NFL with 4,990 passing yards and 1st in the NFL in touchdown passes with 40 on the season. While Brady has had his struggles at points this season, he and the Buccaneers found a way to win the NFC South.
Brady, down all his legit weapons, leads a last minute drive, delivering a laser to Cyril Grayson for 6, giving shades of Brady to Thompkins vs the Saints in 2013. That's the Tom Brady we love. Also Jets lose ? pic.twitter.com/JWLIjHXUwB

— Fitzy (@FitzyGFY) January 2, 2022
3. Cooper Kupp
Team: Los Angeles Rams
Possibly the biggest offensive weapon on this list is the Los Angeles Rams star wide out who is currently positioned to take home the Triple Crown of receiving after wrapping up another strong performance in Week 17. Kupp leads all receivers with 138 receptions, 1,829 receiving yards and 15 touchdown receptions. 
With his performance on Sunday, Kupp joined a Hall of Fame group of receivers to post at least 130 receptions and 1,500 receiving yards in the same season. Kupp has topped the 100 yard mark in nine different games this season.
Cooper Kupp is back at it again with his 15th Touchdown reception of the season!

The best WR in football this season! #LARvsBAL pic.twitter.com/QR8zpcdeq7

— KLIQbait Media (@KliqbaitMedia) January 2, 2022
2. Jonathan Taylor
Team: Indianapolis Colts
The former Wisconsin Badgers running back, Jonathan Taylor has positioned himself into the MVP picture after continuing to carry the Indianapolis Colts offense. If the Colts can find a way to reach the playoffs, Taylor will see his MVP stock rise. 
On the year, Taylor has rushed for 1,734 yards on 317 carries to go with 18 rushing touchdowns while averaging 5.5 yards per attempt. Taylor leads all running backs in rushing attempts, rushing yards and rushing touchdowns. In addition, Taylor has pulled in 37 catches for 342 yards and two touchdown receptions.
Jonathan Taylor is a bad man!!!! pic.twitter.com/c7T2yvjzFV

— Free Deez Nuggs ?? (@itsartee__) January 2, 2022
1. Aaron Rodgers
Team: Green Bay Packers
After another strong prime time performance, Aaron Rodgers has positioned himself in play for him to win his second straight NFL MVP award and fourth overall MVP award. While Rodgers' numbers don't rank 1st or 2nd in the NFL, his ability to protect the ball and not turn it over has helped the Green Bay Packers lock up the overall top spot in the NFC. 
Rodgers has thrown for 3,977 yards on the year to go along with 35 passing touchdowns and just four total interceptions. In addition, the Packers lead all quarterbacks with a 67.7 QBR and 127.1 rating.
No Vikings week would be complete without one of the most accurate passes ever made…

Aaron Rodgers to Jordy Nelson was just ?????????. pic.twitter.com/sWUmt0TXPu

— Eli Berkovits (@BookOfEli_NFL) January 2, 2022
How would you rank these NFL MVP candidates this 2021-2022 NFL season? Rank below to be added in the Power Rankings and to have a chance to win a gift card to LAZADA, Amazon, Fanatics.com, or more that is specific to you. Join the contest by ranking below. 
Related Links:
POPULAR POSTS
Thank you
Your email has been successfully subscribed.
Sorry, there are no polls available at the moment.