Top 10 NFL Players MVP Race 2021 – 2022 Rankings
Ranking the best NFL Players of the 2021-2022 NFL season with names such as Tom Brady, Cooper Kupp and more as they battle for second as Aaron Rodgers is your NFL Most Valuable Player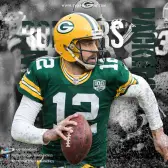 The 2021 NFL Schedule has come and gone as well as the NFL Playoffs. As team's get set for an exciting Super Bowl Weekend in Los Angeles, the one question was which NFL superstar would take home the 2021 NFL MVP Award. In the end, Aaron Rodgers took home his fourth overall NFL MVP Award and his second straight title. While Rodgers put together a great season, many of the games top stars put together award-winning performances.
In the AFC guys like Justin Herbert, Patrick Mahomes and Josh Allen put together strong performances under center while receiver Ja'Marr Chase and running back Jonathan Taylor put up big seasons. Meanwhile over in the NFC, Tom Brady led all quarterbacks in passing yards (5,316), passing touchdowns (43) and completions (485). Along with Brady, Rodgers put together another strong season while Dak Prescott rolled for the Dallas Cowboys. 
While we all know now who is at the top of the NFL MVP Power Rankings, this is our list of the Top 10 NFL Players MVP Race 2021-2022 season.
Honorable Mention
Justin Herbert
Team: Los Angeles Chargers
Season Stats: 5014 Yds, 38 TD, 15 Int, 65.9 Cmp%
The future of the NFL looks bright as the game is filled with a ton of talented stars at the quarterback position. One of those quarterbacks is the Los Angeles Chargers second year star Justin Herbert. 
Herbert followed up on a stellar rookie season to set career highs in passing yards, passing touchdowns and QBR. In all, Herbert finished the season ranked 2nd in passing yards per game (5,014), 3rd in touchdown passes (38) and 3rd in QBR (65.6%). 
Davante Adams
Team: Green Bay Packers
Season Stats: 1553 Yds, 123 Rec, 11 TD
The debate could be made that Davante Adams had the second-best season of all the wide receivers after finishing 3rd in the NFL with 1,553 yards while missing one game due to COVID-19. 
While Adams racked up 1,553 yards in 16 games, he was the top threat of the Green Bay Packers offense for most of the season. In addition to the yards, Adams racked up 11 touchdown receptions, averaged 97.1 yards per game and posted 604 yards after catch. 
Deebo Samuel
Team: San Francisco 49ers
Season Stats: 1405 Yds, 77 Rec, 6 TD
The jack of all moves, Deebo Samuel was a double headed sword that made it nearly impossible for opposing defenses to slow down this past season. Samuel was the San Francisco 49ers top wide receiver threat and possibly the team's best running option. 
Samuel finished the season ranked 5th in receiving yards with 1,405 yards while also catching six touchdown grabs. In addition, Samuel racked up 365 yards rushing on 59 attempts to go along with eight rushing touchdowns. 
Top 10 NFL Players
10. Patrick Mahomes
Team: Kansas City Chiefs
Season Stats: 4839 Yds, 37 TD, 13 Int, 66.3 Cmp%
Now that we have entered the Top 10 NFL MVP Players Race in 2021, the tough part starts with slotting in which players are deserving of each spot. In the end, Patrick Mahomes lands at number 10 after another great season but one that came with some struggles at various points. 
Mahomes finished with the 5th best QBR rating in the NFL while also ranking inside of the top ten in both passing yards and passing touchdowns. That said, we saw the Kansas City Chiefs star struggle in big games that would come back from them landing the top spot in the AFC.
9. Ja'Marr Chase
Team: Cincinnati Bengals
Season Stats: 1455 Yds, 81 Rec, 13 TD
After the amazing season the Cincinnati Bengals put together it is hard not to look at their top weapons as possible NFL MVP candidates. One of those weapons is the former LSU Tigers star and the Bengals first round selection Ja'Marr Chase. 
Chase, who set the record for receiving yards by a rookie, finished the season with 1,455 yards and ranked 4th in the NFL in total receiving yards. In addition, Chase ranked 2nd in receiving touchdowns (13) and was tied for 4th with 22 receptions over 20 yards. 
8. Matthew Stafford
Team: Los Angeles Rams
Season Stats: 4886 Yds, 41 TD, 17 Int, 67.2 Cmp%
After finally landing on a team with a playoff caliber roster, Matthew Stafford was able to put together the same stellar passing numbers while leading his team to the playoffs. 
In his first year with the Los Angeles Rams, Stafford finished the season ranked 2nd in the NFL in passing touchdowns with 41 and 3rd in the NFL in passing yards with 4,886. To go along with those numbers, Stafford finished with a quarterback passing rating of 102.9 his second highest in his career.  
7. T.J. Watt
Team: Pittsburgh Steelers
Season Stats: 22.5 Sacks, 48 Solo, 5 FF
Defensive players don't typically get a lot of love when it comes to the NFL MVP award but how can you not mention T.J. Watt on his list of Top 10 NFL MVP Players Race in 2021? Watt led the NFL with an NFL record 22.5 sacks while helping the Pittsburgh Steelers rebound late to secure a playoff spot. 
Watt was able to secure the 2021 NFL Defensive Player of the Year award joining his older brother J.J. Watt has won the award. To go along with the sacks, Watt racked up 48 solo tackles, five forced fumbles and three fumble recoveries during the 2021 NFL Schedule.
6. Joe Burrow
Team: Cincinnati Bengals
Season Stats: 4611 Yds, 34 TD, 14 Int, 70.4 Cmp%
Like his teammate Ja'Marr Chase, Joe Burrow is well deserving of consideration for the NFL MVP award. The 2021 Comeback Player of the Year winner put together a solid 2nd season after missing most of his rookie campaign. 
Burrow was able to bounce back healthy in 2021 while passing for 4,611 yards to go along with 34 touchdown passes and the second-best passer rating  of 108.3 in the NFL. Now his play has helped the Cincinnati Bengals roll through the playoffs and into Super Bowl LVI in Los Angeles. 
5. Jonathan Taylor
Team: Indianapolis Colts
Season Stats: 332 Rush, 1811 Yds, 18 TD
The possible breakout star of the 2021 NFL schedule is the Indianapolis Colts running back Jonathan Taylor. The former 2nd round pick during the 2020 NFL draft out of Wisconsin showed solid promise as a rookie but not many saw what his true potential was. 
Taylor didn't disappoint this season finishing leading the NFL with 1,811 rushing yards and 18 rushing touchdowns. His success on the field helped keep the Colts in the AFC Playoff picture while also keeping his name in the NFL MVP debate.
4. Josh Allen
Team: Buffalo Bills
Season Stats: 4407 Yds, 36 TD, 15 Int, 63.3 Cmp%
How can anyone not like Josh Allen of the Buffalo Bills? Allen is one of those quarterbacks who will do it all on the field while giving his body up to help the Bills win. 
While he didn't lead the NFL in passing yards, passing ratings or passing touchdowns, Allen did lead his team to wins as well as the AFC East crown. Allen racked up 4,407 passing yards to go along with 36 passing touchdowns while also rushing for a career high 763 rushing yards to go along with six rushing touchdowns. 
3. Cooper Kupp
Team: Los Angeles Rams
Season Stats: 1947 Yds, 145 Rec, 16 TD
If it wasn't for Tom Brady and Aaron Rodgers All-Pro performances, Cooper Kupp of the Los Angeles Rams may have been taking home the NFL MVP Award. The Rams wide receiver was as dominant as any offense threat in the NFL while giving nightmares to opposing defensive coordinators. 
Kupp led all receivers in yards (1,947), touchdown receptions (16), plays of 20 yards (30), yards per game (114.5) and yards after catch (846). With his ability to break a tackle it forced opposing defenses to play off the line in return allowing the Rams offense to be as explosive as any team.
2. Tom Brady
Team: Tampa Bay Buccaneers
Season Stats: 5316 Yds, 43 TD, 12 Int, 67.5 Cmp%
Was the 2021 NFL Season a dream or did the 41-year-old future Pro Football Hall of Famer Tom Brady really put together the season he did on paper? You got that right, this was no dream and the future first ballot NFL Hall of Famer, led the NFL in passing yards 5,316), and passing touchdowns (43) while nearly leading his Tampa Bay Buccaneers back to a second straight Super Bowl. 
In the end, all good things have to end and that is the case with Brady as he has officially called his career over despite possibly putting together his best passing performance of his career.
1. Aaron Rodgers
Team: Green Bay Packers
Season Stats: 4115 Yds, 37 TD, 4 Int, 68.9 Cmp%
For us we had Aaron Rodgers as the NFL MVP way before the NFL announced that the Green Bay Packers quarterback would be taking home his fourth award and second straight. The Packers quarterback finished the season throwing for 4,115 yards while completing 68.9% of his passes to go along with 37 touchdowns and just four interceptions. 
The four interceptions marked the fifth time since he took over the starting quarterback duties he threw five or fewer interceptions during the season as well as his 12th season with single digit interceptions. In the end, Rodgers made it nearly impossible to hand him the back to back MVP award.
How would you rank these NFL MVP candidates and the Most Valuable Player in Aaron Rodgers this 2021-2022 NFL season? Rank below to be added in the Power Rankings and to have a chance to win a gift card to LAZADA, Amazon, Fanatics.com, or more that is specific to you. Join the contest by ranking below.
Related Links:
POPULAR POSTS
Thank you
Your email has been successfully subscribed.
Sorry, there are no polls available at the moment.