NFL MVP Betting Odds
Ranking the Top 10 NFL MVP Odds for the 2022-2023 NFL season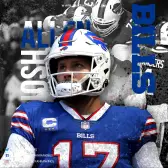 The off-season NFL workouts are slowly taking place across the league as mandatory mini camps are kicked off with training camp just a few short weeks away. With camps arriving, the time to start looking at the 2022 NFL schedule has arrived as well. One area to look at is the Top 10 NFL MVP Betting Odds for the upcoming 2022 NFL season.
Before we run down those Top 10 NFL MVP candidates based on the odds, you must look back at the NFL MVP award and the previous winners over the past 10 to 20 years.
Since 2013, nine straight quarterbacks have won the award including Aaron Rodgers three different times. Looking back farther, only Adrian Peterson, LaDainian Tomlinson, Shaun Alexander, and Marshall Faulk have won the award at running back since 2000.
Based on this information, it is safe to say a long list of quarterbacks are going to be in the running for the 2022 NFL MVP Award.
This includes the likes of Josh Allen who is an early favorite to take home the award, as well as Tom Brady, Aaron Rodgers, Patrick Mahomes and even Derek Carr. As we compile our list, we will rank the players we like the most to win the NFL MVP with their current NFL Betting Odds.
With that said, here is our list of the Top 10 NFL MVP Betting Odds for the Upcoming 2022-2023 NFL Season.
Honorable Mention
Matthew Stafford
Team: Los Angeles Rams
Betting Odds: +1200 to +2000
Just missing the Top 10 NFL MVP Betting Odds for the upcoming 2022 NFL season rankings list is the Los Angeles Rams quarterback Matthew Stafford.
Stafford, who is slotted in on most sports betting sites as a +1200 to +2000 candidate to take home the NFL MVP award, has the talent to put together another strong season after throwing for 4,886 yards and 41 touchdowns in 2021.
Only downside to Stafford has been his turnovers which has hurt his MVP voting over the course of his career.
Jonathan Taylor
Team: Indianapolis Colts
Betting Odds: +5000 to +6500
There are two running backs in 2022 that have the potential to put together 2,000 yard plus seasons with Jonathan Taylor being one of those running backs.
With the addition of Matt Ryan to the Indianapolis Colts offense, Taylor should see additional running lanes while also opening his play action catching abilities with a former MVP caliber quarterback throwing him the ball.
Taylor is slotted behind the likes of Derrick Henry on most early NFL MVP odds lists at between +5000 to +6500 based on the sportsbook.
Top 10 NFL MVP Odds
10. Derrick Henry
Team: Tennessee Titans
Betting Odds: +4000 to +5000
Coming in at number 10 on the Top 10 NFL MVP Betting Odds for the upcoming 2022 NFL season rankings list is the Tennessee Titans All-Pro running back Derrick Henry.
While Henry falls behind many other quarterbacks on most of the early MVP Odds rankings, it is nearly impossible not to look at Henry as one of the best non-quarterback options to win the award.
As the Titans look to move on with the departure of AJ Brown, Henry may be asked to do even more for the team in 2022.
9. Lamar Jackson
Team: Baltimore Ravens
Betting Odds: +2000 to +3500
The time might be now to consider jumping on the Lamar Jackson for NFL MVP bandwagon as his odds are low for a quarterback that has taken home the award just a few short seasons ago. 
While injury concerns with teammates could change these odds, the Baltimore Ravens quarterback managed to throw for 2,8882 yards to go along with 767 rushing yards while only playing in 12 games and without both his starting running backs and his starting left tackle. 
Jackson is a human highlight reel waiting to make a play on any offensive series.
8. Russell Wilson
Team: Denver Broncos
Betting Odds: +1200 to +1800
As Russell Wilson looks to start a new chapter, he gets the slight edge over Lamar Jackson for the 2022 NFL MVP award.
Like Jackson, Wilson missed time in 2021 appearing in just 14 of the team's 17 contests while also battling injuries at various times during the season.
Wilson is as consistent as any quarterback in the NFL, including passing four at least 4,000 yards in both 2019 and 2020 in seasons when he was healthy. A new scenery and a solid offensive line should set Wilson up for a big season in 2022.
7. Justin Herbert
Team: Los Angeles Chargers
Betting Odds: +800 to +1200
On the NFL field, Justin Herbert has all the talent and abilities to be in the running for the NFL MVP Award.
After throwing for 5,014 yards to go along with 38 touchdowns to 15 interceptions, the former Oregon Ducks quarterback is ready to take another big step forward in 2022.
However, concerns with the team's play calling abilities and head coaching decisions make Herbert a difficult pick for the MVP award. Look for Herbert to put up numbers, only concern is hw the coaching staff will impact his final numbers?
6. Derek Carr
Team: Oakland Raiders
Betting Odds: +1800 to +2200
Out west in the AFC West Division, the football action is going to be on fire with four elite caliber quarterbacks taking to the field each week.
One of those four quarterbacks is the Oakland Raiders veteran Derek Carr. Carr, who we like as a deep sleeper to take home the NFL MVP award, is now joined by former college teammate Davante Adams.
The addition of Adams to a team that includes Hunter Renfrow and Darren Waller, looks difficult to match up against on defense.
5. Patrick Mahomes
Team: Kansas City Chiefs
Betting Odds: +700 to +900
As Derek Carr moves up the rankings based on the addition of Davante Adams, Patrick Mahomes falls down the rankings based on the departure of Tyreek Hill.
Mahomes, who still has Travis Kelce as his main weapon, should still continue to see 4500 plus passing yards but will he struggle to find consistency with the receiving corps while attempting to replace Hill at the position?
Based on what betting odds you can land with Mahomes he might be a solid preseason MVP bet.
4. Aaron Rodgers
Team: Green Bay Packers
Betting Odds: +800 to +1400
Aaron Rodgers continues to play as good as any quarterback around the NFL year in and year out. However, with the loss of Davante Adams, how or should we say who is going to be Rodgers to go among the Green Bay Packers roster?
With these early concerns, it is hard to put Rodgers high on the Top 10 NFL MVP Betting Odds for the upcoming 2022 NFL season rankings list. 
3. Joe Burrow
Team: Cincinnati Bengals
Betting Odds: +1000 to +1400
Looking at the list of quarterbacks around the NFL that have the potential and talent around them to put together a 5,000 plus yard passing season and 40 passing touchdowns, Joe Burrow is right up on that list.
Burrow, who has one of the top receiving tandems in the NFL, also saw his Cincinnati Bengals revamp their offensive line this off-season.
Add that with the running abilities of Joe Mixon and Burrow is going to be fun to watch all season. Look for Burrow to make another run at the NFL MVP award in 2022.
2. Tom Brady
Team: Tampa Bay Buccaneers
Betting Odds: +800 to +1200
It comes down to the final two spots on the Top 10 NFL MVP Betting Odds for the upcoming 2022 NFL season rankings list with the veteran Tom Brady landing in at number two.
Brady, who continues to defeat father time, is coming back for another chance to lead the Tampa Bay Buccaneers to the Super Bowl and possibly take home another MVP award.
Brady, who retired early in the off-season, decided to return for what will be his 23rd NFL season. When you look at his supporting cast, Brady has both his top wide receivers back including Mike Evans. 
1. Josh Allen
Buffalo Bills
Betting Odds: +700 to +800
In the end, Josh Allen looks like the early favorite across the board to take home his first NFL MVP Award while continuing the trend for the quarterback position.
Allen, who threw for 4,407 yards last season is a dual threat quarterback that also added 763 rushing yards on the ground.
Now with an even happier Stefon Diggs who signed an extension, Allen will look to increase his passing yards and touchdowns in 2022.
How would you rank these potential NFL MVPs going into the 2022-2023 NFL season? Rank below to be added in the Power Rankings.
Related Links:
POPULAR POSTS
Thank you
Your email has been successfully subscribed.
Sorry, there are no polls available at the moment.