Top 10 NFL Draft Prospects 2022 Rankings
Ranking the best NFL Draft of 2022 coming out of college such as Kyle Hamilton, Ikem Ekwonu, Garrett Wilson, and more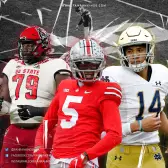 The very short NFL offseason has come and gone as preparations have arrived for all 32 NFL teams for the upcoming 2022 NFL season. With the NFL free agency set to kick off on March 16th, 2022, at 4pm ET and the 2022 NFL Draft slated for April 28th through April 30th in Las Vegas, the first step of the offseason the 2022 NFL Combine came with a ton of excitement and completed with a wide range of Top NFL Draft Prospects moving both up and down the NFL Draft boards of teams around the NFL.
One prospect moving up the boards after an impressive NFL combine performance is the Georgia Bulldogs defensive tackle who put on a show for all members attending as well as a national social media audience. 
Davis is just one name landing on the Top 10 NFL Draft Prospects rankings joining the likes of the possible top overall draft pick safety Kyle Hamilton from the Notre Dame Fighting Irish as well as offensive lineman Evan Neal from the Alabama Crimson Tide and defensive edge rusher Aidan Hutchinson from the Michigan Wolverines.
With that said, here is our list of the Top 10 NFL Draft Prospects of 2022
Honorable Mention
Desmond Ridder
School: Cincinnati Bearcats
Position: Quarterback
One position that always comes as a hot commodity come the NFL draft is the quarterback position and one name to monitor this year is the Cincinnati Bearcats quarterback Desmond Ridder. The former Bearcats star has all the tangibles to be a stud at the NFL level with solid size at 6 foot 3 inches to go along with a plus size arm and very good movement in the pocket as he displayed at the NFL combine. 
In three of his four years in college, Ridder posted at least a 62% completion percentage including a 64.9 percent mark as a senior while throwing for 3,334 yards and 30 touchdown passes.
Drake London
School: USC Trojans
Position: Wide Receiver
Another position that continues to be in heavy demand year in and year out is the wide receiver position while Drake London is one of the top studs among the positions. The USC Trojans wide receiver is as solid as any wide receiver in the draft with solid size at 6 foot 3 and 7/8 of an inch after his combine measurements. 
London provides a huge catch radius that was on display in his junior season with the Trojans as he pulled in 88 catches for 1,084 yards and two touchdown receptions. The big question with London is how high could he land on draft day?
Top 10 NFL Draft Prospects
10. Jordan Davis
School: Georgia Bulldogs
Position: Defensive Lineman
The name that might have made the biggest jump on the draft boards after the 2022 NFL combine is defensive lineman Jordan Davis from the Georgia Bulldogs. Davis is an absolute monster on the defensive line and one that can both stop the run and make plays into the backfield. 
Davis, who impressed many in attendance measuring in at 6 foot 6 inches and 341 lbs., showcased his athleticism when posting a forty-yard dash time of 4.78 while outperforming most if not all of the defensive tackle prospects. While that speed is below the fastest players at the primer positions such as wide receiver and cornerback, it is impressive coming from someone with that type of size.
9. Garrett Wilson
School: Ohio State Buckeyes
Position: Wide Receiver
One if not the most polished wide receiver in the 2022 NFL draft class is the Ohio State Buckeyes star Garrett Wilson. While Wilson lands at number nine on the Top 10 NFL Draft Prospects rankings, he could have easily slotted within the top five depending on how you feel about specific positions. 
Wilson displayed his speed at the NFL combine boasting a 4.38 second forty-yard dash time while also measured in with an impressive 76.5-inch wingspan while sitting at 5 foot 11 inches. Leading his talents is his ability to make plays after the catch and his solid hands.
8. Ahmad Gardner
School: Cincinnati Bearcats
Position: Cornerback
As all eyes are on Ahmad Gardner's quarterback teammate, Gardner has earned some solid recognition as one of the top cornerbacks in the entire 2022 NFL Draft. 
Gardner, who many expect to be gone within the top 5-8 picks, showcased his speed while posting an impressive 4.41 second forty-yard dash time while ranking as the top cornerback prospects based on his production at the 2022 NFL combine. In addition to his performance in Indy, Gardner has put together an impressive resume as a premier shutdown cornerback who also has solid size and great feet.
7. Kenny Pickett
School: Pittsburgh Panthers
Position: Quarterback
The big question mark every year is who is the best quarterback among the NFL draft prospects and that is the same this year. This year the top overall quarterback NFL draft prospect is Kenny Pickett from the University of Pittsburgh. 
Pickett put together a brilliant senior season in the ACC throwing for 4,319 yards along with 42 touchdowns to just seven interceptions while posting an excellent 67.2 passing percentage. While the quarterback market in the NFL will determine how high he could climb the leaderboard, recent moves with the trade of Russell Wilson and the resigning of Aaron Rodgers could have teams trading up to take Pickett. 
Only concern is the hand measurement of Pickett, but his other intangibles such as his ability to make the clutch throw and his awareness is as good as any within this draft class.
6. Ikem Ekwonu
School: NC State
Position: Offensive Lineman
One position that gets no love is the offensive line despite the importance it brings to any team around the NFL. With the quarterback position demanding the highest contracts in the NFL, it is key to not only open up running lanes but to protect those star investments. 
Coming off a unanimous All-American honor during the 2021 NCAA season, allowed just two sacks last season while posting a total 67 pancake blocks. Ekwonu has great size coming in weighing 310 pounds and 6 foot 4 inches. 
In addition, despite being a big guy, Ekwonu has great feet which allows him to move side to side while also being a key blocking weapon on screen plays while also having the knowledge/skills to play in nearly any blocking scheme.
5. Kayvon Thibodeaux
School: Oregon Ducks
Position: Edge 
The key to succeeding in the NFL is finding a way to stop the opposing high-power offenses that are led by the games top star quarterbacks. One way to stop these quarterbacks is by getting to them before they can make a play happen. 
With this, one of the top pass rushing specialists on the NFL draft board in 2022 is the former Oregon Ducks standout Kayvon Thibodeux who had tremendous power and speed that allowed him to get to the quarterback. Thibodeux possesses a tremendous work ethic and dive while having one great speed off the line of scrimmage. 
In addition to his ability to get to the quarterback, the Ducks star also has the speed to slow down opposing tight ends within the passing game.
4. Kalon Barnes
School: Baylor Bears
Position: Cornerback
After breaking the forty-yard dash record for defensive backs with his 4.23 second performance, the Baylor Bears standout cornerback is jumping up the NFL Mock Drafts just days after his NFL combine performance. 
While Kalon Barnes lists at just 5 foot 11 inches, the Bears cornerback plays bigger while having his arm length (31 ¾ inches) and wingspan (76 3/8 inches) allow him to slow down most opposing receivers. 
In addition, while his speed allows him to play off the line, Barnes has the ability to also slow them down while playing them at the line of scrimmage. As previous track records have shown with speed, Barnes' impressive forty will slide him up the board in April.
3. Evan Neal
School: Alabama Crimson Tide
Position: Offensive Lineman
Possibly the top overall NFL draft pick Evan Neal from the Alabama Crimson Tide is as good as any tackle we have seen over the past few seasons and one that will give any quarterback some reassurance. 
Coming from one of the top college programs in the country, Neal has had the opportunity to block against some of the game's top pass rushers while helping to allow the Crimson Tide to be one of the best offenses in all of college football. Neal has shown over his three years as a start that he has more than just size but also solid technique and knowledge of the position to make him the best.
2. Aidan Hutchinson
School: Michigan Wolverines
Position: Edge
All eyes will be on whether or not Aidan Hutchinson is the first defensive end/edge rusher to come off the board during the upcoming NFL draft in April. Hutchinson, who posted a 4.74 second forty-yard dash time also posted solid metrics in the 3-cone drill (6.73) and 20-yard shuttle (4.15). 
The former Michigan Wolverines star is coming off an impressive 14 sack campaign to go along with two forced fumbles and 36 solo tackles. Hutchinson would give a team a pure playmaker who could shut down from the edge.
1. Kyle Hamilton
School: Notre Dame Fighting Irish
Position: Safety
The Notre Dame Fighting Irish safety may be the best safety we have seen in a long time and one that has the abilities to be a difference maker at the NFL level. That safety is Kyle Hamilton who many expect to be the first defensive back off the board during the 2022 NFL draft pick and our top overall player on the Top 10 NFL Draft Prospects rankings. 
Hamilton has tremendous size and power at a position of need around the NFL. The former Fighting Irish safety measured in at 6 foot 4 inches while also posting a 4.59 forty-yard dash time. Hamilton is one of the stars that can drop back in coverage, line up against a wide receiver or tight end or play the line against the run. 
How would you rank these NFL Draft Prospects for the upcoming 2022 NFL Draft? Rank below to be added in the Power Rankings and to have a chance to win a gift card to LAZADA, Amazon, Fanatics.com, or more that is specific to you. Join the contest by ranking below.
Related Links:
POPULAR POSTS
Thank you
Your email has been successfully subscribed.
Sorry, there are no polls available at the moment.