Top 10 Free Safeties in NFL 2022 Rankings
Kevin Byard is the best Free Safety in the NFL right now going into the 2022-2023 NFL season. Also where Justin Simmons, Antoine Winfield Jr., and more rank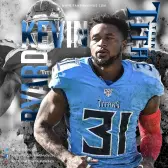 The 2022 NFL off-season is trucking along like an NFL running back trucking over a defensive back. As we start to set our sights as NFL fanatics on the upcoming 2022 NFL schedule, a chance to look ahead at the top NFL free safeties in 2022, after a final look at the Top 20 NFL Free Safeties 2021-22 rankings. A group that is headlined by the Tennessee Titans All-Pro free safety Kevin Byard.
As Byard continues to put together All-Pro caliber numbers this past year, he is just one of the many top free safeties in the NFL while an opening for future top stars to land on the list. 
Other Top NFL Free safeties include Micah Hyde, Quandre Diggs, Marcus Williams, Minkah Fitzpatrick, and P.J. Williams to name a handful. With the evolution of the passing game, free safeties are becoming even more important than they had been over the past ten plus years.
With that said, here is our list of the Top 10 NFL Free Safeties 2021-2022 rankings:
Honorable Mention
Dean Marlowe
Team: Atlanta Falcons
2021 Stats: 37 Solo, 0 FF, 0 INT, 2 PD
Just missing the Top 10 NFL Free Safeties 2021-22 rankings is the newly acquired Atlanta Falcons free safety Dean Marlowe. 
When you suit up for any team that struggles to produce on offense, the numbers and tape may look bad, this is the case with Marlowe who played on a bad Detroit Lions team last season. 
However, Marlowe who is now with the Falcons, is looking to help reshape the Falcons defense as he continues to develop into an everyday free safety. Marlowe, who played his college ball at JMU, became a full-time option in 2020 with the Buffalo Bills before landing on with the Detroit Lions last season.
Minkah Fitzpatrick
Team: Pittsburgh Steelers
2021 Stats: 84 Solo, 1 FF, 2 INT, 7 PD
Don't sleep on the Pittsburgh Steelers veteran free safety and former Alabama Crimson Tide alum, Minkah Fitzpatrick. 
Fitzpatrick has playmaker abilities that are required at the free safety position, and it has shown up during key situations. Despite not seeing the national recognition like his teammate T.J. Watt receives. Fitzpatrick is a key weapon on a team that faces some of the best young passing attacks in the NFL. 
The Steelers free safety posted a career high in tackles while also recording seven pass defended, two interceptions and one forced fumble.
Top 10 Free Safeties
10. Justin Simmons
Team: Denver Broncos
2021 Stats: 60 Solo, 0 FF, 5 INT, 12 PD
At number 10 is last year's #1 Free Safety going into last year is the Denver Broncos own Justin Simmons. Simmons, who played his college football at Boston College, has been a playmaker for the Broncos since being selected during the third round of the 2016 NFL Draft.
Simmons is coming off a 2021-22 NFL season posting 60 solo tackles, 1.5 sacks, five interceptions and 12 pass defended. Entering the 2022 NFL season, Simmons will have a difficult task at hand in an AFC West division loaded with quarterbacks and wide receivers.
9. Bobby McCain
Team: Washington Commanders
2021 Stats: 47 Solo, 0 FF, 4 INT, 9 PD, 1 TD
Washington Commanders free safety Bobby McCain was one of the top graded free safeties during the 2021-22 NFL schedule according to PFF.
McCain, who graded out solidly both against the pass and rush, is coming off a career high 63 tackles to go along with career highs with four interceptions and nine passes defended across a career high 17 games played.
His ability to make a play on a ball was key within the Redskins secondary including one interception returned for a touchdown last season.
8. Jimmie Ward
Team: San Francisco 49ers
2021 Stats: 51 Solo, 0 FF, 2 INT, 6 PD
At the free safety position, teams look for players who can find ways to make big plays when needed. This fits the bill of Jimmie Ward who was an overall excellent defender both on pass plays as well as when the team needed him to come up to the line of scrimmage.
His play on the field earned him solid grades from experts and his leadership was key to the San Francisco 49ers making a run to the playoffs.
Ward posted a career high two interceptions including one returned for a touchdown during the regular season. In addition, Ward showed up in the playoffs with a key blocked field goal during the playoffs.
7. Micah Hyde
Team: Buffalo Bills
2021 Stats: 53 Solo, 1 FF, 5 INT, 10 PD, 1 TD
Playing his college football with the Iowa Hawkeyes, Micah Hyde developed an ability to be a playmaker on the defensive side of the ball that helped land him to the Green Bay Packers during the 2013 NFL draft.
One of the veterans on the list of the Top 10 NFL Free Safeties 2021-22 rankings list, Hyde is coming off an impressive season with the Buffalo Bills in 2021 including posting five interceptions, one sack, one forced fumble, ten passes defended and one return for a touchdown. 
6. P.J. Williams
Team: New Orleans Saints
2021 Stats: 36 Solo, 1 FF, 3 INT, 5 PD, 1 TD
The former NFL cornerback continues to develop as a playmaking free safety and the numbers showed up last season as the New Orleans Saints spread him around the field.
Williams, who was used as the team's extra safety on dime packages, will be counted on heavily during the upcoming season to fill the void left with the departure of Marcus Williams.
Williams was all around the ball during the 2021-2022 NFL schedule, recording a career high three interceptions to go along with five passes defended. The Saints safety posted two sacks, one forced fumble and returned a pick six that came against Tom Brady.
5. Quandre Diggs
Team: Seattle Seahawks
2021 Stats: 66 Solo, 0 FF, 5 INT, 7 PD
Coming in at number five on the Top 10 NFL Free Safeties 2021-2022 rankings list is the Seattle Seahawks Quandre Diggs.
Diggs, who started his career with the Detroit Lions, was traded to the Seahawks during the early part of the 2019 NFL season. The Seahawks now have one of the best safety tandems in the NFL with Diggs slotted in next to Jamal Adams.
The former Texas Longhorns safety finished the 2021 NFL season with five interceptions, seven plays stuffed behind the line of scrimmage and seven passes defended.
4. Marcus Williams
Team: Baltimore Ravens
2021 Stats: 52 Solo, 1 FF, 2 INT, 8 PD
Playmaking safeties as well as other defensive players has been a staple of the Baltimore Ravens over the years and that is why the team elected to sign Marcus Williams.
Williams, who was a key staple to the New Orleans Saints defense, has shown his ability to be a key threat against the pass as well as against the run since arriving in New Orleans in 2017. 
Williams has posted at least seven passes defended in four of his first five seasons in the NFL including eight during the 2021 season. Williams also posted two interceptions, forced one fumble, and posted 74 total tackles.
3. Adrian Amos
Team: Green Bay Packers
2021 Stats: 75 Solo, 0 FF, 2 INT, 8 PD
One of the handful players to receive an A grade from PFF, Adrian Amos is a playmaking free safety who opposing quarterbacks must be aware of.
Amos, who played his college football at Penn State, is entering eighth NFL season in the NFC North division.
Almost posted a career high 75 solo tackles and total tackles last season for the Packers while playing a key role both against the pass and rush. In addition, Amos posted two interceptions and eight passes defended on the year.
Adrian Amos is criminally underrated…pic.twitter.com/JQG6uK7HRP

— Eli Berkovits (@BookOfEli_NFL) February 13, 2022
2. Antoine Winfield Jr.
Team: Tampa Bay Buccaneers
2021 Stats: 62 Solo, 2 FF, 2 INT, 6 PD
Landing at number two on the Top 10 NFL Free Safeties 2021-22 is the Tampa Bay Buccaneers Pro Bowl free safety Antoine Winfield Jr.
Winfield, who the Buccaneers drafted during the 2020 NFL draft, posted 88 tackles in his second season in the NFL including 62 solo tackles and 26 assisted tackles. To go along with the tackles, Winfield also posted two sacks, two forced fumbles, one fumble recovery, two interceptions and six passes defended.
The Buccaneers Pro Bowler ranked second among all grades handed out by PFF top safeties to go along with an A grade. Winfield graded out as a better rush defender and pass defender among the free safety group.
1. Kevin Byard
Team: Tennessee Titans
2021 Stats: 57 Solo, 2 FF, 5 INT, 13 PD, 1 TD
At number one on the Top 10 NFL Free Safeties 2021-22 rankings list is the Tennessee Titans two-time All-Pro free safety.
Byard, who played his college football at Middle Tennessee State led the NFL in interceptions during the 2017 NFL season while also posting at least five interceptions in three of his first six seasons.
PFF handed Byard the highest grade among all safeties including ranking him the overall best cover safety in the NFL to go along with an overall grade of an A. Also, we had him ranked at just honorable mention going into last season. What an amazing jump.
Byard posted 88 tackles to go along with one sack, two forced fumbles, five interceptions including one returned for a touchdown and 13 passes defended. With Byard on the field opposing offenses can expect him to be around the ball on most plays.
BREAKDOWN: Unreal play by Kevin Byard – elite level preparation, recognition, and instincts #Titans

Here's a mini-breakdown of Byard's first career pick 6: pic.twitter.com/JwqLYfQ1D7

— Justin Graver (@titansfilmroom) November 9, 2021
How would you rank these Free Safeties going into the 2022-2023 season? Rank below to be added in the Power Rankings.
Related Links:
POPULAR POSTS
Thank you
Your email has been successfully subscribed.
Sorry, there are no polls available at the moment.