Top 10 Centers in NFL 2022 Rankings
Creed Humphrey leads the way as we rank the Top 10 NFL Centers of the 2021-2022 season going into the 2023 NFL season. Also where Jason Kelce, Corey Linsley, and more rank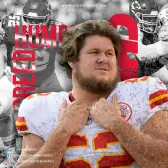 The exchange from the center to the quarterback is one of the most impactful important plays that takes place during a football game. No matter if it is in Pee Wee Football, High School Football, College Football, or the NFL.
Without a good center, the quarterback of any team will have to work harder to ensure they receive a good snap, while also having to wonder if his center will pick up the block. 
Luckily for the quarterbacks around the NFL that have one of these Top 10 NFL Centers on their team, they won't have to worry about any major issues between them and their center.
As you start to take a look around at the NFL centers, it can be difficult to put a ranking number on them based on the little statistics that can be achieved by the center position.
However, if you look around at many of these teams, they nearly all have solid top performing offenses that makes them a dangerous team. With that said, here is our list of the Top 10 NFL Centers 2021-22 Rankings.
Honorable Mention
Frank Ragnow
Team(s): Detroit Lions
Landing just outside of the Top 10 NFL Centers 2021-22 rankings is the Detroit Lions center Frank Ragnow.
The Lions center was putting together his best season over the past four years, before missing the rest of the season due to a Week 4 injury he suffered that shut down his season.
Prior to the injury, Ragnow had put together an impressive 86.7 PFF grade which would have landed him near the top of all centers in the NFL.
Look forward to the 2022 NFL season, and Frank Ragnow should see his name move up the rankings list.
Chase Roullier
Team(s): Washington Commanders
A second NFL center who just missed the Top 10 centers list, is the Washington Commanders center Chase Roullier.
Roullier who was putting together an impressive season at the center position for the Commanders including posting an 83.7 PFF grade, suffered a season ending leg injury in Week 8.
Combining his strong performance last season with the 2020 performance, Roullier lands in the 89th percentile in run-blocking on zone runs and 90th percentile as a pass-blocker at the center position.
Top 10 NFL Centers
10. Mitch Morse
Team(s): Buffalo Bills
The Buffalo Bills center lands at number ten on the Top 10 NFL Centers 2021-22 rankings list after a down year during the 2021 NFL schedule.
Over the past three seasons since joining the team, Mitch Morse has built a strong relationship with his quarterback Josh Allen, while working well with his fellow offensive lineman.
Despite his lowest PFF grade since 2017, Morse is a strong center that helped the Bills rank 5th in the NFL in total yards per game last season (375.7 ypg), 6th in rushing yards per game (129.9 ypg) and third in the NFL in points per game with 28.4 per contests.
The #Bills are giving C Mitch Morse a two-year, $19.5 million extension with $12 million guaranteed via @MikeGarafolo pic.twitter.com/AUk7255USR

— The CAP (@CrowdAssistPod) March 14, 2022
9. Connor McGovern
Team(s): New York Jets
As you start to research how good of a player the New York Jets Connor McGovern is, you need to ensure you don't find the other Connor McGovern for the Dallas Cowboys.
That said, McGovern was a strong solid center in 2021 allowing just four total sacks on 973 snaps at center and only three penalties accrued.
The former Denver Broncos center ranked within the top 10 among all NFL centers in PFF grades at the position while leading the Jets offensive players with at least 400 plays.
8. David Andrews
Team(s): New England Patriots
Over the years, the New England Patriots have always put together solid offensive lines while Bill Belichick has run the team.
The same can be said for the 2021 Patriots roster that featured a strong interior offensive line including center David Andrews.
Andrews received an overall grade of 78 from PFF and a pass block grade of 82.4 In addition, the solid center played as well as any center down the stretch helping him move up as one of the best NFL centers.
✨ David Andrews appreciation post ✨ pic.twitter.com/77lIpCjKe3

— Boston Cream ? (@itsbostoncream) March 29, 2022
7. Brian Allen
Team(s): Los Angeles Rams 
Coming off their Super Bowl Championship, the Los Angeles Rams ensured their offensive line stayed intact for the most part including signing Brian Allen to a three-year extension.
Allen, who played a key role in the team's success on the offensive line, performed exceptionally well in the Rams wide zone running offense that head coach Sean McVay likes to run.
The Rams center finished last season with an overall 80.2 PFF grade after appearing in 903 offensive plays for the Rams while allowing five sacks and picking up five penalties.
6. Ryan Jensen
Team(s): Tampa Bay Buccaneers
It is not difficult to see why Ryan Jensen returned to the Tampa Bay Buccaneers after many expected the long-time veteran to move on to a new team.
The reason it isn't difficult is because Tom Brady elected to unretire and return to the team. Brady, who has high words for the strong veteran, wanted Jensen at center and the Bucs made it happen.
While Jensen is an all-around solid center, he is a strong run blocking center who is aggressive but is known for his pass blocking abilities. Jensen allowed just two sacks last season over 1151 total plays played at the center position. 
5. J.C. Tretter
Team(s): Cleveland Browns
It's very odd to find a quality player such as J.C. Tretter on the free agent market through mid-summer but that is the case as the 2022 NFL season arrives.
Tretter is an amazing center both against the run and the block while finishing the 2021 NFL season with a 78.7 PFF grade.
The former Browns center ranked 1st over the course of the 2021 NFL schedule in pressures allowed among all players at .625 pressures per game.
4. Ben Jones
Team(s): Tennessee Titans
Landing at number four on the Top 10 NFL Centers 2021-22 rankings list is the Tennessee Titans center Ben Jones.
Set to hit the free agent market this off-season, the play of Jones on the field as one of best NFL centers helped him land an extension to keep him around for two additional seasons.
Dating back to the 2019 NFL season, Jones has been more valuable to his team at the center position than 27 other centers based on Wins Above Replacement.
His play at the center position has helped both the Titans passing attack as well as the running attack led by All-Pro Derrick Henry.
3. Jason Kelce
Team(s): Philadelphia Eagles
Landing at number three is the Philadelphia Eagles long time center and four-time All-Pro Jason Kelce.
Kelce who took home first team All-Pro honors last year has been as good as any center in the NFL since 2014.
Kelce posted an overall PFF grade of 84.4 while allowing just one total sack over 993 offensive plays last season.
In addition, Kelce finished with a run-blocking grade of 89.0 last season as the Eagles dominated the ball on the ground as one of the best rushing attacks in the NFL. 
2. Corey Linsley
Team(s): Los Angeles Chargers, Green Bay Packers
The debate could be made for Pro Bowl starter Corey Linsley to be top overall center and Creed Humphrey to land as the second-best center in the NFL.
Nonetheless the Los Angeles Chargers center lands at number two after a strong 2021 NFL season and showcased with his strong performance is why the Chargers gave him a five-year deal before last season.
Linsley is one of the best pass blocking centers in the NFL on a team that is geared around throwing the football with Justin Herbert.
Can a smarter football mind than I am tell me what Corey Linsley is doing on this rep? pic.twitter.com/CmnPXRN2Mg

— Big Game Bengal (@BengalYouTube) January 27, 2021
1. Creed Humphrey
Team(s): Kansas City Chiefs
Landing at number one on the Top 10 NFL Centers 2021-22 rankings list is the Kansas City Chiefs 2022 NFL draft pick Creed Humphrey.
Humphrey, who the Chiefs selected with their second round pick out of Oklahoma, jumped right in at the center position while performing like an All-Pro despite being a rookie.
Humphrey's strong performance earned him a 92.5 PFF grade while ranking the highest among any Chiefs player graded.
The Chiefs rookie outperformed Jason Kelce in pass blocking and run blocking, as well as Linsley in run blocking. Humphrey posted a 79.1 pass blocking grade and a 93.1 run blocking grade after his strong rookie season.
How would you rank these Centers going into the 2022-2023 NFL season? Rank below to be added in the Power Rankings.
Related Links:
POPULAR POSTS
Thank you
Your email has been successfully subscribed.
Sorry, there are no polls available at the moment.