NFL Player Rankings by Position 2021
Ranking the best NFL players by position in the 2020-2021 season at Quarterback, Tight End, Defensive End, Middle Linebacker, and more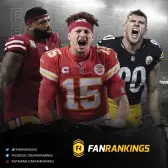 OFFENSE
Quarterback
Patrick Mahomes II
Team: Kansas City Chiefs
2020 Stats: 4,740 YDS, 38 TD, 6 INT, 66.3 Cmp%, 108.2 QB Rating
Mahomes will have a new sense of motivation after his Super Bowl 55 win. The Kansas City Chiefs became better with an improved line with Orlando Brown Jr. and Joe Thuney. Mahomes has had the best start to a career for a QB in NFL history and I feel that he will have the same season as 2018.
Runner up: Aaron Rodgers 
Related Link: Top 10 NFL Quarterbacks 2021 Rankings 
Running Back
Derrick Henry
Team: Tennessee Titans
2020 Stats: 378 Rush, 2027 Yds, 17 TD
The one concern I have for the Offensive Player of the Year is if the workload can catch up to him as the main weapon. Henry has carried the ball 681 times in the last two seasons. There was a sharp decline historically after a 2,000 yard season.
Runner up: Nick Chubb
Related Link: Top 10 NFL Running Backs 2021 Rankings 
Wide Receiver
Davante Adams
Team: Green Bay Packers
2020 Stats: 115 Rec, 1374 Yds, 18 TD
Adams is Aaron Rodgers's best weapon and one of the main reasons why the Packers are one of the main contenders to Tampa in the NFC. Adams had 115 catches for 1,374 yards and had a league-leading 18 touchdowns last season. Adams gets the #1 spot on this list because he operates without a consistent number two option in the Packer's offense.
Runner up: Tyreek Hill
Related Link: Top 10 NFL Wide Receiver 2021 Rankings
Tight End
Travis Kelce
Team: Kansas City Chiefs
2020 Stats: 105 Rec, 1,416 Yds, 11 TD, 13.5 Avg
Kelce leads all tight ends in receiving yards in the past two seasons, including setting the single season record of 1,416 yards last season. Kelce's ability to run after the catch is the best from a tight end in league history. Kelce is about two elite seasons away from securing a hall of fame career once he retires.
Runner up: George Kittle
Related Link: Top 10 NFL Tight End 2021 Rankings
Offensive Guard
Quinton Nelson
Team(s): Indianapolis Colts
Nelson has lived up to expectations in the 2018 draft as the best player regardless of position. Nelson has been PFF's MVP at guard in each season he has been in the NFL.
Runner up: Zach Martin
Related Link: Top 10 NFL Offensive Guard 2021 Rankings
This is what I was worried about with the Colts O-Line. Right side just gets blown up. Castanzo gets beat too, but the animal that is 56 Quinton Nelson bails him out. Have to feel like teams know they can beat Smith and Glowinski though. pic.twitter.com/hAvXj4oe2t

— eli (@StruggleBusEli) September 18, 2020
Center
Corey Linsley
Team: Los Angeles Chargers
Linsley got paid to protect Aaron Rodgers and now he is protecting Justin Herbert. He has graded out in the 80 percentile in each season since 2014 when he came into the NFL.
Runner up: Rodney Hudson
Related Link: Top 10 NFL Center 2021 Rankings
Offensive Tackle
Trent Williams
Team(s): San Francisco 49ers
After sitting out the 2019 season, Williams proved that he is still the best at his position posting a 91.8 PFF grade. What makes him the top tackle in the league is his whopping 91.8 runs blocking grade. Williams last season proved that he is a gold jacket caliber type of tackle.
Runner up: David Bakthiari
Related Link: Top 10 NFL Offensive Tackle 2021 Rankings
DEFENSE
Defensive End
Myles Garrett
Team: Cleveland Browns
2020 Stats: 33 Solo, 12 Sacks, 4 FF, 0 INT
Garrett has the chance to overtake Aaron Donald as the best defensive player in the NFL. Garrett will be lining up across from Jadeveon Clowney to help take the pressure off.
Runner up: Chandler Jones
Related Link: Top 10 Defensive End 2021 Rankings
Outside Linebacker
T.J. Watt
Team: Pittsburgh Steelers
2020 Stats: 43 Solo, 15 Sacks, 2 FF, 1 INT
Watt led the NFL in sacks in 2020 with 15 and was second for the Defensive Player of the Year Award, losing out to Aaron Donald. Only Donald and Chandler Jones have bested J.J. Watt's younger brother who has 47.5 sacks since 2017. Furthermore, Watt's 111 QB hits are second only to Aaron Donald. Watt has graded at a 91.3 and 91.6 respectively.
Runner up: Khalil Mack
Related Link: Top 10 NFL Outside Linebacker 2021 Rankings
Defensive Tackle
Aaron Donald
Team: Los Angeles Rams
2020 Stats: 27 Solo, 13.5 Sacks, 4 FF
Aaron Donald is the most dominant interior lineman that the league has seen since Reggie White. He leads the league in sacks, pressures, and pass rush wins without pressure. He can play on a four-man line, a three-man line, nose tackle it doesn't matter. Donald is on his way to being one of the best defensive players of all time regardless of position.
Runner up: Deforest Buckner
Related Link: Top 10 NFL Defensive Tackle 2021 Rankings
Middle Linebacker
Bobby Wagner
Team: Seattle Seahawks
2020 Stats: 81 Solo, 3 Sacks, 0 FF
Wagner has been the most consistent man at middle linebacker since he came into the NFL in 2012. He is great in run coverage, support, and now he has become one of the best blitzers from the MLB position. Wagner has been a key player of the Seahawks defense post-Legion of Boom era and he will be the best bet to make the Pro Football Hall of Fame out of this iconic unit.
Runner up: Fred Warner
Related Link: Top 10 Middle Linebacker 2021 Rankings
Cornerback
Jalen Ramsey
Team: Los Angeles Rams
2020 Stats: 1 INT, 2 YDS, 36 SOLO
Ramsey has never had a PFF coverage grade of lower than 70 in his first five seasons in the NFL. He talks a lot of trash, but he can back it up by using his size and technique to cover almost any receiver in the NFL. Ramsey is more than likely the best run defender at the position and that makes him the complete package.
View this post on Instagram
Runner up: Jaire Alexander
Related Link: Top 10 NFL Cornerback 2021 Rankings
Free Safety
Justin Simmons
Team: Denver Broncos
2020 Stats: 5 INT, 90 YDS, 0 FF, 77 SOLO, 0 TD
Simmons is the only free safety that has a PFF grade of over 90 over the past two seasons. Over the past three seasons, Simmons has recorded at minimum 85 tackles, recorded 12 total interceptions, and broke up 28 passes. Simmons is the complete package for an NFL free safety for the 2021 season.
Runner up: Minkah Fitzpatrick
Related Links: Top 10 NFL Free Safeties 2021 Rankings
Some great stuff here: @Broncos GM George Paton breaking down what makes Justin Simmons so great.

Side note: Paton was sought out by teams to be a GM dating back to 2013. He passed many times, waiting for the right opportunity.

Denver got a good one. pic.twitter.com/3JuiEBBHxT

— Ari Meirov (@MySportsUpdate) March 21, 2021
Strong Safety
Tyrann Mathieu
Team: Kansas City Chiefs
2020 Stats: 6 INT, 48 SOLO, 1 TD
Mathieu has been a difference-maker in the Kansas City Chiefs' defense because of his versatility and his ability to make the big plays in the most opportune times. He has recorded 10 interceptions and has 25 passes defended over the past two seasons.
Runner Up: Harrison Smith
Related Link: Top 10 NFL Strong Safeties 2021 Rankings
View this post on Instagram
POPULAR POSTS
Thank you
Your email has been successfully subscribed.
Sorry, there are no polls available at the moment.