Top 10 Women's College Basketball Players – December 2021 Rankings
Ranking the best NCAA Women's college basketball players of December 2021 as Paige Bueckers of the UConn Huskies leads the way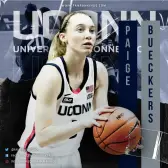 The game of basketball continues to grow across the country and this continues to be seen on the hardwood among NCAA Women's college basketball year in and year out. This year the women's college level talent among all the women's college basketball teams is as strong as we have seen over the past 10 to 20 years. 
With young talented stars leading a wide range of top tier women's college programs including the likes of South Carolina, Maryland and UConn to name just a few.
With the talent level so hard it is hard to make an exact list of the Top 10 NCAAW BB Players that won't be debated. 
The list of top Women's College basketball stars dominating the hardwood during the 2021-22 NCAA Women's schedule includes the likes of Paige Bueckers, Aliyah Boston, NaLyssa Smith, Rhyne Howard and Elissa Cunane to name just a few of those stars.
With that said, here is our list of the Top 10 NCAA Women's College Basketball Players:
Honorable Mention
Haley Jones
School: Stanford Cardinals
Coming in just outside the Top 10 NCAAW BB Players is the Stanford Cardinals junior guard Haley Jones. Jones, who has seen her points drop during the current season, has become more of an all-around point guard working to get her teammates involved as well. 
Jones is currently averaging 4.3 assists per game up from just 2.8 last season. The Stanford guard stat line includes averaging 10.7 points a game to go with 7.3 rebounds and 4.3 assists per game. 
Elissa Cunane
School: North Carolina State
Elissa Cunane and the North Carolina State Wolfpack are off to one of the best starts in the team's history as well as one of the best starts in 2021. Cunane is one of the key pieces to that success as she is averaging 12.7 points a game to go along with 7.6 rebounds and 1.3 assists per game. 
As she has seen her production drop at points this season, her leadership abilities have helped make the Wolfpack a deep team and one that can make a run during March Madness.
Top 10 College Players
Jordan Horston
School: Tennessee Volunteers
The Tennessee Lady Volunteers are rolling during the 2021-22 NCAA Women's Basketball season winning eight straight games to start the season. Some of that success is due to Jordan Horston who has emerged as one of the top players in the country. 
The junior guard is averaging a career high 16.4 points a game to go along with 9.4 rebounds and four assists per game this season. During the team's South Point Thanksgiving Shootout tournament win, Horston posted three double doubles including a 28 point and 15 rebound performance against #12 Texas. 
Cameron Brink
School: Stanford Cardinals
Another key piece to the success of the Stanford Cardinals this season is Cameron Brink who is putting together a tremendous sophomore season. The 6'4'' guard from Beaverton, Oregon is averaging 14.6 points a game to go with 7.7 rebounds and 1.1 assists per game. 
In the teams key win over #4 Indiana back in November, Brink put together a performance of a lifetime scoring 21 points, grabbing 22 rebounds, dished out five assists and recorded five blocked shots. Brink has posted at least 21 points in three of the team's first seven games this season.
Kierstan Bell
School: Florida Gulf Coast Eagles
A name that might not get the hype as some of the other top lady basketball players in the country is Kierstan Bell from the Florida Gulf Coast Eagles. Bell who averaged 24.3 points a game as a sophomore has seen her offensive scoring improve as a junior this season. 
Bell is averaging 25.6 points a game to go with nine rebounds and 2.8 assists per game while leading her team to a 7-1 record to start the season. Bell has posted at least 22 points in six of those games including posting at over 31 points in three different contests.
Ashley Joens
School: Iowa State Cyclones
Ashley Joens continues to be one of the top women's basketball player's year in and year out. After posting back to back seasons averaging at least 20 points to go along with 9.5 rebounds, Joens has continued her production this season averaging 20.8 points a game to go with 9.6 rebounds and 2.4 assists. 
Joens has recorded five doubles this season including an impressive 26 point, 11 rebound and six assist performance in the team's 77-70 win over the Iowa Hawkeyes on December 8th.
Naz Hillmon
School: Michigan Wolverines
The Michigan Wolverines are led by senior forward Naz Hillmon who has not only been one of the best players in the country but one of the best leaders. With Hillmon on the floor, the Wolverines are off to an 8-1 start including a key 61-52 win over the 16th ranked Oregon State Beavers during the Daytona Beach Invitational. 
On the year, Hillmon has posted at least 20 points in three of her first nine games as well as four double doubles. The Wolverines senior is averaging 20.1 points a game to go along with 8.9 rebounds and 1.9 assists.
Caitlin Clark
School: Iowa Hawkeyes
On December 8th, women's basketball fans were able to watch two of the best of their sport take to the hardwood in a battle as the Iowa Hawkeyes battled instate rivals the Iowa State Cyclones and fellow top star Ashley Joens. Clark didn't disappoint, scoring 26 points to go with seven rebounds, three assists and two steals in a disappointing loss. 
Despite the loss, the Hawkeyes are 5-2 on the year with both of their losses coming against very talented teams. Clark has posted 22 points in five of the team's first seven contests while averaging the 6th most points in the country at 22.6 per game.
Rhyne Howard
School: Kentucky Wildcats
Sitting at number four on the Top 10 NCAAW BB Players list is the Kentucky Wildcats senior guard Rhyne Howard. Howard is an expected top pick during the 2022 WNBA Draft, and is putting another chapter in her legacy at Kentucky. Howard is averaging 20.6 points a game to go along with 7.4 rebounds and 4.9 assists while shooting 50% from the field. 
Howard has averaged at least 20 points in each of the past three seasons while seeing both her rebounds and assists per game increase as well her defensive numbers. 
Aliyah Boston
School: South Carolina Gamecocks
When your team sits as the top ranked team in all of Women's College Basketball, it is easy to be considered one of the best players in the game if not the best overall player. Boston is averaging 16.8 points to start the season along with nine rebounds and 1.8 assists per game. 
Her success has come against some of the best teams in the game including a 22 point and 15 rebound performance in the team's 73-57 win over the 2nd ranked UConn Huskies. Boston has three double double performances of the season and has topped 20 points scored in four different games. 
NaLyssa Smith
School: Baylor Bears 
One name to continue to monitor is the Baylor Bears star center NaLyssa Smith as she continues to build her resume and the Bears resume during the 2021-22 NCAA Women's season. Smith is averaging 19.9 points a game to go with the most rebounds at 13.6 per game among all women. 
On the year, Smith has posted eight straight double doubles including a 21 point and 19 rebound performance against Houston as well as a 25 point and 17 rebound performance against Missouri. 
Paige Bueckers
School: UConn Huskies
The UConn Huskies have gotten off to a strong 5-1 record to start the season and much of that success has come with the sophomore guard Paige Bueckers on the court. Bueckers put together a brilliant second season with the Huskies averaging the 11th most points in all of college basketball averaging 21.2 points per game while averaging the 15th most assists per game with 6.2 per contest. 
However after suffering a leg injury, the Huskies will be without their star for the next six to eight weeks while the women's game of basketball has lost one of its top stars. 
How would you rank these college players for the 2021-2022 season? Rank below to be added in the Power Rankings and to have a chance to win a gift card to LAZADA, Amazon, Fanatics.com, or more that is specific to you. Join the contest by ranking below.
Related Links:
POPULAR POSTS
Thank you
Your email has been successfully subscribed.
Sorry, there are no polls available at the moment.